Developer The Fun Pimps is finally about to release the much anticipated experimental alpha 17 of 7 Days to Die, which should be early next week.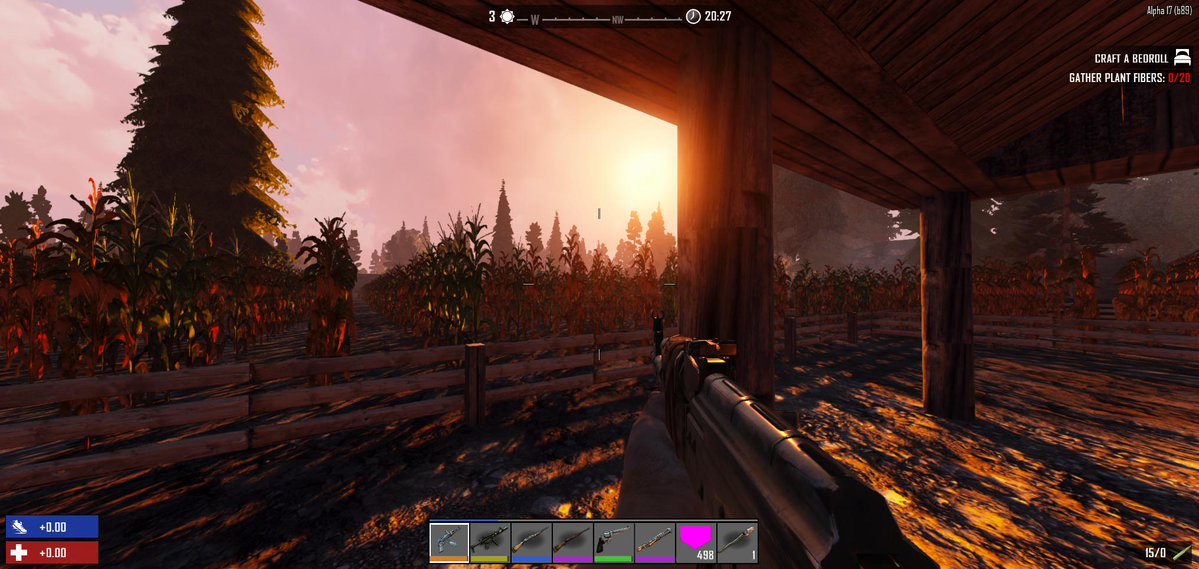 A recent screenshot of A17, showing off new lighting.
The last update to the game was around October last year so this has been in progress for some time now. As expected, it's going to be absolutely huge. So big in fact, that to talk about most of it here would be a bit ridiculous. Honestly, even doing some simple highlights I'm utterly lost for where to start it's so long and exciting.
Here's a few interesting things coming: They've updated Unity to bring in some massively improved lighting; texture streaming; a new party system to share XP, share quests and track their location and health; the quest system is brand new, which lets you pick up quests from traders and progress through tiered quests difficulties; the Navezgane map is more than double the original size; many new locations and many improved locations from the previous alpha; multiple new vehicles; overhauled AI system, which includes some scary sounding behaviours and absolutely loads more. To say they've been busy, would be a pretty big understatement.
You can see some preliminary patch notes here.
The actual release isn't going to be the full alpha 17, they're saying it will be an experimental public beta which will be available Monday (depending on timezones).
I spoke to the developer today, who said this about the Linux version
Monday's release is the experimental version so hopefully it will be working well but it is an incomplete version that we are seeking feedback about so that it can be completed. There is an equivalent linux version built alongside the windows and mac versions so hopefully there won't be issues but can't promise anything.
Across this weekend, some livestreamers were given access to test it out, you can see a list here. Sadly we didn't get in on that, as we only have around 3.5K Twitch followers (our channel here) whereas you needed at least 5K.
As long as the Linux version runs well enough, our livestreamer Sin will be taking a look next week as soon as she can.
It's currently on sale on the Humble Store with 64% off, good time to pick it up.
Some you may have missed, popular articles from the last month: