Earlier this month, the Doomsday Engine which runs classic titles like Doom, Heretic and Hexen had a new release out.
The 2.1 release is the latest major build for the project after 2.0 last year and it features:
Graphics optimization - While games still use the classic renderer like in 2.0, all graphics are now drawn using OpenGL 3.3. This enables optimizations for more efficient rendering of the player view, menus, text, and the Doomsday UI.
UI improvements - The Doomsday UI look and feel has been refreshed. The game library is now more flexible and powerful with further game customization settings and view options.
Multiplayer convenience - Clients will automatically download missing PWADs from the server before joining the game.
I have to admit, I haven't followed this project at all. A shame too, since it seems really sweet. The UI it comes with is really slick and useful: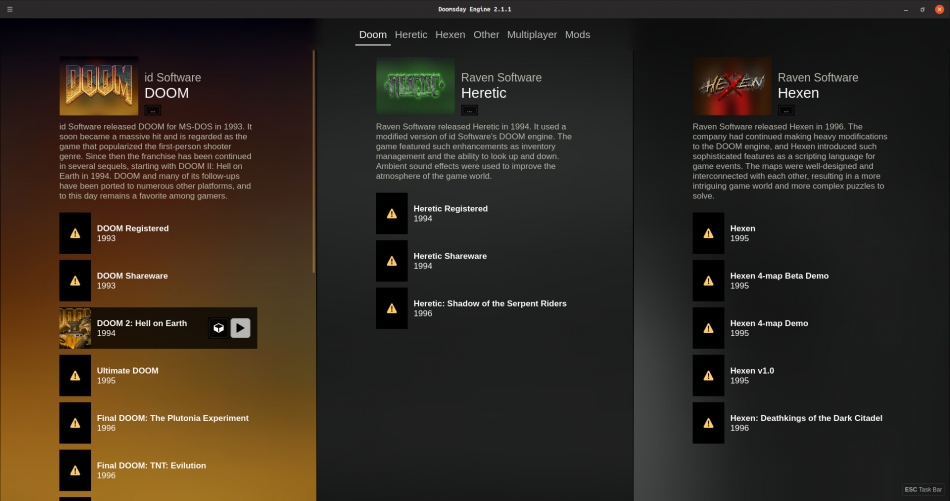 I've had no problems with it, seems to work really nicely and it's really easy to work with. Point it to a folder where you store your files, it will pick them up and instantly allow you to click and play—very nice indeed.
See more on the official site. The UI and engine is open source, you can find it on GitHub.
Hat tip to Le Gluon rose.
Some you may have missed, popular articles from the last month: