You might remember, that back in September last year I talked a little about Lutris and Overwatch [Official Site] together and how it was working well. Here's an update on how it's been going.
Overwatch, developed by Blizzard, is an online team-based shooter that feels a lot like Team Fortress 2 from Valve. However, as much as I've tried to get into TF2 it just doesn't stick. TF2 feels like it has no identity, it feels…bland.
Overwatch on the other hand, is an incredibly exciting experience and I'm still very much a beginner. It has a pretty loud and proud identity, along with various animated shorts which help to suck you into the world. It's something friends play practically religiously too, so it's one of those times where I've felt a bit left out, well—no more!
When I tried it previously back in September last year, the performance was pretty good. Fast-forward multiple months, a few new versions of DXVK have come along and the experience is mind-blowing. I don't want to oversell it, but seriously it's so smooth I completely forget that the work done to get it working on Linux wasn't done by Blizzard directly.
I should note, there's still one downside. Before a cache is built, it will stutter and it doesn't look good. However, before even when the cache had built there would still be odd bits of noticeable stutter and slowdowns. Since switching over to DXVK 0.95, that's basically all gone. Honestly, it's smoother than the majority of actual Linux versions of games I've played recently and that's saying something big.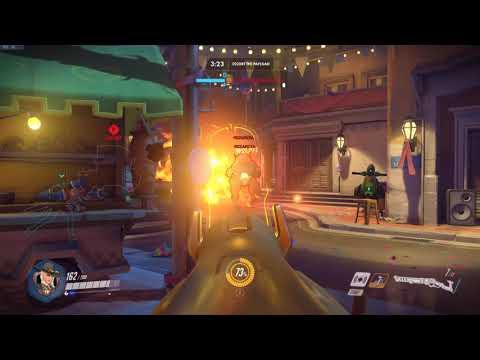 My complete lack of skill aside, how smooth it is in that video I took of a recent game should speak for itself. You can see how well it performs and that's with it on very high settings.
Additionally, an issue where the Blizzard Battle.net client would fail to login and say it went to sleep (something like that anyway) also seems to have gone away so that's awesome too. The only issue I'm left with, is it starting in windowed mode needing a quick ALT+ENTER to fix and away I go. That's less effort than I have to put into for some "native" Linux games, so it really doesn't bother me.
It's funny really, some of my own first steps on Linux involved mucking about with Wine. Here I am some thirteen years later, enjoying another game thanks to it (DXVK has helped a lot too of course). In a world without Windows, having Overwatch run rather nicely on Linux could be a big help for those looking to switch and test the waters.
Another shout out to Lutris, for making installing and managing the game a mostly painless experience. If you do have issues with Overwatch on Linux, this page can certainly help.
Some you may have missed, popular articles from the last month: