With a great soundtrack and a simple visual style, the horizontal space shooter WARP-TEK has been officially released today. Note: Key provided by the developer.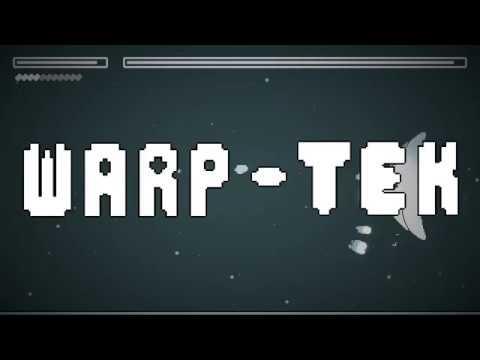 One for those who like their more simple and back to basics experiences, with gameplay that ends up becoming quite the bullet hell and it can be a little on the difficult side.
This is especially so, since with the default colour option (which can be changed in the settings) it's very hard to distinguish your ship from hundreds of projectiles and during some boss fights it's insane. A little tweak to that would go a long way I think. The boss fights are great though, quite varied and their different attacks are a real challenge to survive.
Official feature list:
Over 20 boss types!
30+ enemy types!
A hell of a lot of colours
More than 25 weapons to collect and play with!
References to other indie games! (Squirm, The Misadventures of Melon)
A warm feeling of satisfaction knowing that you're supporting a happy lil' indie boy!
Since it was developed on Linux with the open source Godot Engine, I decided to have a quick informal chat with the developer about how that went.
Q: Would you mind introducing yourself and WARP-TEK?
"Sure! :D I'm AlexHoratio, a cool indie gamedev from the UK, and I made a game called "WARP-TEK", which is a space shooter wherein you gotta rescue your poor lil dog from alien dognappers."
Q: What inspired you to make WARP-TEK?
"I think that different components of WARP-TEK kinda came from different areas. A friend of mine made a cool monochromatic game called Squirm, which inspired me to try to make my next game in a monochromatic style. After a couple of weeks and some peculiar adventures in colour-shifting, I decided to implement a system where the base colour would drastically change every few seconds. As for the plot point of rescuing your beloved pet, this also came from ANOTHER friend who off-handedly suggested it as a motivation for my player character. In short, I've completely plagiarized WARP-TEK from my friends. ;) "
Q: You made WARP-TEK using Godot Engine, why did you decide to pick Godot?
"I picked Godot nearly by accident! I was browsing Steam, saw it there as Linux-native software and tried it out. For whatever reason, everything about it just really clicked with me! I definitely didn't have this experience with Unity which I attempted to learn several times, but I just kinda got bored and frustrated each and every time. Maybe I'd have the motivation and knowledge to take advantage of it properly now, but I've got no reason to move to Unity. Godot has everything I need! :D"
Q: How does Godot Engine stack up against other game engines?
"I think it's kinda hard to say because I don't have a ton of experience with other engines, but I have never encountered an issue where I want to do something that Godot can't handle that a more established engine like Unity or Unreal can. I think that because there is such a great emphasis on usability and a smooth workflow in Godot, it's particularly attractive to one-man developer teams like myself where the biggest bottleneck to productivity is usually the time taken to get a feature implemented, tested and iterated upon. A lot of things in Godot seem to take much less time to implement when I've been discussing things with my Unity-using friends like pause systems, save files, input maps, etc. Having said that, it's also possible that all my friends are hacks. ;)"
Q: What other essential tools do you feel developers using Linux should be aware of? What did you find really helpful?
"Man I used like a LOT of software for WARP-TEK, but from what I can remember nothing particularly novel. Aseprite for pixel art, kdenlive for video editing, LibreOffice Calc for spreadsheets and stuff, and Audacity for some brief audio editing. One SUPER useful trick that I did find, while it isn't strictly software, is to create an alias for "egrep -r" pointing at your project folder, so you can easily search for lines of code throughout your project. I ended up using this constantly throughout development, and I'd recommend it to everyone who develops games on Linux."
Thanks for having a quick chat with me, Alex!
If interested, you can find it on Steam, itch.io and Game Jolt right now.
Some you may have missed, popular articles from the last month: