Robot Wants It All is not just one game, it's a bunch of games originally written by Mike Hommel in Flash over the course of several years. They're now being bundled together in an updated form and the release is coming soon.
Hommel wrote the first one, "Robot Wants Kitty", for a Ludum Dare game development competition. Hommel then continued the series by writing four other games, "Robot Wants Puppy", "Robot Wants Fishy", "Robot Wants Ice Cream" and "Robot Wants Banner".
Trailer below, although do note the trailer has the wrong date in it. The developer told me the date "was a little optimistic" but they are in the process right now of getting the final builds tested.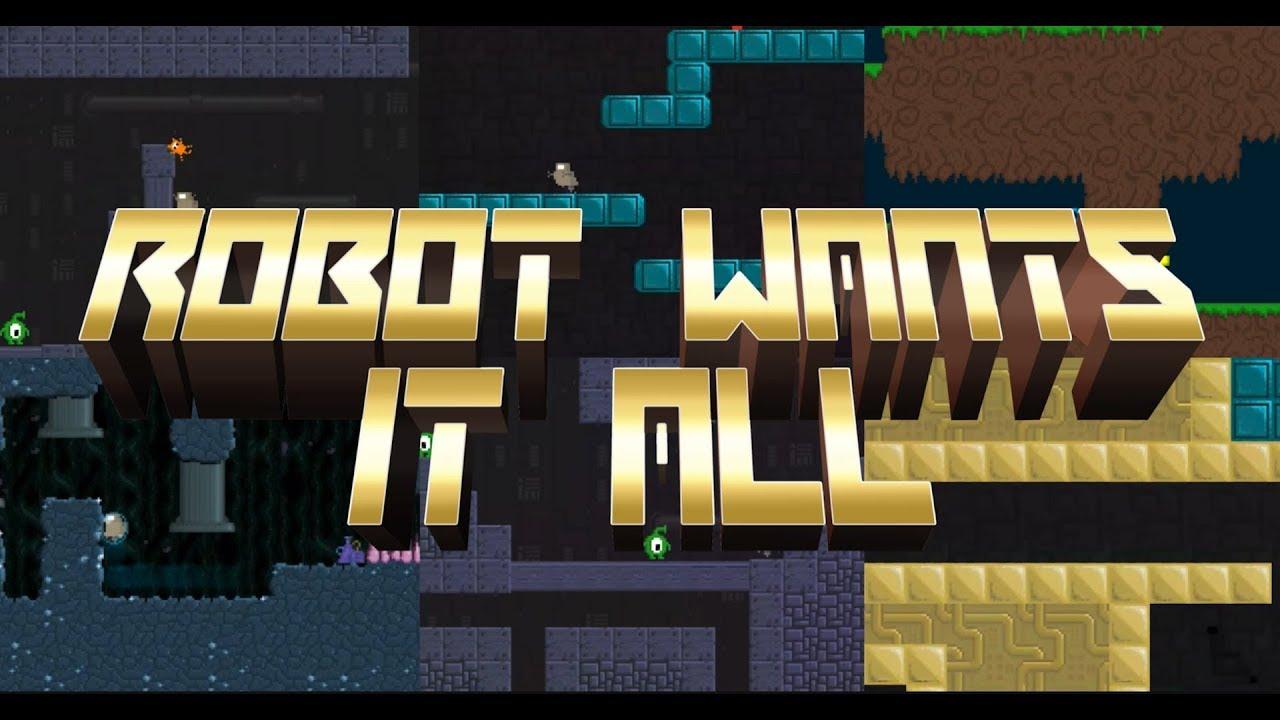 While you can still find and play them online in Flash, that's obviously not ideal. When personally speaking to Anthony Salter, a programmer with Hamumu Software who has been working on it they gave me the details on why you might want to pick up the upgraded combined version:
The ability to play in something other than a 640x480 Flash window!
The ability to play "Robot Wants Banner" again (though since it no longer plays in a banner, it's been renamed to "Robot Wants Y").
A brand-new game written from scratch!
Two alternate maps for all six games, for a total of eighteen maps to play!
Tons of unlockables, including minigames!
Twelve mutators that you can apply to any game to change how they play. Go ahead, make it so that you can only see a small circle around you, enemies are twice as fast, and you only have one life. I DARE you. We even have individual leaderboards for EVERY mutator combination!
Skins for Robot that give him different powers, changing the gameplay AGAIN!
Really spiffing animated menus. I mean, yeah, that's not worth the money by itself, but we worked hard on them and I think they look super-cool.
On top of that, it will also support Steam achievements, cards, and cloud saves.
For those who like the technical details, Salter told me the game is running on a custom game engine they wrote. It's using "SDL2 for basic loop and input handling, OpenGL for the graphics and the SoLoud audio library for audio".
They will only be officially supporting Ubuntu, but Salter told me it's been tested working across "other Debian-based distros, on Fedora-based distros, and on Arch Linux". Nice to see a good amount of testing done!
When asked about their thoughts on bringing a game to Linux, they said "Every platform I've ported to has had its quirks, and Linux was no exception, but I don't feel that it was significantly more difficult than any other platform. I've had some excellent testers to help me ensure the game should run just as well on Linux as anywhere else."
As for the release date, it should be around April 30th on Steam.
Some you may have missed, popular articles from the last month: