If you're looking for a single-player FPS with large open battles, Ravenfield continues to be a pretty good choice.
The latest Early Access update adds in a new vehicle, the APC which was apparently highly requested. Interestingly, the APC design has a lot more detail to it than other vehicles in the game and the developer mentioned other vehicles are also going to be improved: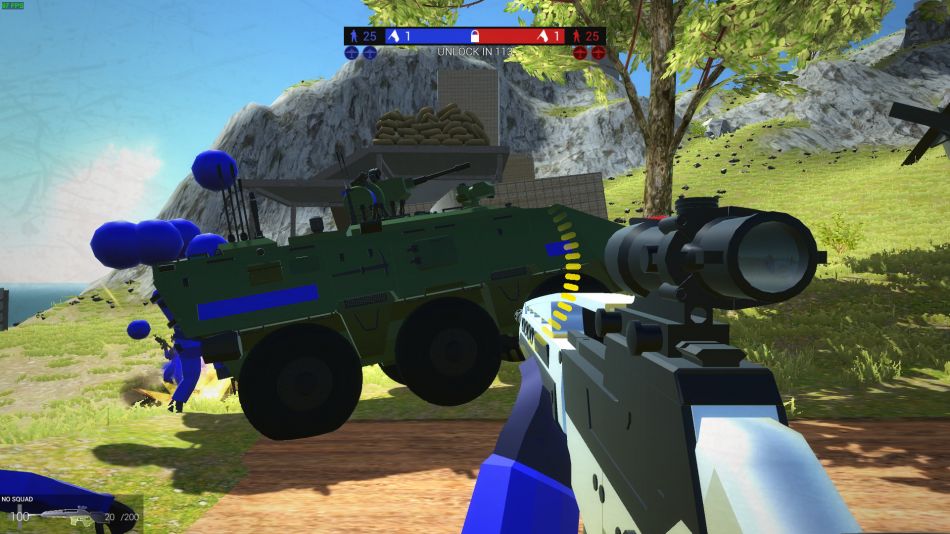 Nice shot of the AI casually running over our own team…
The APC works quite nicely too, love the camera effects if you're the driver on the main turret, reminded me of the older Battlefield games quite a lot.
Linking in with that, there's been a bit of an overhaul to how vehicles work in the game, although they're mainly "car improvements" so it doesn't affect helicopters. Now Forward/Reverse gear takes a brief moment to switch between; the engine will struggle a little bit when the suspension is under high load; tipping force when turning sharply and accelerating/braking; support for new sound such as shifting gears, suspension stress, engine ignition and more.
There's also a brand-new game mode called Skirmish, a mode where every life counts as there's limited respawns available. If you die, you will take the place of a bot on your team with their equipment. The way they've done this is pretty sweet too, as the camera will start up high and zoom down right into a bot and then it's you.
As the battle continues, you will get some airdrops come in for reinforcements giving you a chance to adjust your load-out if you lost your starting player. The way this is done, is clearly inspired by the Battle Royale trend as you parachute down but it's still pretty sweet.
Ravenfield is one both myself and my Son enjoy playing, a shame we can't play together but as the developer has said their small team doesn't have the time to implement multiplayer. Don't let that put you off though, it's a good bit of fun and thanks to the Steam Workshop integration you can really make things wild.
Grab it on Humble Store and Steam.
Some you may have missed, popular articles from the last month: