The Steam Play tracker ProtonDB just recently put out another set of reports, so here's another look at some interesting findings when going over the data. As a reminder, ProtonDB is not an official Valve site and everything should be taken with a healthy pinch of salt. That said, it's still fun to take a look at the data it provides.
First up, ProtonDB is getting ridiculously big now with over 36,786 reports in total and quite a few were done this month: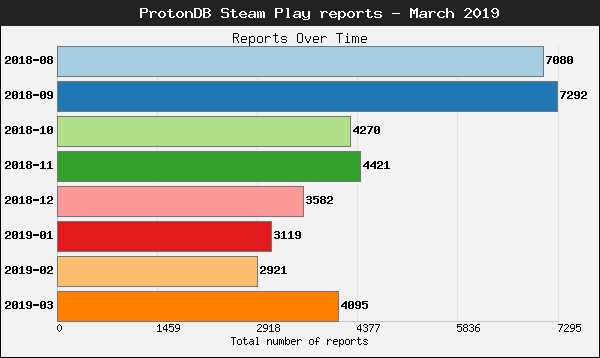 Nice to see a bit of a surge there, likely helped by some big releases last month. Not just the games though, we also had the Steam Play Proton 4.2 beta release during last month causing a bit of hype. I imagine we will see a surge every time there's a few noteworthy releases on Steam.
Let's break it down a bit and see what types of reports Steam Play was getting for March: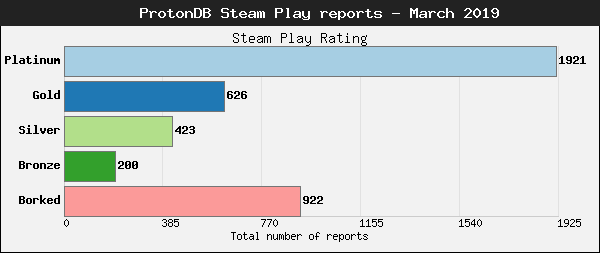 Impressive, very impressive! So many platinum reports.
While that's all quite interesting, the most important thing to know is what games are being reported? No guessing will be needed to see what games are popular this time around! With Sekiro: Shadows Die Twice and Risk of Rain 2 being newer entries, both getting quite a lot of reports.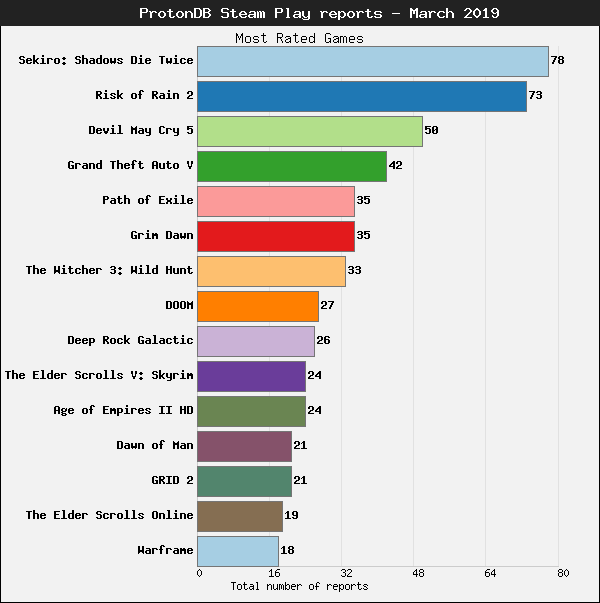 Let's look a bit closer though, for the reports what games were getting the most Platinum ratings last month? These are the games you should expect to be click and play:
Very surprising to see such a high-profile release such as Sekiro: Shadows Die Twice get so many good reports. This is showing the power of Steam Play and what it can achieve, when we get the ability to play games like that at release with no waiting around. I will actually be taking a personal look at Risk of Rain 2 this week, since it was gifted by a reader (thanks archtoasty!).
For those interested, you can also see a little more info about the computers people are reporting with: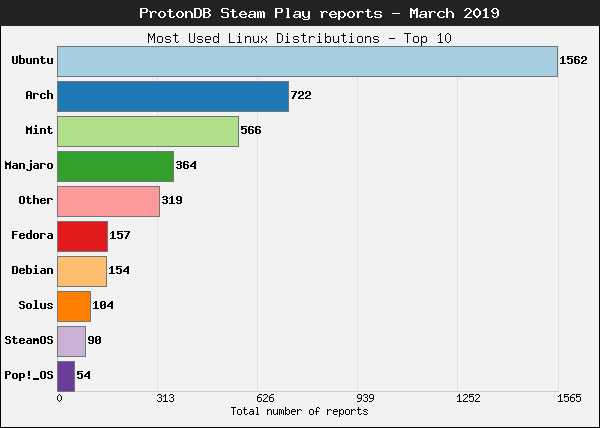 Usual note about "Other": lots of the reports don't include a specific distribution name. Where we're unable to properly identify them when scraping the data dump, we bundle them together. This can be caused by multiple things, so hopefully in future ProtonDB can make this clearer.
As for what version of Proton people have been using, 3.16-8 remains the most popular with 1,558 reports in March although Proton 4.2-1 is already closing in on 500 reports.
For those interested, the raw data can be found on GitHub.
Some you may have missed, popular articles from the last month: