Deep Rock Galactic, a game about badass space Dwarves mining for goodies and one I've highlighted before continues to be awesome with Steam Play on Linux. It just had a rather sweet update too.
Update 24, the "Explosive Expansion" was released yesterday adding in a ton of new types of grenades. Each class in Deep Rock can now unlock up to three unique class-specific throwable items too and it sounds like more are on the way.
Engineer: L.U.R.E, Plasma Burster, Proximity Mine
Gunner: Sticky Grenade, Incendiary Grenade, Cluster Grenade
Scout: IFG, Cryo Grenade, Pheromone Canister
Driller: Impact Axe, HE Grenade, Neurotoxin Grenade
The loading screen and end-game screen have also been overhauled. Cosmetics you unlock are shown, making them a bit more useful and exciting to unlock and equip. There's also a ton of Steam Achievements added in now, five new varied creatures to fight against like the Naedocyte Breeder, a floating bag of slime that constantly spews out eggs so you will need to take them down quickly.
Another change, is that if you join a game in progress (it's a friendly co-op game), new players now drop into the world in their very own personal drop-pod instead of just appearing. It adds to the atmosphere quite a lot actually, although you will need to make sure they don't drop on your head. There's also a pickaxe power attack, some new models for things like the Heavy Sentry model for Engineers, new sounds and so on. A truly massive update!
Since they didn't do a trailer for this update and since I love it so much, here's a fresh look at some clips on Ubuntu 19.04 using Steam Play Proton 4.2-4 (the latest at time of writing):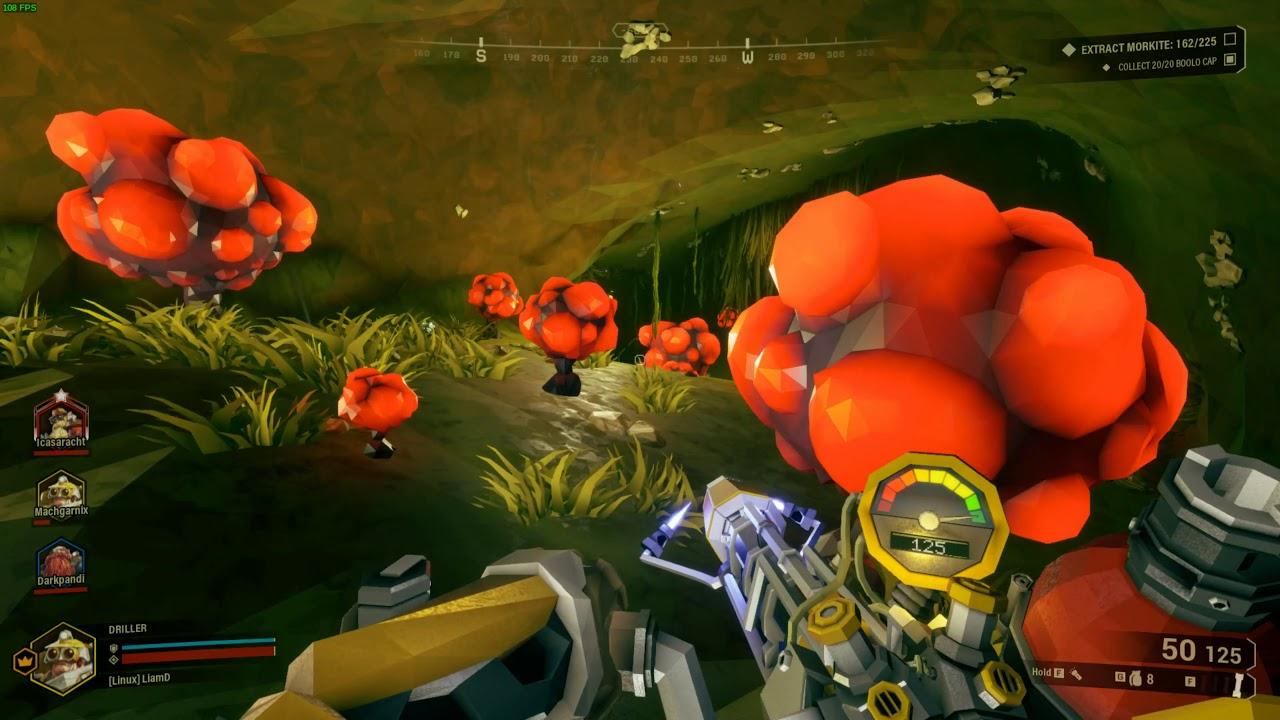 The full game from where those clips were taken took over 30 minutes, some of the missions are quite long when you're going for the secondary as well as the primary objectives. Secondary objectives aren't necessary though, so you can do some of the missions quite quickly. A higher difficulty level (which you pick before each mission) can also adjust the length due to the intenseness of it all. So much fun though, especially some of the environment interactions and the various types of enemy swarms certainly keeps you on your toes.
Honestly, this could easily make my GOTY. A huge surprise to be sure, one that seriously keeps my entire attention when playing it. Not only does it look great and perform nicely it's also incredibly intense. Without Steam Play I would have never experienced what's now one of my favourites, good times to be a Linux gamer for sure.
If you're looking for something that has a huge amount of replay value, continues expanding and works very well with Steam Play I do recommend checking out Deep Rock Galactic. You can find it on Humble Store and Steam.
Some you may have missed, popular articles from the last month: