Vintage Story, another promising cross-platform voxel survival game continues to impress with the latest updates adding in a fun new animal and some great sounding optimisations.
The recently released 1.9.7 update adds in Hares to the game and they're pretty quick on their feet. They come in 9 different variants based on the biome and they're hungry—very hungry. They will sniff out your crops, so you better protect your farms. They also get hunted by Foxes and Wolves, so it should make the environment a little more interesting if you suddenly see any of those dart across your screen on your travels.
As someone who actually owns a Rabbit, something about this little gif made me chuckle: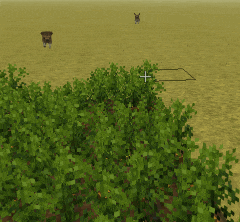 They've also done some much-needed optimizations by the sounds of it, as they now compact data packets making connections and loading times quicker. They gave an example, where connecting to a server now only needs to transmit around 300KB instead of 8MB which is a huge difference.
For those playing with others, you can now have a little more security with the new Padlock item. This will allow you to lock doors, trapdoors and chests. They also improved the in-game documentation, butterflies will now often chase each other which sounds sweet, more emotes have been added to the newer emote system added earlier this month and there's the usual plethora of bug fixes.
I will absolutely have to give this a go sometime to see how different the survival experience is to Minecraft.
You can see more about Vintage Story on the official site.
Some you may have missed, popular articles from the last month: