Stellaris has expanded again for everyone and the Ancient Relics DLC is now officially available to play. Note: DLC key provided by TriplePoint.
First, let's quickly go over what everyone can expect as part of the free "Wolfe" update:
Prior Content Relic Rework - Many things from previous game content have been reworked to use the new Relics system. Among several others, you can gain the Isolated Contingency Core or the Prethoryn Brood Queen as symbols of your triumph.
Sector Redesign and Automation - Sectors have been greatly improved in 2.3, allowing the player more control over how and where they are formed, as well as giving more robust automation tools to let them run themselves if you want to focus on the bigger picture.
Planet Designation - You can now choose to manually set a planet designation (Agri-World, Forge World, etc), focusing production on different resource outputs. There is now a shared automated development stockpile that you can pay in to and allow planets to set their own build orders.
Megastructure Improvements - Habitats gain different effects based on the type of celestial body they inhabit. Ring Worlds gain specialized, highly efficient districts.
Additionally, Stellaris is now 64bit! If you need to keep the older version for whatever reason, like 32bit, certain stores like Steam let you opt into a beta for the older version. On top of that, Precursors no longer spawn in a preselected pie slice of the galaxy, they added an option to disable Caravaneer fleets, a new randomize button when renaming planets and Rogue Servitors can now build a variant of leisure districts on habitats to entertain their bio-trophies in space.
Now that's all out of the way, what about the Ancient Relics DLC, is it worth picking up? Well, that depends on how much you like Stellaris to begin with. For me, I love it. Ancient Relics gives space exploration a new sense of adventure and wonder as you really don't know what you're going to come across.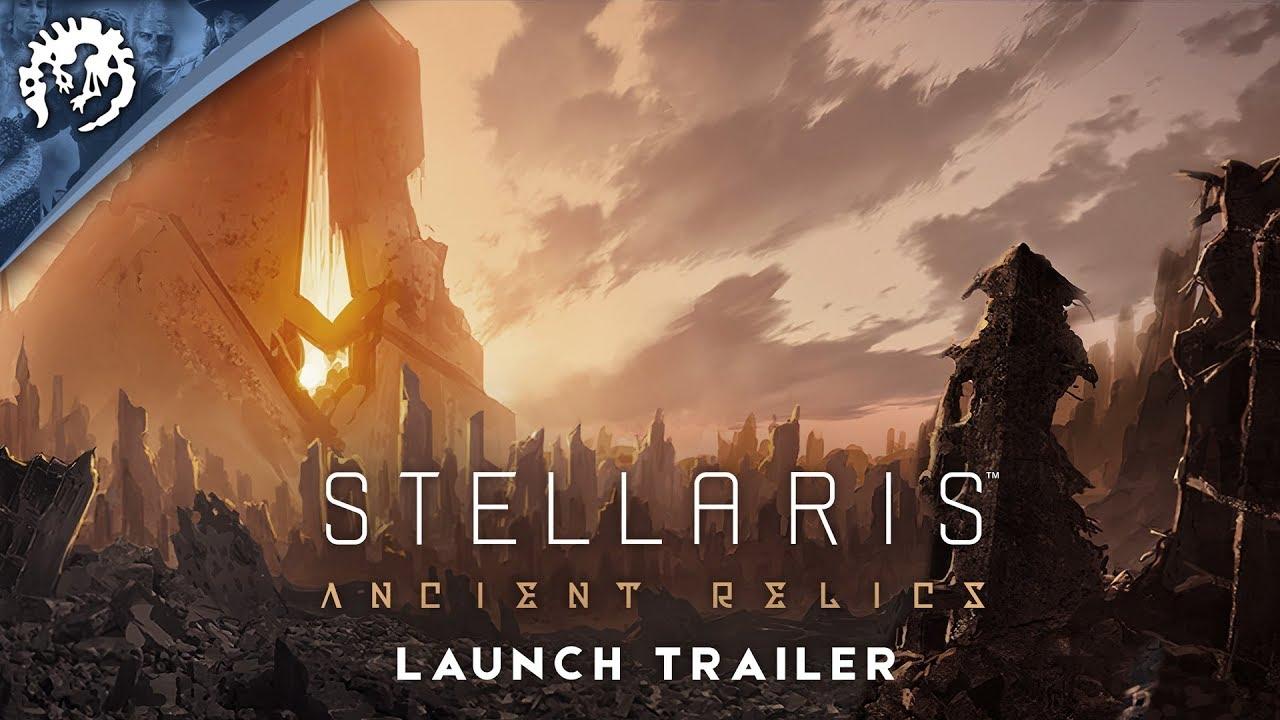 You know what I especially liked about this story pack? You don't need to put tons of hours into it before you really get to see it. I found my first set of ruins within the initial 15 minutes of exploring my neighbouring systems, it's exciting early-on which is pleasing since it also helps make the early-game that little bit more interesting.
That has always been something that somewhat bothered me about Stellaris, the early-game was often too much of the same and this thoroughly mixes it up.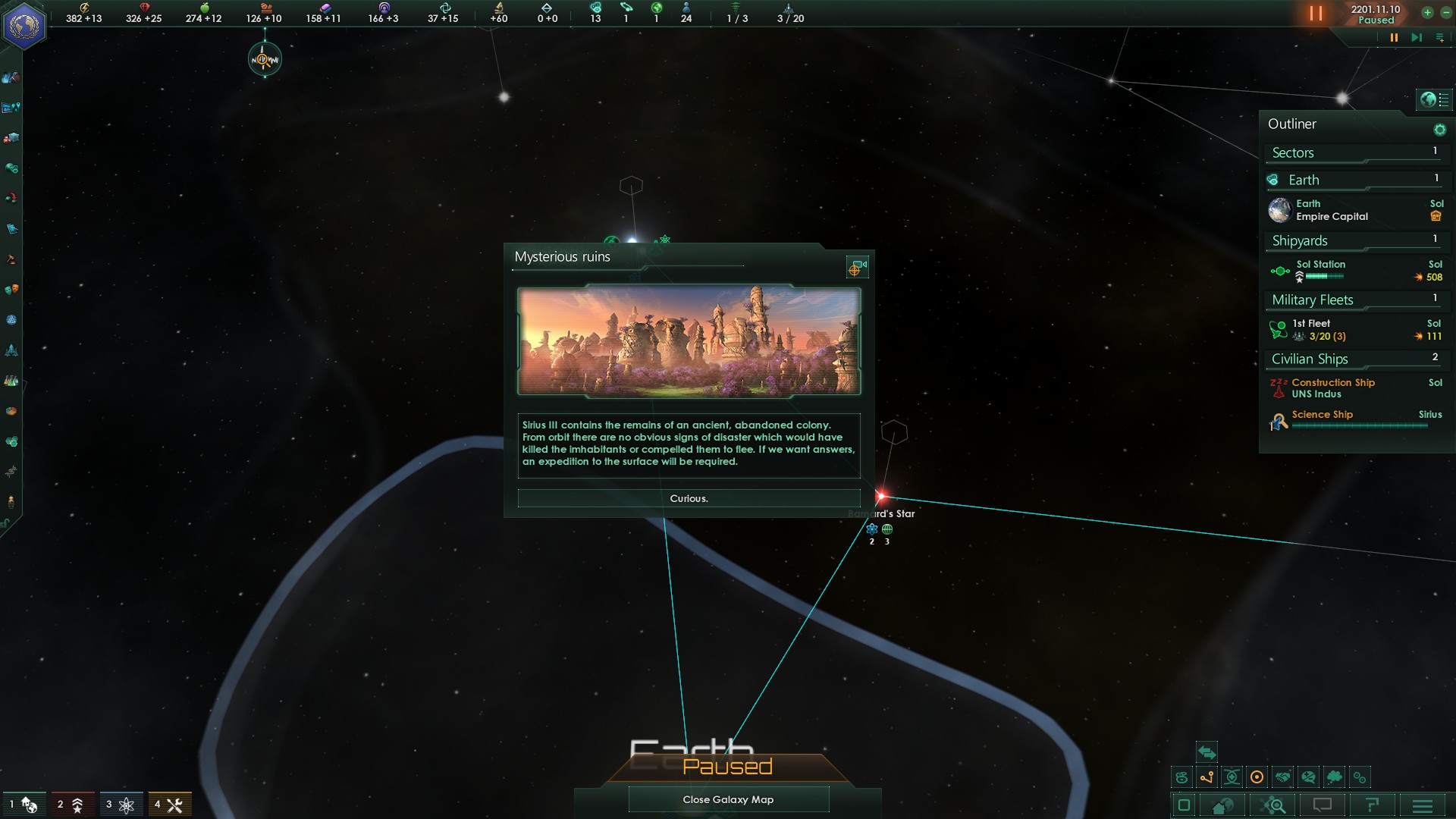 That was a problem I've had with other expansions and updates, with Paradox adding in late-game options but here that's not an issue. It gives you more to work towards, expands the lore of each Stellaris game and just makes it feel more full again. For someone who spent a ridiculous amount of time playing Stellaris, focused expansions like this make it worth coming back to.
If you're lucky like me, you might even find multiple dig sites in a single system. That excited me quite a bit, as one was found as a result of information gained from a previous dig site while the other was a completely new one. All of this happening within the first hour too. The amount of these dig sites you can find across the galaxy is pretty generous, making space exploration and planet hunting vastly more interesting. Another hour later and another three had been found, there's really no shortage of work for your scientists now.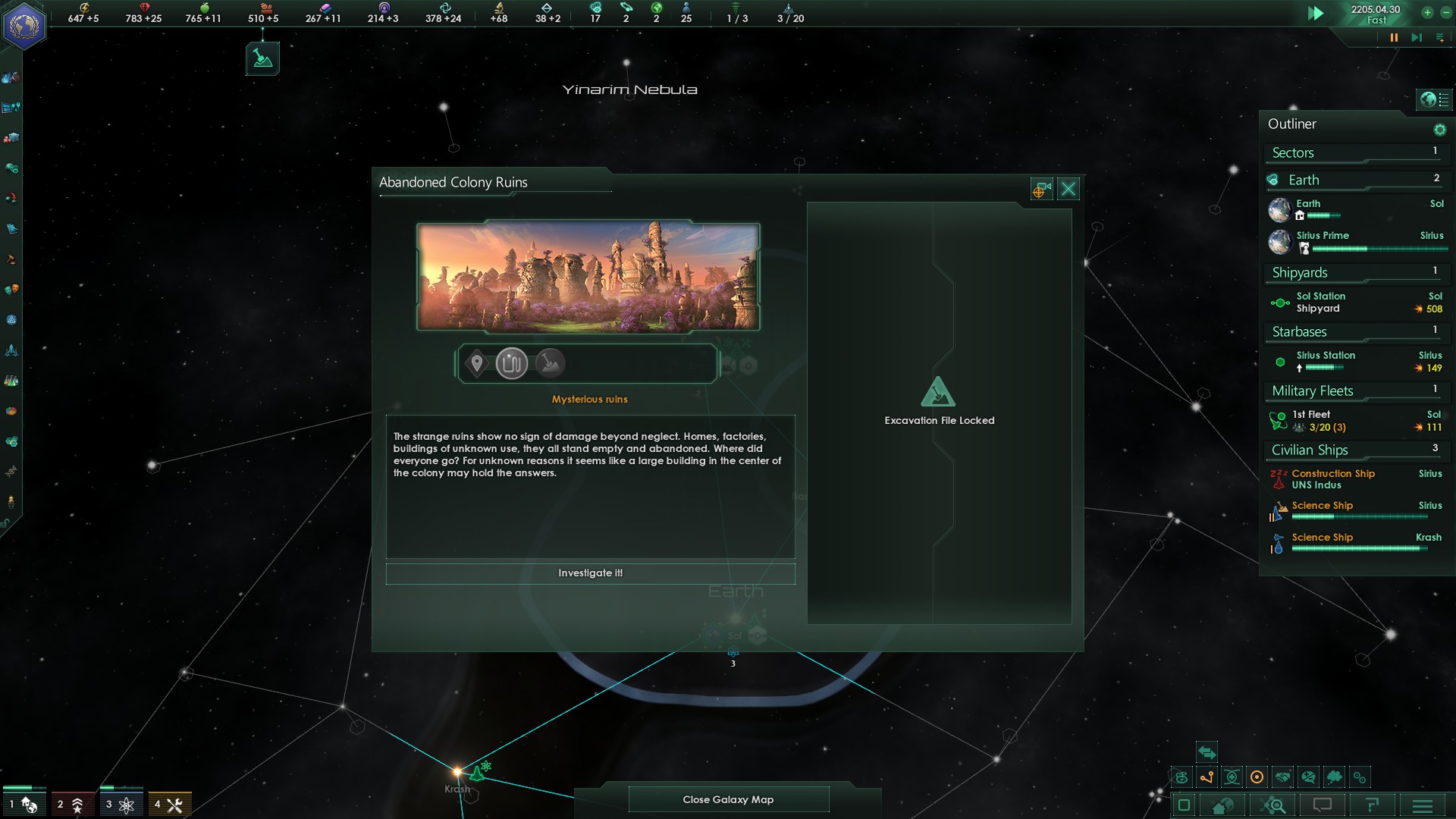 The interface for investigating ruins is sweet too, giving you the ability to go back to previous stages of the investigation so you can follow it along. Lots of things can happen while you're investigating too, it can keep you on your toes and you might even lose a scientist or two, who knows what's lurking beneath the surface. I won't spoil too much but let's just say some seriously interesting events can happen.
The writing for the events you go through during the excavation process is great too, some of it is really quite amusing, others a frightening look into what could be possible in our own future giving enough advancements in certain fields.
The other major part, are of course the Relics themselves. Some are only minor, allowing you to use them for some quick gains across your empire. While others, have some pretty big effects attached to them but I won't spoil them for you.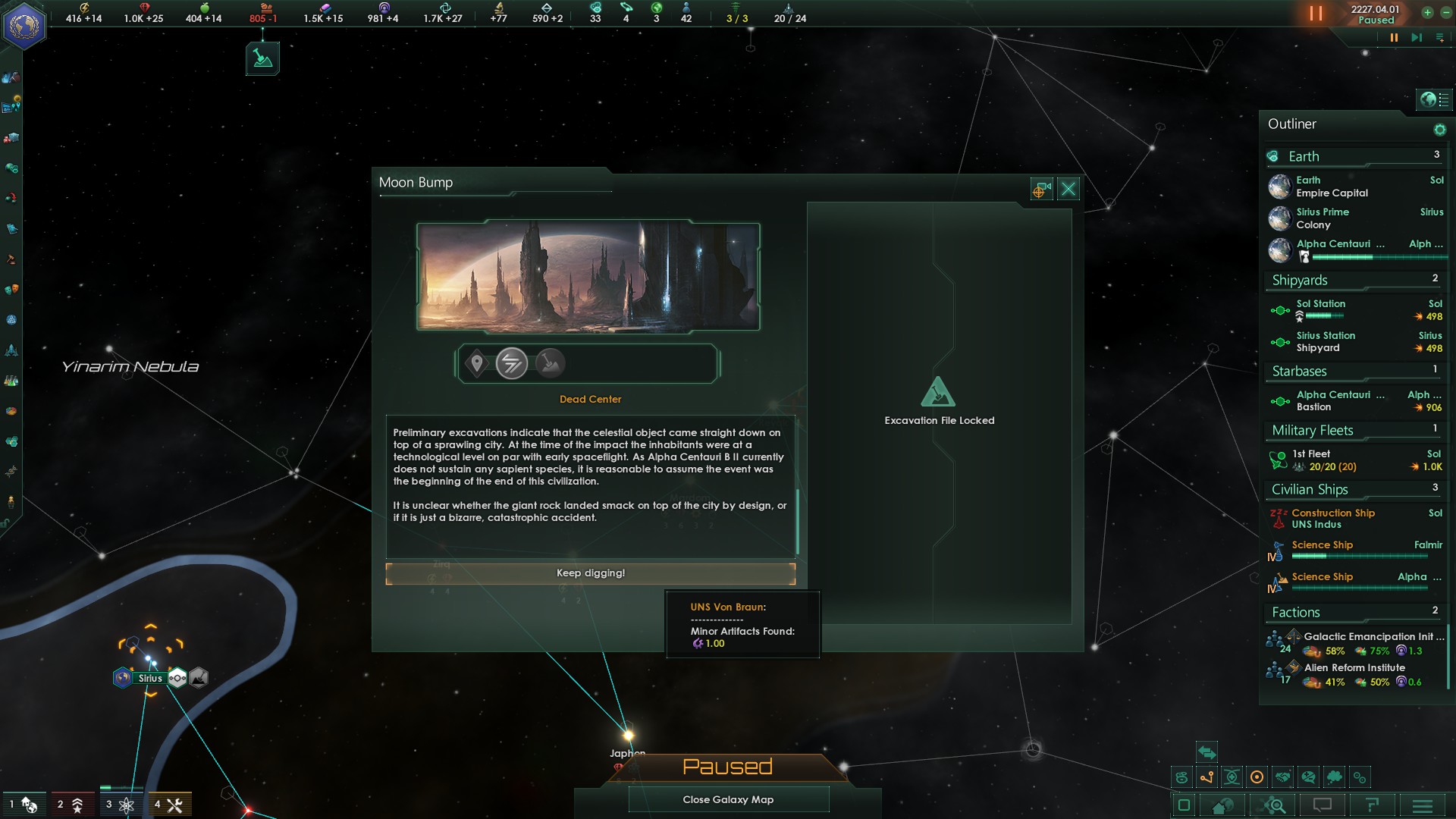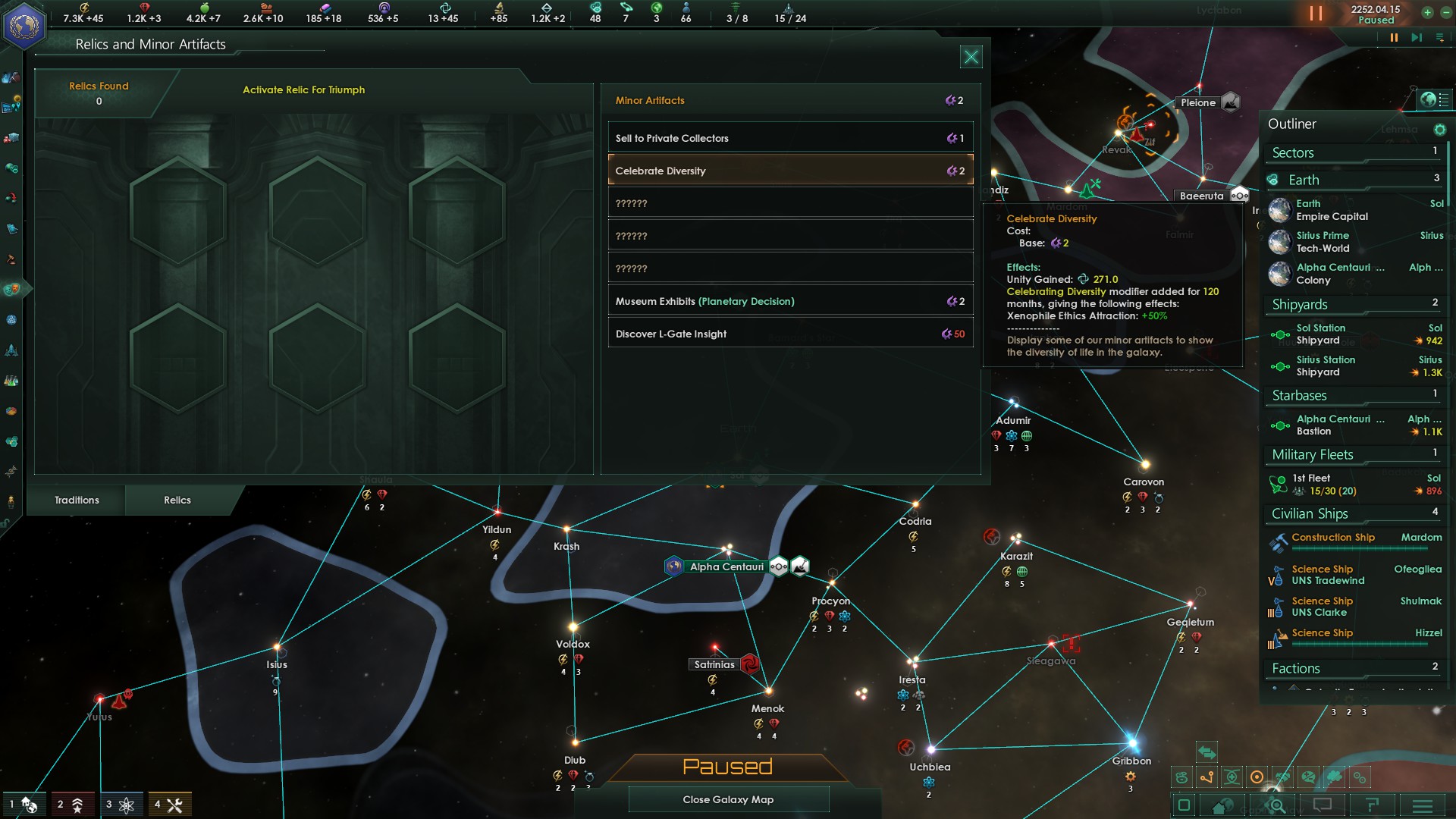 So many new things to find, so many decisions to make. I would find it difficult to now enjoy Stellaris without Ancient Relics. As always, the DLC is not required but this is one pack that you should put high-up on your list to acquire. Overall, a solid addition to Stellaris.
You can pick up Stellaris, Ancient Relics (priced around $9.99/£7.19/€9.99) and various other DLC from Humble Store, Paradox Store, GOG and Steam.
Some you may have missed, popular articles from the last month: