Rings of Saturn from Kodera Software is something I've written about a couple of times and it seems like supporting Linux and Mac has been worth it for the developer.
It's currently doing a hybrid crowdfunding/Early Access model on itch.io, with it just recently breaking one thousand dollars. The developer recently shared this on Twitter, showing that close to half of the backers have been from Linux and Mac: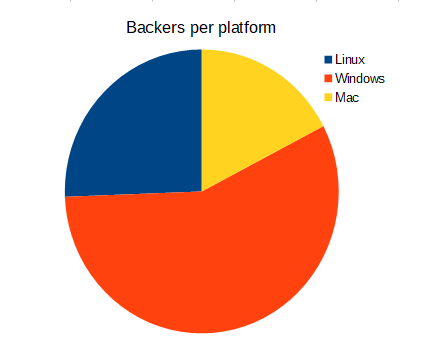 Note: Their original Twitter post mixed up the Mac/Windows labels, I've fixed that to be clear.
Speaking to the developer, they confirmed this is going by downloads on itch but it matches up well with players on Discord and Steam Wishlist numbers too. Really great to see!
Sounds like a really interesting game for space sci-fi fans too. Check out some of the features:
Realistic top-down hard sci-fi space flight experience. Every aspect of gameplay is backed up by real science. Ships fly just as starships should.
Jump into action in seconds with autopilot assist or save fuel by manual thruster maneuvers.
Detailed ship simulation down to every subsystem - upgrade your ship, fix or even jury-rig broken systems on the fly. Every system failure will impact gameplay - adapt to survive in the hostile environment of space.
Discover the mystery of the Rings, or just try to get rich leading your excavation company.
Plan your strategy back on Enceladus Prime station. Sell your output, upgrade your ship, hire the crew and manage your company.
If you missed the recent article on it, they also shared a new trailer:
You can head on over to itch.io to support the developer or wait for the wider Steam Early Access release, which should be on August 12th. Both stores do have a demo up for you to try right now, which is always up to date with the full game.
Rings of Saturn is made with the FOSS game engine Godot Engine.
Some you may have missed, popular articles from the last month: