Currently in "Open Access" on Fig, a hybrid Early Access/Crowdfunding model, Vagrus - The Riven Realms seems to be doing well.
It's only been going for a couple of months but they've already managed to raise $23,071. It's an interesting system, where you back the campaign with your pledge and get immediate access. At various funding points, it unlocks the next part of their development roadmap with the very next milestone very close to being hit.
Quite an interesting story to Vagrus - The Riven Realms. It's post-apocalyptic but not of the usual sort. In the past, a huge empire (that looks a little like the Romans) began to stagnate and so they became oppressors. Seeking out other nations, destroying them and enslaving people. Eventually the gods got pissed, came down and unleashed their wrath destroying the empire. The gods left, shocked at what they had done and this caused all sorts of horrors to be unleashed with other creatures slipping through cracks in reality and some of these ended up rebuilding the empire in their own image. After all that is where your story begins, as a Vagrus you're responsible for leading a caravan and attempting to carve out a life in a hostile environment.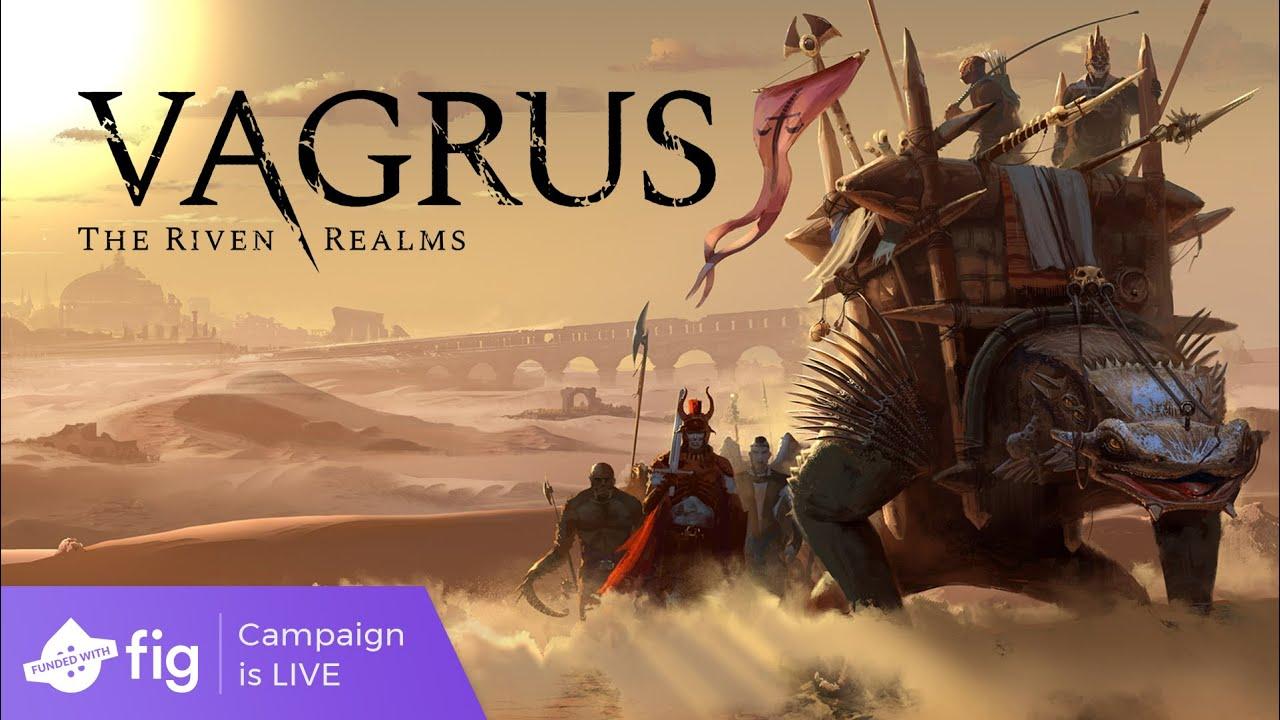 The developer, Lost Pilgrims Studio, did provide me with a copy and thankfully it runs without issues on Manjaro. It's a Unity game, so there shouldn't be too many distribution-specific issues.
It's quite text-heavy, so you need to be a good reader and enjoy reading to appreciate Vagrus - The Riven Realms. Due to this, it can be quite a slow game. I'm enjoying it so far though, the writing and events are really good and it's managed to keep undivided my attention. Quite a lot to take in though, thankfully there's a linear tutorial to teach you the basics of the game and it does a good job of not only being clear, it's a somewhat interesting bit of backstory too.
It has the kind of story telling seen in games like Sunless Skies, reminds of that quite a bit. Although the combat is turn-based and feels a lot more like Darkest Dungeon. It has all the makings of an excellent game, with a great atmosphere. I don't often enjoy such games but this seems like something a little special.
Feature highlight:
Branching narrative in the form of interactive events
Turn-based, tactical combat
A vast, hand-crafted, sandbox world to explore
Digitally hand-painted maps, environments, and 2D artwork
A colorful cast of companions with their own storylines and caravan roles
Over a hundred different enemies
Dynamically changing victory conditions and stories
An elaborate trade system
Factions you can join or fight against
Note: While the Windows and Mac versions are distributed via Discord, the Linux version is being done through itch.io since the Discord store doesn't support Linux. Really great that the developer is able to accommodate Linux backers. You just need to pick the extra Linux option, so they know where to give your key if you back it on Fig.
Find it on Fig in Open Access. You can also wishlist/follow it on Steam.
Some you may have missed, popular articles from the last month: