Dicey Dungeons is a lighthearted deck-building roguelike, where you're a massive walking die and it's available today with Linux support.
Made by Terry Cavanagh (VVVVVV, Super Hexagon), Chipzel, Marlowe Dobbe and Justo Delgado Baudí, this new team have managed to created something extremely unique with Dicey Dungeons.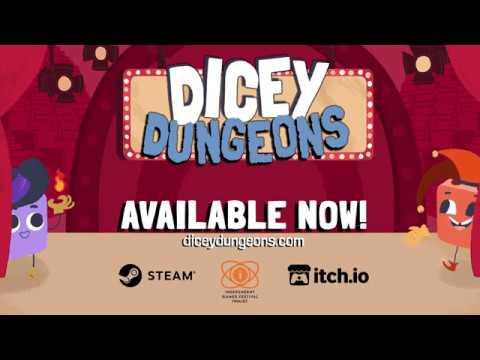 I've actually owned it personally for some time now, after picking it up during the Alpha on itch.io I was instantly in love with it. Deck-builders are becoming steadily more popular again but Dicey Dungeons is different. You have your cards which you can swap around, sure enough, but there's no messing about with needing some sort of mana. Instead, you roll dice to activate these cards and what they do depends on the number you roll and place into their slot. It's brilliant!
Feature Highlight
Six wildly different playable classes: Warrior, Thief, Robot, Jester, Inventor and Witch.
Dozens of enemies, ranging from Vacuum Cleaners that want to suck your blood, to creatures from Irish mythology, to suave malevolent snowmen.
A catchy, upbeat and energetic soundtrack by Chipzel (previously, the musician from Super Hexagon).
Beautiful and adorable artwork by Marlowe Dobbe.
Procedurally generated for endless play-throughs.
I've somehow managed to sink 26 hours into Dicey Dungeons, I'm not even sure how. It's as if my hand has a mind of its own, moving the mouse on over to play just one more run. It helps that it's not a complicated game, as they've managed to balance the time and fun factor together to make it accessible and streamlined so you can blast through an hour and come back easily the next day for another go.
What they've managed to do with the simplicity of it is exceptional too. While your dice are used to activate your cards, you can also directly attack dice as well. You can set them on fire, costing HP to put them out and use them. The cards themselves can be messed with too, you can have them shocked requiring a die to unlock them, there's so many little touches and features making it seriously fun.
Never has a recommendation been easier. Go get it.
Find it on itch.io and Steam. If you want the soundtrack by itself, it's also available here.
Some you may have missed, popular articles from the last month: