Eliza, not the usual type of game Zachtronics are known for but their puzzle games are always great so with the recent release of their Visual Novel game Eliza I was pretty curious about it. Note: Key provided by GOG.
I'll start by mentioning that Visual Novels are not my usual preference, in fact I often stay away from them. They just don't usually interest me. There's a few that are good of course but I find them hard to pick out amongst the sea of Anime styled novels all about romance. Eliza is different, with a futuristic setting that will make you genuinely think about the future and what's to come.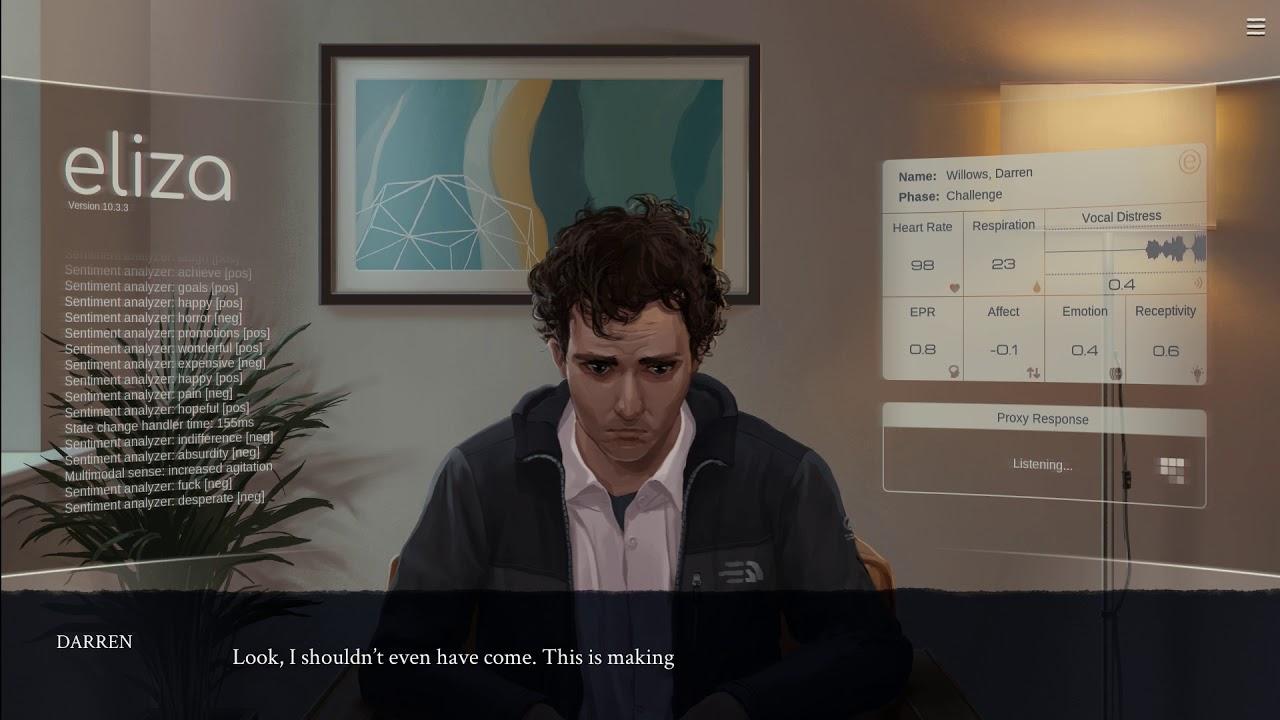 Feature Highlight:
A thought-provoking story told in the form of a visual novel from an award-winning indie team.
Follow Evelyn's journey through a present-day Seattle brought to life with beautiful hand-painted art.
Get to know Eliza's clients and the employees of Skandha, the technology giant behind it, with over a dozen fully-voiced characters and powerful performances from a highly regarded cast.
An evocative, ambient original score by the composer for Infinifactory, SHENZHEN I/O, Opus Magnum, and EXAPUNKS.
Is AI-driven counseling better than nothing? Is it worse than nothing? What responsibilities come with technical skills? Consider your own answers to these questions and more.
Counseling sessions getting a little too real? Relax with Kabufuda Solitaire, a new take on solitaire using Japanese kabufuda cards.
"I just feel…empty inside", says Darren during my first session. I'm sure we've all been there, damn does some of this hit close to home at times. As Darren goes on, you see Eliza analysing them and as they continue talking it all feels a bit too real like some conversations I've had before. Has quite an intense feel too it, despite a lot of it being static scenes with you listening or clicking around.
I'm still thinking about all the ins and outs of it now. What really gets me is how honestly believable it is, I wouldn't be surprised if something like Eliza is being worked on right now in the real world. We've already seen worse (and some truly stupid things people are willing to pay for). Think about it, any time you speak to a call centre for all sorts of services and products they're likely just reading from a script—is this just an evolution of that?
Great art, fantastic atmosphere and a story with some lovely writing that had my complete attention. The good voice acting certainly helps get you invested in it too. It's worth noting that it's a mostly linear experience. If you've played a lot of Visual Novels that offer branching narratives and tons of choice that's not what Eliza does. There is some choice as you progress but Eliza has a story to tell, you're along for the ride.
This near-future story was quite captivating overall and it's great to see something different from Zachtronics. Do give it a try, it's worth your time.
Available on many stores so take your pick: GOG, Humble Store, itch.io or Steam.
Some you may have missed, popular articles from the last month: