Pathway released back in April and it's a lot of fun but one thing was certain after playing it for a lot longer, it did get repetitive. A big free update is coming soon and it's sounding good.
We already knew it was getting an update, since they did previously confirm it but they didn't say what it would include. At least now, we have some details on it as they announced in a post on Steam. For starters, it's getting both a Japanese and Chinese localization to bring in more players. To do so, they said they had to rewrite a lot of the UI code. Always nice to see more games available across different languages!
Perhaps the more exciting part (at least for me) is that Pathway is getting a bunch of new combat skills. Three of them were teased but they're saying there will be a lot more. The three they teased are:
Psychic Control: Use your psychic powers to temporarily confuse an enemy causing them to attack one of their allies. It's just mean, really.
Sucker Punch: A powerful blow that will push the enemy back. If used cleverly you can push the enemy into other enemies. Wonder what happens when you push an enemy into an explosive barrel?
Healing Shot: Shoot a healing projectile at one of your allies. Restores health slowly over the next few turns.
They look pretty good too:
Another addition to make combat that little bit more varied will be the inclusion of new combat areas. Here's a shot they teased: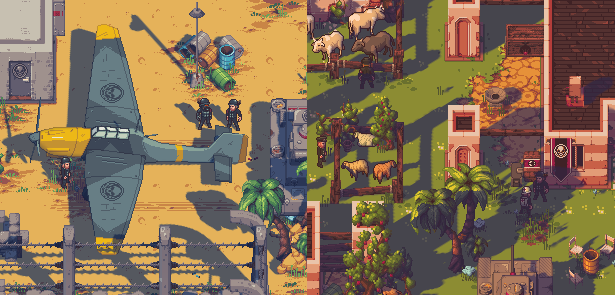 They've said this is part of "a bigger rework of the events in the game" and they're going into more detail in a later development update. Additionally, they said they've also updated existing areas to make them more interesting.
You will also see a new UI feature to show indicators on the screen for enemies outside of your current view, this will enable making certain movements and tactical designs easier as there's less guessing if enemies can see you or if you can hit them and things like that.
All sounds pretty great to me. The new skills plus extra combat maps should make give the game a lot more variety overall and more fun to play through again. The free update should be out "later this Summer", so before the end of September most likely.
You can grab Pathway on Humble Store, GOG and Steam.
Some you may have missed, popular articles from the last month: