After a few years in Early Access on itch.io, Finji have officially released their post-apocalyptic road-trip strategy game Overland. Note: Personal copy.
Take care of a group of travelers on a post-apocalyptic road-trip across the United States in this turn-based survival game. Fight scary creatures, rescue stranded survivors, and scavenge for supplies like fuel, first aid kits, and weapons. Decide where to go next, whether it's upgrading this wrecked car, or rescuing that dog. Just remember, there are consequences for every action. Get ready for close calls, dramatic escapes, hard choices, arguing about whether or not that dog gets rescued, and the end of the world.
The first thing you really notice when playing Overland is the incredibly moody atmosphere. It's not a happy game, it doesn't pretend to be or try to cover it up either. This is the end of the world, you're trying to survive and it is a true struggle. That and the small contained levels where you're looking at just a slice of a location. Even though the levels aren't big, there's a huge amount going on under the surface.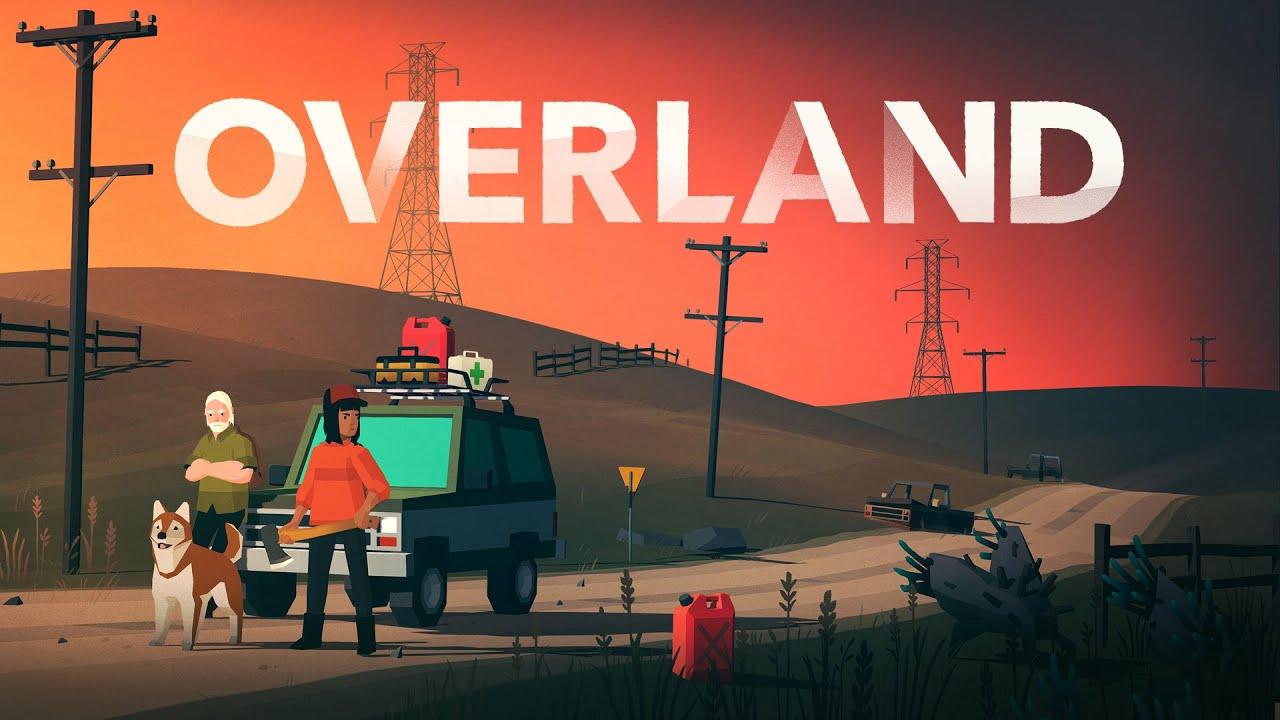 While Overland has the familiar turn-based feel and style that games like XCOM made popular, it still plays nothing like them. You don't run for cover and there's no special abilities or gaining experience. The only one who changes is—you, by learning how to do deal with these creatures and how to best use the seriously limited resources you have.
Since the maps are small, you don't get a chance to actually do much. Each character has a very limited set of action points, so you really have to use them wisely. Everything is a toss-up between checking that dumpster out and finding some fuel or perhaps a shiny new weapon or escaping with all your limbs intact. Combat as well, is something that you're only going to be doing as an absolute last resort. In a way, you never truly feel like you're getting anywhere. I feel that's part of the point though, to keep you on your toes always on the look out for something useful.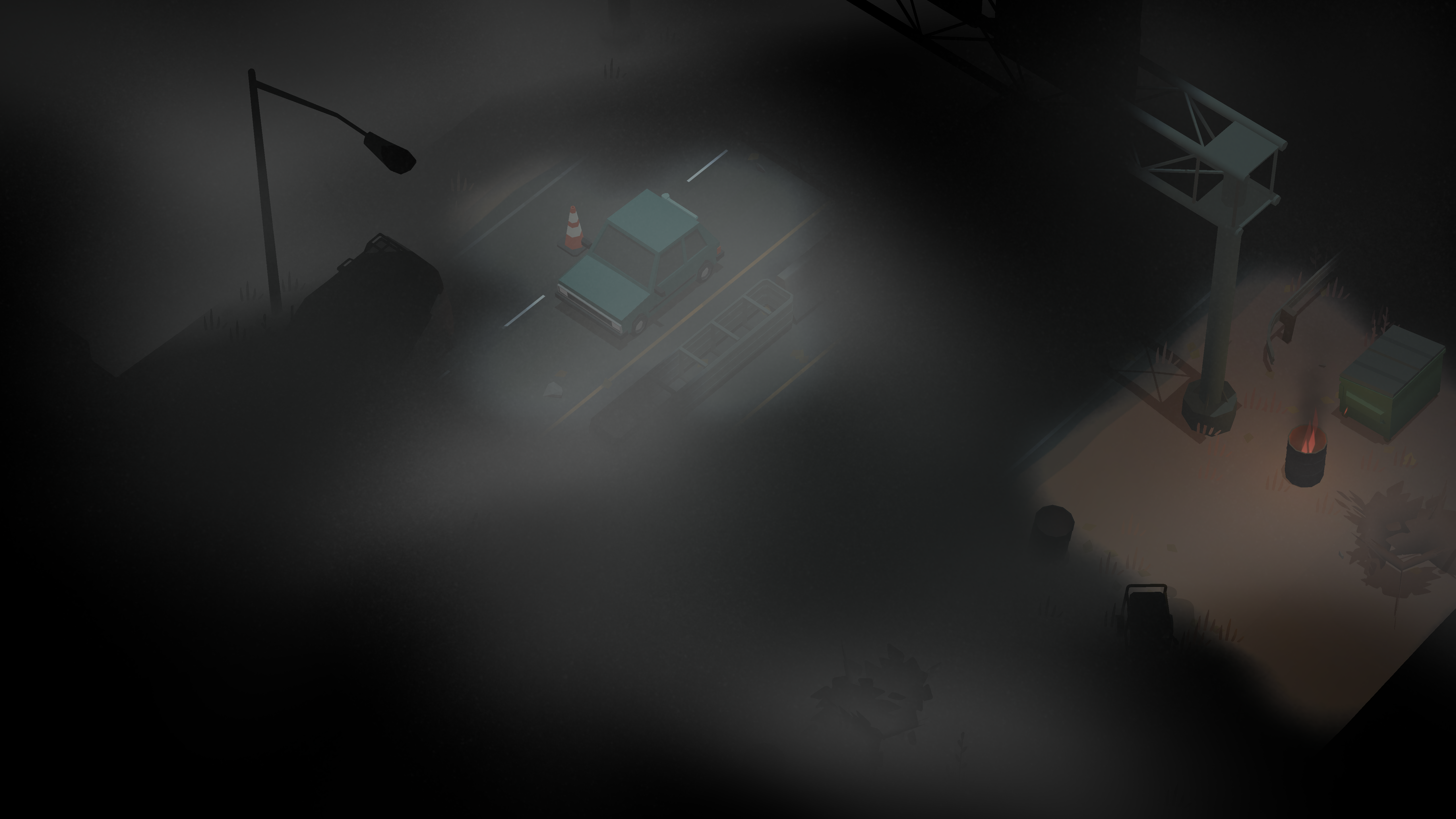 How am I supposed to find anything in that fog?
Note: If you use the in-game screenshot tool, it saves the shots to this location: ".config/unity3d/Finji/Overland/Screenshots".
The real problem is, the little (and some big) beasts are attracted by sound. Give one a good wack on the head? Prepare for the sound to draw more of them to the surface. Thankfully, it's not just you that has a limited amount of points to move with. Enemies coming up to the surface doesn't happen instantly, they have to first poke their head up and then crawl up before they can get a turn at making you into dinner.
Since this is the post-apocalypse, the strange creatures aren't all you're dealing with. During one run, everything was going incredibly smoothly. I had rescued someone, found a bigger car and managed to attach some top-notch floodlights onto the top and after pimping my ride I felt like nothing could stop me. However, my companion got stuck between two nasties and she died shortly after that. I escaped and went looking for fuel, only to encounter another survivor who decided to pour out a bunch of fuel to attract a creature and when I went to grab a can he left, he stole my fucking car!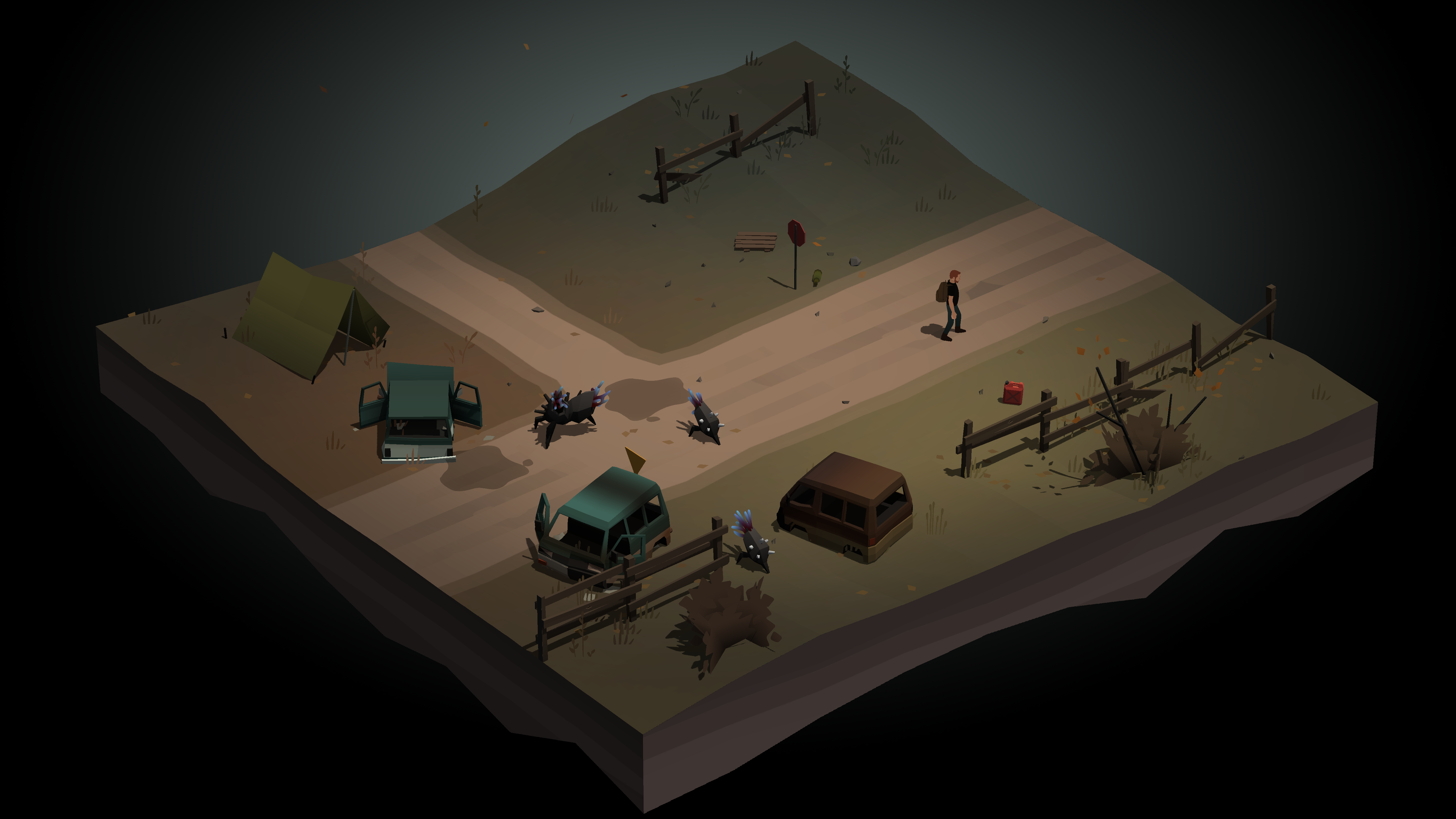 I wasn't exactly left with much after the carjacking…nothing actually.
Once a run starts going bad, it can get pretty damn tense. You will either be the luckiest person around and find what you need or you're totally screwed. Naturally, the latter is what I usually end up as. After my car was stolen this was what I had to deal with after a short walk to find another car: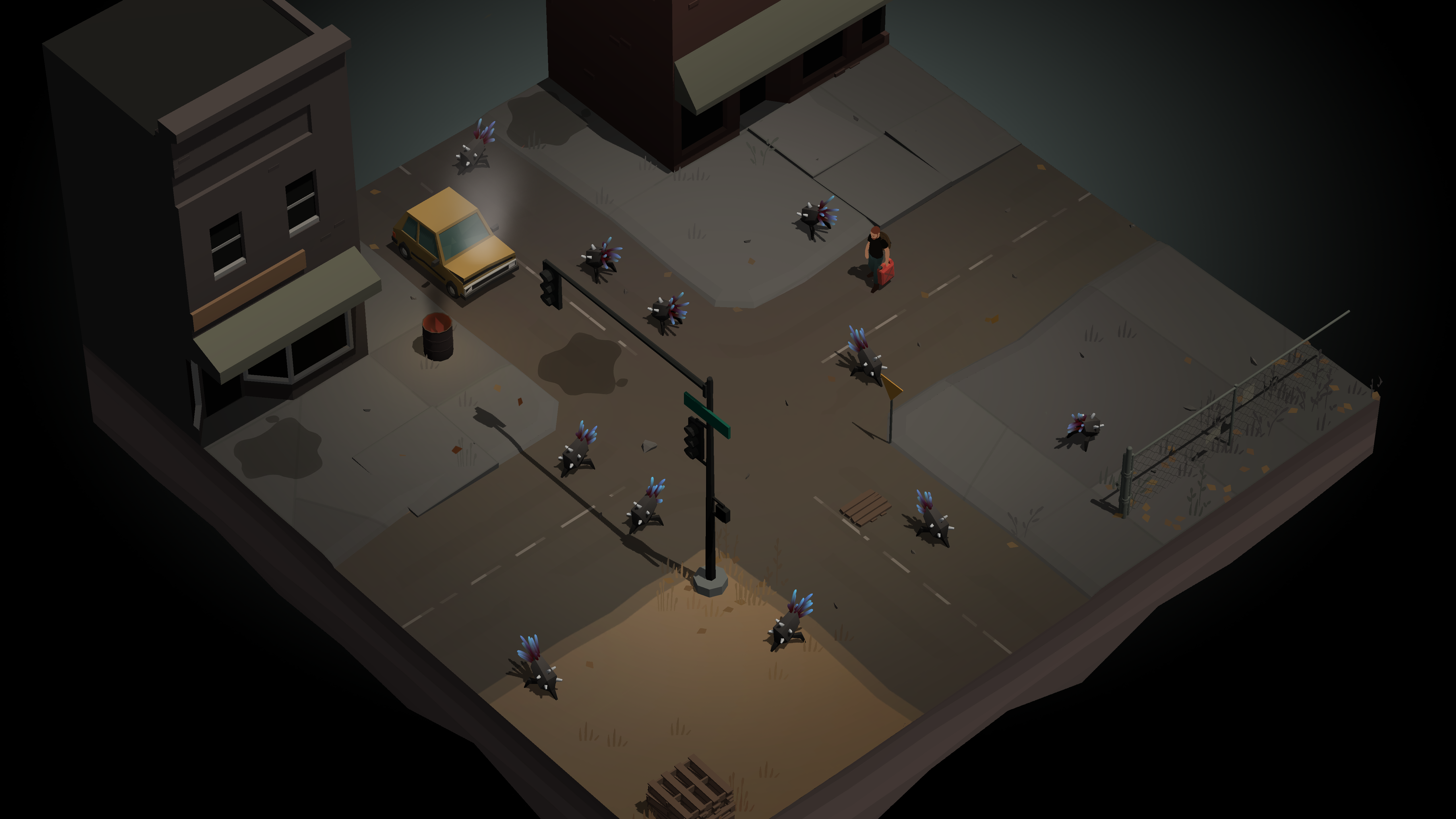 I died pretty soon after entering that area. Thankfully, not all is lost at times. If you do manage to complete an area, when starting a new game you do have the option of beginning your journey there.
Another part of the difficulty in Overland is a design choice of explaining a grand total of nothing. It's a survival strategy game that forces you to think and learn on the go, for better or worse. Some of you may enjoy that, at times I did but there's other times where I feel like I wished I knew more about the world, about the characters, about what items I might be able to find.
A little personal gripe with Overland is that they should have made the interface between driving and walking easier, it can be a little confusing sometimes if you've selected a character or the car to drive. An easier way to quickly switch would have been nice. Small issue though. My bigger gripe is how it feels like it hasn't really progress far from the early builds I played over the last few years. I don't know if that's because it doesn't explain anything and so everything feels hidden or if it just really hasn't actually expanded all that much.
Features/Gameplay Highlights:
Always keep fuel in the tank. Stay away from the creatures. Be careful. Be quiet.
Loud sounds attract trouble, and there's no way you can fight them all. Grab as much gas as you can, rescue that trapped stranger, and get back in the car before it's too late.
Travel West, through grasslands, over mountains, across deserts, and to even stranger places. Every level, roadmap, and character is randomly generated, so each trip is new.
Equip dozens of items, including medkits, shields, axes, potted plants, scavenged armor, and luggage racks.
A completely new end of the world from Finji (Canabalt, Night in the Woods).
It can be thought of like a slower turn-based, more focused and intimate Death Road to Canada. The basic ideas are the same but the gameplay is very different. Overland can be quite punishing, so on that note it's certainly not going to be for everyone. I personally purchased this one all the way back in 2016, so I've been waiting for the full release for what feels like forever.
Overall it's incredibly stylish, very challenging and worth a purchase if you do enjoy such games usually. I'm happily going to jump in and play some more soon.
Some you may have missed, popular articles from the last month: