Deadly Days is a game I've played repeatedly over the course of it being in Early Access, it's good fun and it's officially out now with a big update.
What to expect from it? You control a small squad, which you equip with various weapons to go through a series of randomly generated locations to loot for scrap and more equipment. You need to direct your survivors around each map and while they can act by themselves, you can also take a bit more direct control to aim their weapons. Additionally, you also have special abilities like dropping bombs, healing, speeding them up and so on.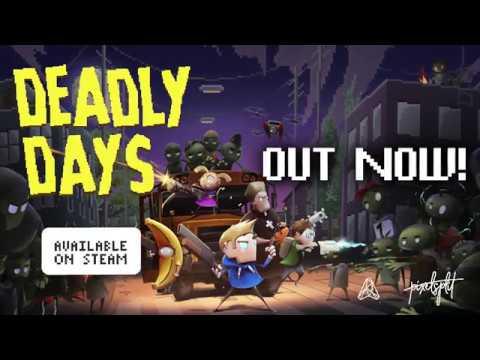 It's not exactly a serious game, it has quite a lighthearted take on it all. Especially so with the new intro showing how it all began with the burger factory. The new music while you're exploring a location is foot-tapping stuff, quite comical really considering all the upbeat music just seems like the opposite you would expect from such a game. Not a point against it though, it makes it have a different and more relaxing feel.
While it has a pretty laid-back atmosphere, it's not easy. Day doesn't last long while exploring and once the hordes start coming your crew can be taken down quite easily. My people die quite often, mainly while underestimating how long it will take to loot a particular building. I honestly can't count of the amount of times I lost someone when they were so close to escaping onto the bus to leave the area. Sometimes it's worth it though, if you managed to loot a really good weapon to hopefully rescue another survivor later.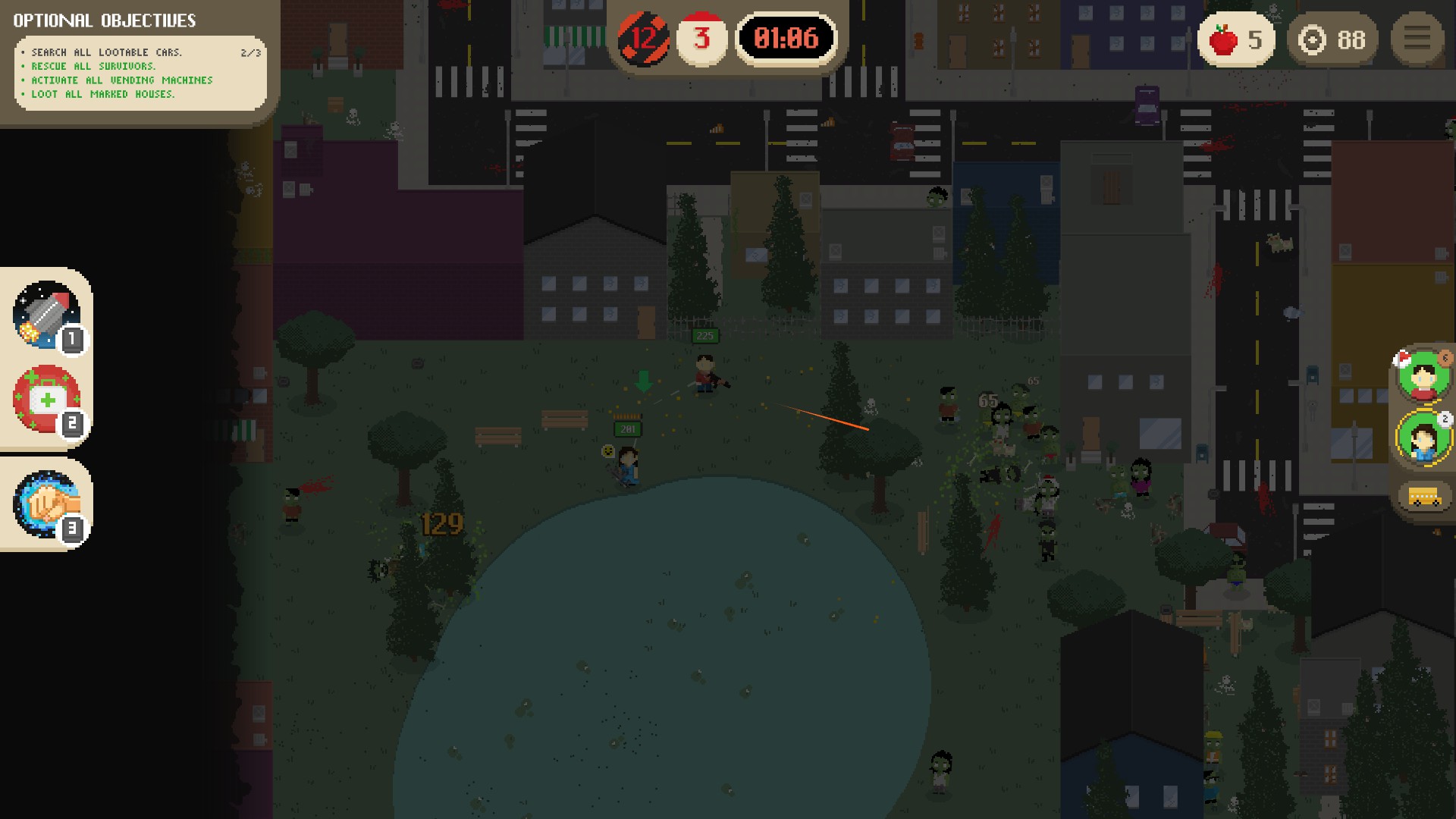 You need to keep a constant watchful eye, zooming in and out and scrolling across the map on the lookout for loot and dangers. The encounters you have are fairly varied too. Some maps might have an airdrop full of loot to find, a broken down bus with a stranded survivor, a special type of zombie to take down and more.
The zombie varieties are quite good too. You have your standard brain munchers but as you progress, more get added in. Big fat zombies that unleash a mini-horde of squishy things, zombie dogs, zombies with big long tongues and so on there's 15 different types to deal with in total.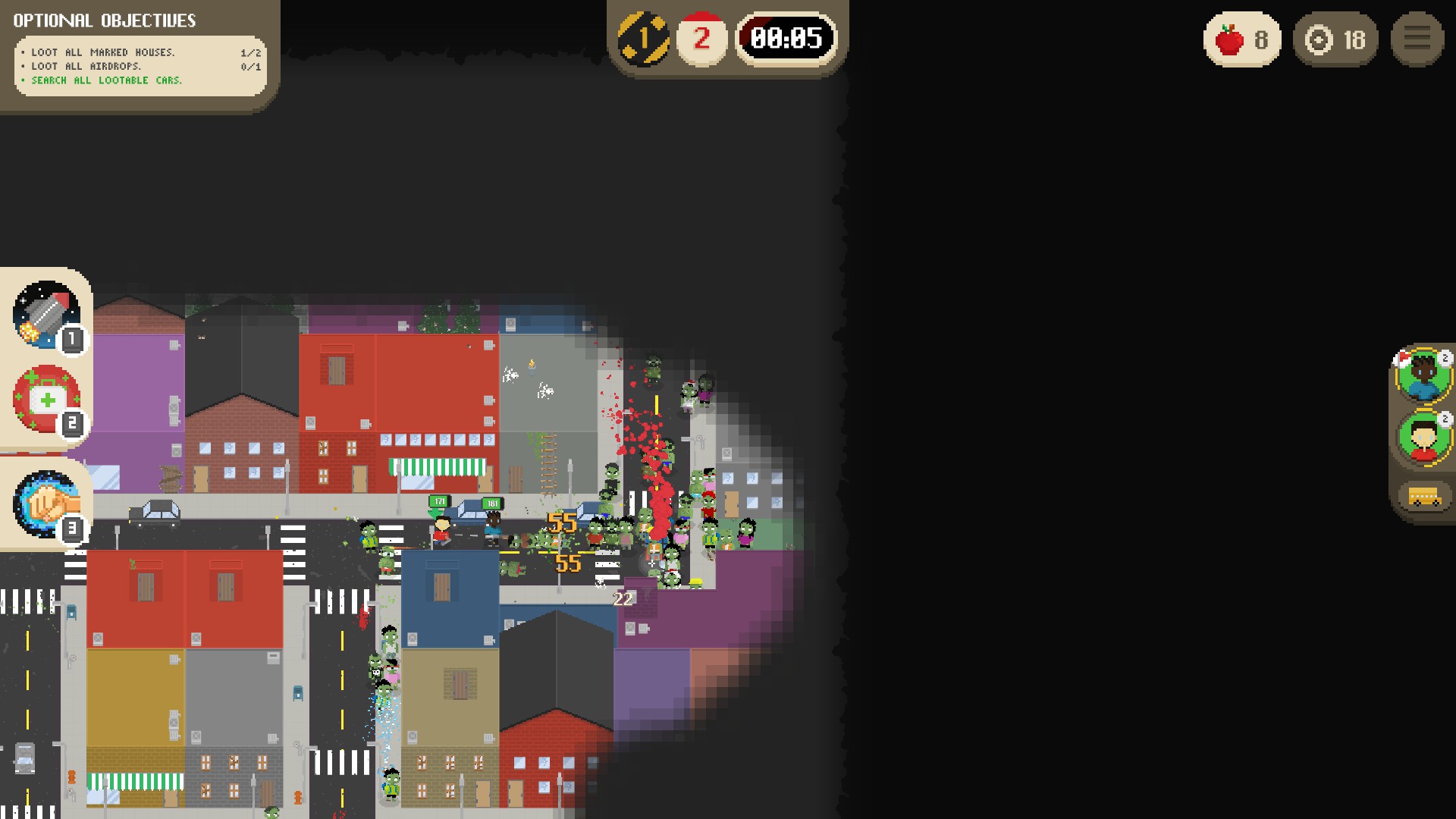 I don't really have anything bad to say about it. The art is perhaps not amazing but the gameplay is good enough to keep my interest for a few hours each time I load it up. A few more map interactions would have been nice, they did add a couple over time like exploding trees, fire hydrants which can explode and shoot out water and a few others but there's not a whole lot.
The release update adds in quite a lot like: an intro; translations for Japanese, Chinese, Russian and Portuguese; new Zombie graphics; 25 new survivors to join your squad; performance improvements; custom characyer name generators for special survivors; new weapons with the sledgehammer and the light machinegun; new powers to help your survivors like a Drone Swarm and lots more.
Feature Highlight
60 crazy objects that make every game unique, including tooth paste
30 powerful special abilities that can dramatically alter the outcome of fights
Three different specialties in which you can activate new abilities, survivors, objects, and types of weapons
25 types of weapons with randomly generated modifications
Procedurally generated cities and missions
50 different survivors with 50 different abilities
More than 10 different types of zombies who want only one thing: brains
And three bosses who must be vanquished at the end
Over 45 achievements that need to be unlocked
Lovingly crafted pixel art
Integrated twitch features – viewers become survivors and decide which mission should be taken on next
If you fancy a real-time squad-based survival game where you go through a series of missions with random generation so it's different each time then you're in good hands with Deadly Days.
You can find Deadly Days on Steam.
Some you may have missed, popular articles from the last month: