With Linux support same-day as promised, Cultic Games and 1C Entertainment have launched their lovecraftian themed horror RPG named Stygian: Reign of the Old Ones.
Pulling in direct inspiration from the works of H.P. Lovecraft, Stygian is a turn-based RPG set in a broken and mysterious world. Like classic RPG titles, Stygian provides an open-ended narrative to unearth as characters cope with the warped reality of a world fallen to chaos mixed in with some turn-based combat.
New launch trailer: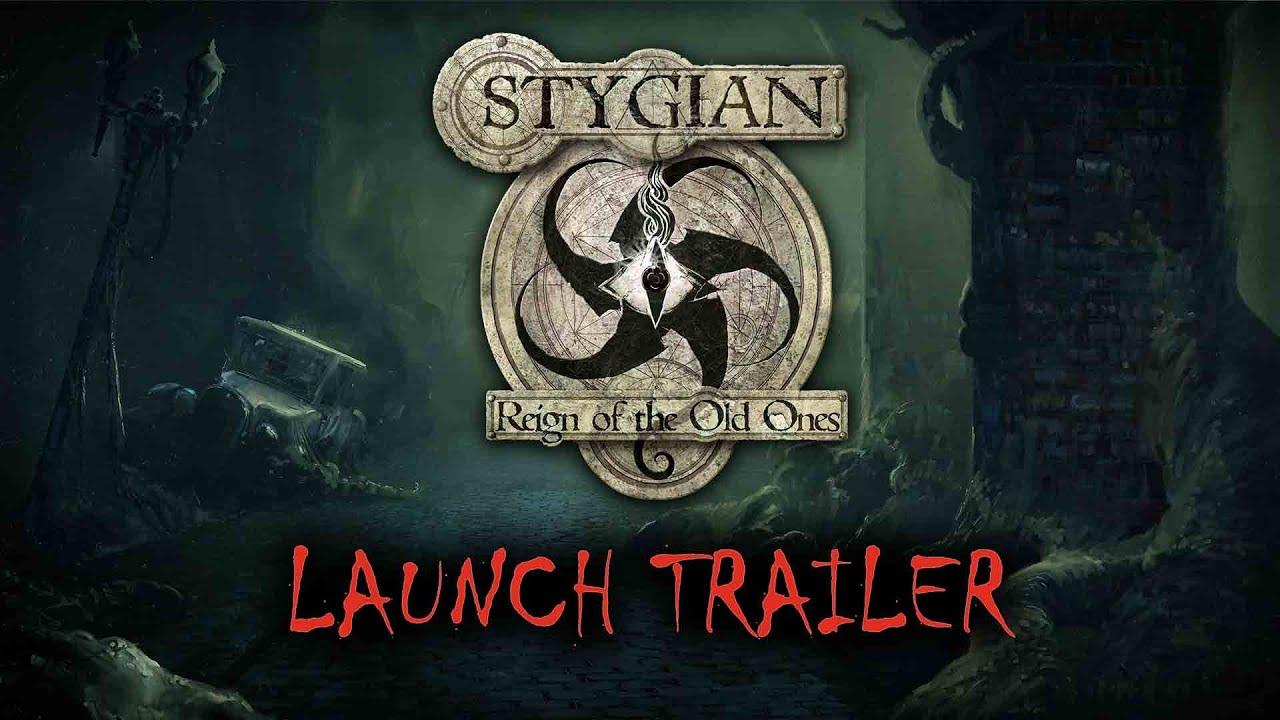 What an awful world to live in. One where your town of Arkham seems to have been completely ripped from the Earth to sit under an alien sky where horrors await around every corner.
Feature Highlight:
A hand drawn 2D world reflecting Lovecraft's themes of cosmic horror and dread.
Enemies, environments and storylines inspired by Lovecraft's iconic original works. Take part in quests inspired by your favorite stories and see them play out according to your own decisions and role-playing style.
Choose from 8 main character Archetypes, each with its own origin backstory and specialties.
A host of weird companions will accompany you on your ill-starred journey: the lonely, antediluvian 'Outsider', a fallen soldier of the Great War reanimated by Herbert West. Recruit these and other outlandish beings to your crew.
Your character's Sanity and mental state will influence dialogue options. Mental illness comes with advantages as well as hindrances. Sometimes it pays to be mad in a world gone mad!
Stygian's Belief System determines how your characters cope with the warped reality of the new Arkham, as well as the rate at which they regenerate lost Sanity. Belief Systems also offer unique dialogue options, expanding the breadth of role-playing possibilities.
A new kind of spell system which sometimes takes more than it gives. Being a master of the occult is not as simple as flinging colored missiles from your fingertips. The black magic of Stygian is potent but may cost you your mind, your health, and possibly even much more.
One of the issues I've encountered, is that with VSync turned on the mouse has some noticeable input lag. Turned off it's fine but just something to be aware of. It's not a Linux-specific issue either, going by the Steam forum post it also happens on Windows and Mac.
Another issue I noticed is the text. Whoever wrote it seems to be a bit confused, constantly mixing up between he/her/his and so on during character creation across the various options and multiple screens. I think it's good they have a choice between male and female characters and I practically never get bothered by such things as this, but the text stuck out a bit and needs cleaning up. I'm possibly being a bit picky here but it just read weirdly. The developer, Cultic Games, is from Istanbul so it's likely an English translation issue.
Perhaps a much more annoying issue is that after setting up my character how I liked, I accidentally hit Main Menu while in-game and it just quit right back to it without a mention of it not saving. Quite a nuisance having to go through the character creation again. Once you get passed the starting scene though, the option turns into save and quit so it won't happen later in the game. I am again just being a bit picky here because it annoyed me losing my character setup due to a misclick. They also need a better save system anyway, one with profiles to allow multiple characters that won't overwrites saves of another.
Okay, pickiness out of the way…
So far, I'm very much enjoying what I've seen. I've not completed it since my access came in pretty late against the release but it definitely hits a lot of the right marks. The atmosphere is seriously thick, it's made me shiver to my core multiple times already and the design work that's gone into making such a freaky look is fantastic.
There I am, a Middle Aged ex-Gangster cheating at darts 5 minutes into the game and I become the World Champion. Although the person I was against started talking about Cricket at one point, either they were drunk (we're in a bar after all) or another translation issue. Anyway, that happened, I love the complete weirdness of the game already.
Stygian certainly doesn't ease you into the world, you're living in some crappy bar and you pay your upkeep in cigarettes with a bartender who loves to rinse you of everything you own whenever they can. The sign in the bar amused me too with the dead cook notice.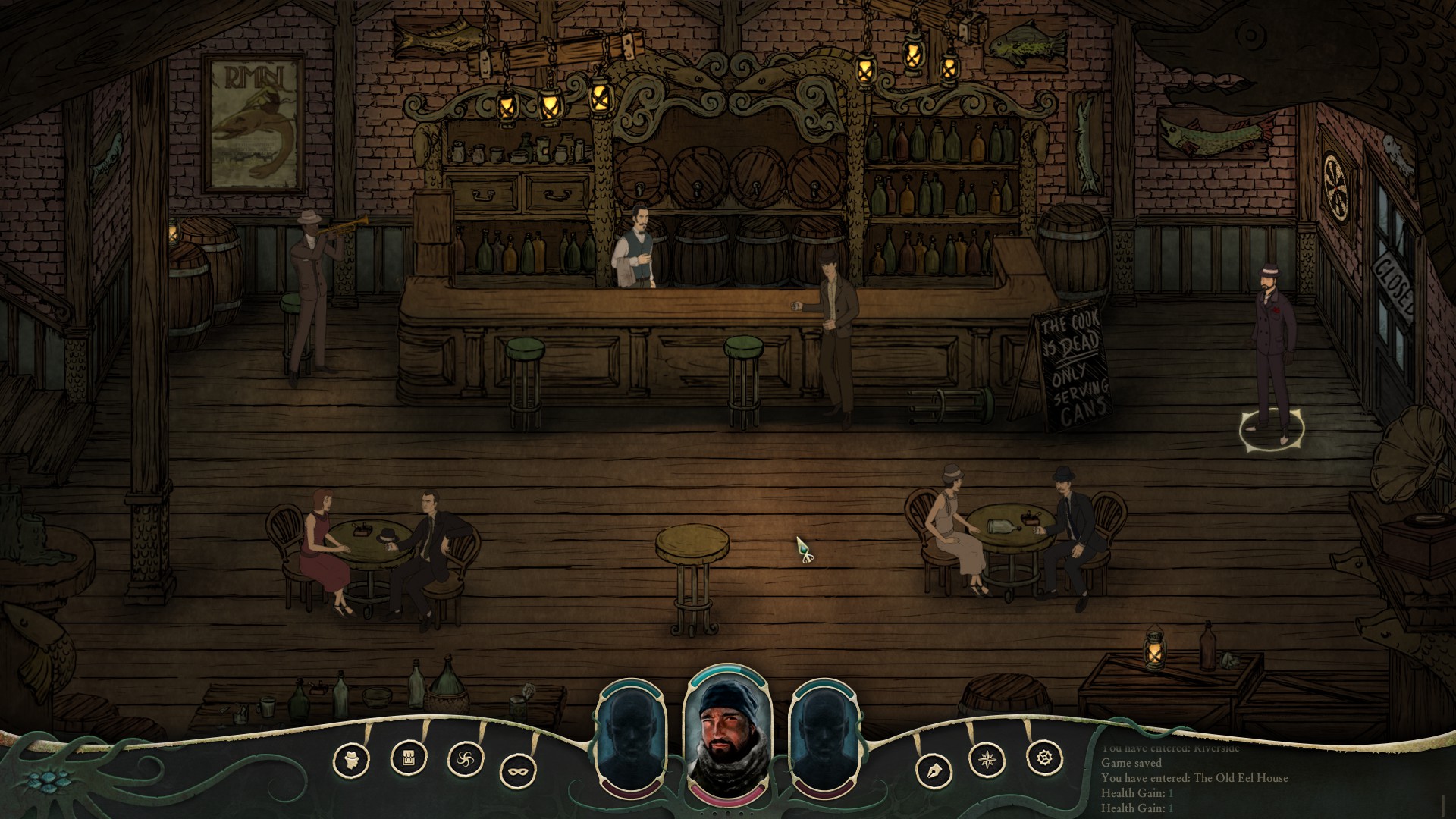 During my travels I've come across plenty of Mobsters telling me to get lost, a Hooker who had an angry customer near them shouting about their skin being poison and losing their face, people being shot or stoned in the street and more terrible things. I did at least manage to intervene and save a strange creature from being killed by an angry mob, I might be an ex-Gangster but that wasn't a fair fight. That's what I've been enjoying with it, since you play it your way and your decisions and actions depend on your character choice and affect each of them in different ways.
Stygian is a very dark and unsettling game, it doesn't pull any punches with the setting that's for sure. Even the research some characters can do while resting aren't the usual sort, as just one example my Outsider character learned how to make Powdered Cocaine…
As dark as it is though, it's also incredibly intriguing. I have so many questions that I hope I find the answers to. Some may not though, as it ends on a cliffhanger and according to the publisher they haven't "finalized" their plans on how to continue it yet so keep that in mind.
You can pick it up on Humble Store, GOG and Steam with all stores having a release sale. Currently, it seems the demo is only on Steam and the Linux build of the demo is not up yet.
Since it's another title that was funded with the help of generous users on Kickstarter, you can see it and more on our dedicated Crowdfunding Page.
Some you may have missed, popular articles from the last month: