Released earlier this month, Police Stories attempts to slow down the top-down shooter genre with a more tactical approach and most of the time it works quite well.
The story here revolves around two cops, John Rimes and Rick Jones. Two old friends joined together as partners when you move to the city. Starting off from a simple call to action while on duty, things quickly spiral as you uncover links leading to something much bigger than expected.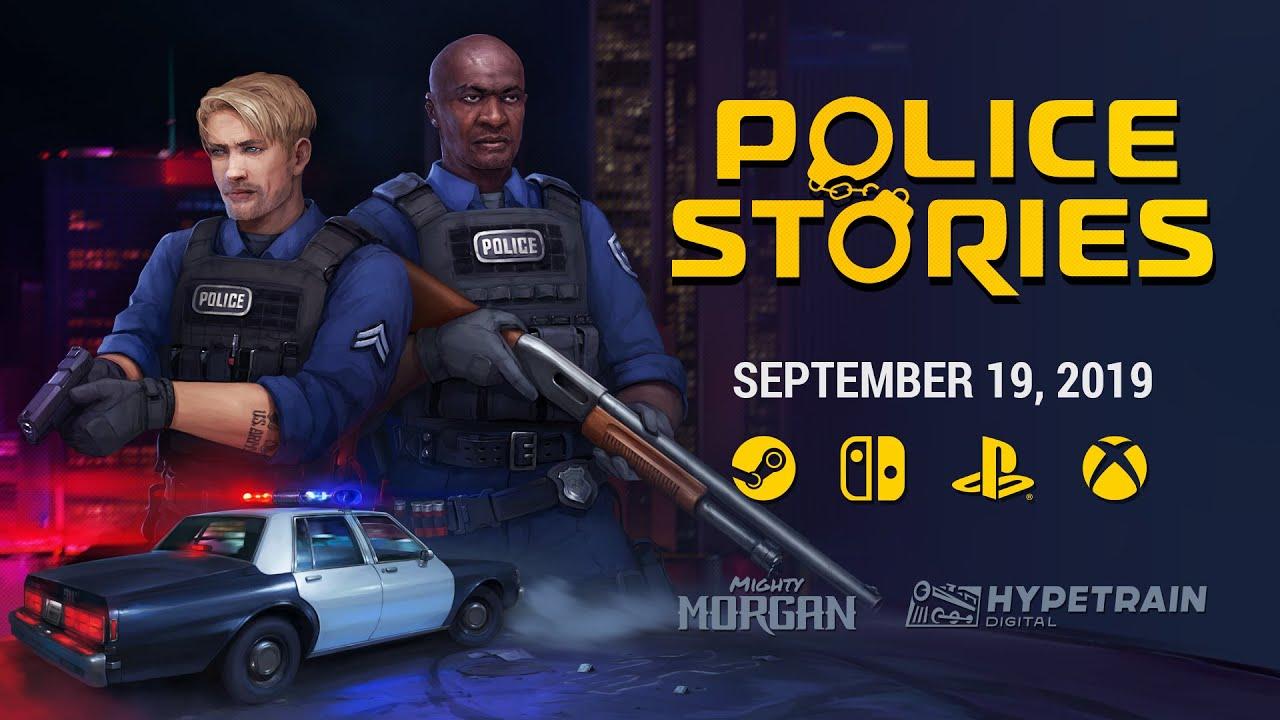 Firstly, trying it out on a gamepad was not a good experience, I gave up with that pretty quickly. Some top-down shooters work well and other times like with Police Stories it just felt terrible. Mainly due to the serious accuracy and reaction times needed, a smooth control of a mouse is basically essential here. Even with a mouse in hand, it's still a thorough challenge. I've been shot dead and seen my partner take a few bullets more times here in the early game than probably any other similar shooter. I'm bad at games, that's nothing new but this was a challenge of a different sort. Having to hold myself back and not fire first, it's strange and yet good to see at the same time.
What makes the difficulty somewhat higher, is the random locations you find people in. Each time you restart, they're somewhere else. This randomness sometimes makes it infuriatingly difficult, like when you get someone to give up and run over to cuff them but another suspect has run up to the wall on the corner, as you approach you're shot dead—damn! That's not all that's hard though, the normal mode enemy AI has pinpoint accuracy and a ridiculously fast reaction time. I'm sure their bullets are stronger than mine too…
This is why a good partner is key, if you're alone you need to be sure you constantly give your AI companion orders. Get them to watch your back, you're going to need it unless you have a taste for pain and level restarts.
Thankfully, there's a less challenging story mode which some of you might prefer to still get your monies worth and enjoy a little real-time tactical action.
It doesn't help that the co-op partner AI is—crap. I'm being pretty kind about this, it's terrible. I've seen my AI partner go right up to an enemy, standing practically on top of them and somehow fire over their head, giving the enemy suspect a chance to pull out a gun and get an instant kill on my partner. For a game that's forced co-op, the AI is just far too lacking. Trying to get them to throw a stun grenade into a room seems almost impossible too, they just end up flashing me. The saving grace here is that local co-op works perfectly, with either both on gamepads or mixing one on keyboard and mouse and the other with a gamepad. Shouting orders at each other—"ROOM CLEAR", "COVER ME" and so on it's quite an experience.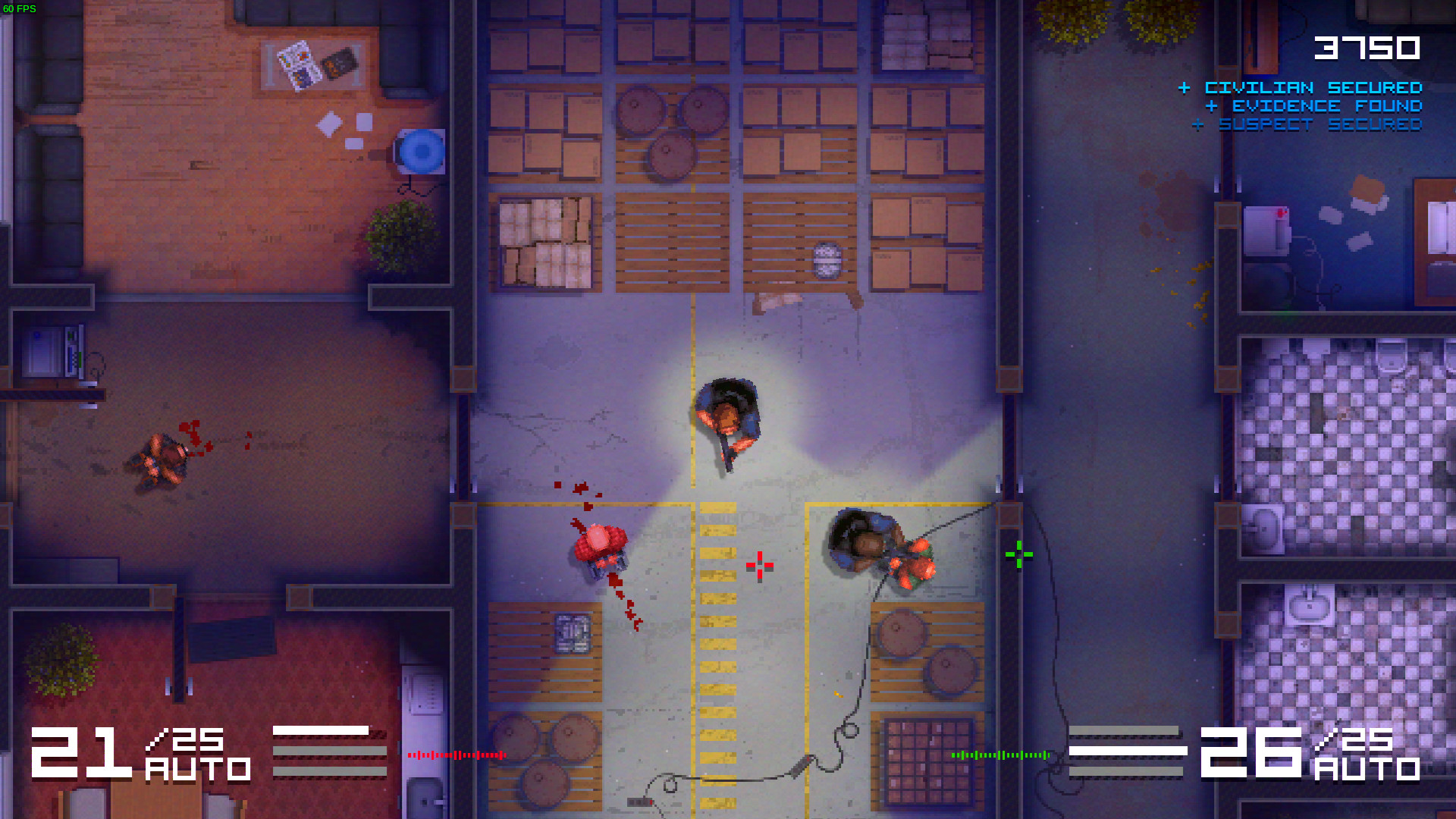 Pictured: Police Stories in local co-op on Linux.
Playing with the AI partner is still perfectly doable (and still fun enough), they just need to give them some actual behaviours rather than making them into some sort of static robot that they pretty much are now.
The mission structure never really changes. Go through a building and go door to door, dealing with whoever is around through whatever lawful means you can. If they have a weapon ready, they're quite likely going to shoot you most of the time unless you manage to get the drop on them quickly and smartly. You can only see what's around in front of you though with cone-shaped vision. Sometimes enemy suspects will come around the back of you, so keeping an ear out and getting a partner to watch a door as you pass is always a good idea.
Mission areas are small too. Even so, the style and action keep it as a very tense experience. You never truly know how the NPC enemies are going to react but there's signs you learn to watch out for. Sometimes they might seem to give up but pull out a gun if you take too long, otherwise they may run away and hide and then pull out a gun while others might just give up at the first sign of trouble (or a few well placed shots near them).
One thing they do need to solve is how you sometimes end up seeing people through a fully closed door, they just sort of phase through it even though they're still in the other room. I assume it's a bug, as there's no way I should be able to entirely see a person and their weapon, when a door is closed. That was quite annoying and did happen numerous times and ends up defeating the tactical part since you then know what you're dealing with on the other side. Another was more serious, I stood outside a door and I can only describe what happened next like it was something out of a comedy sketch. I open the door, tell them to drop their weapons and they instantly close the door. This went on for a minute or two until the suspect somehow warped outside the room directly next to me and shot me dead.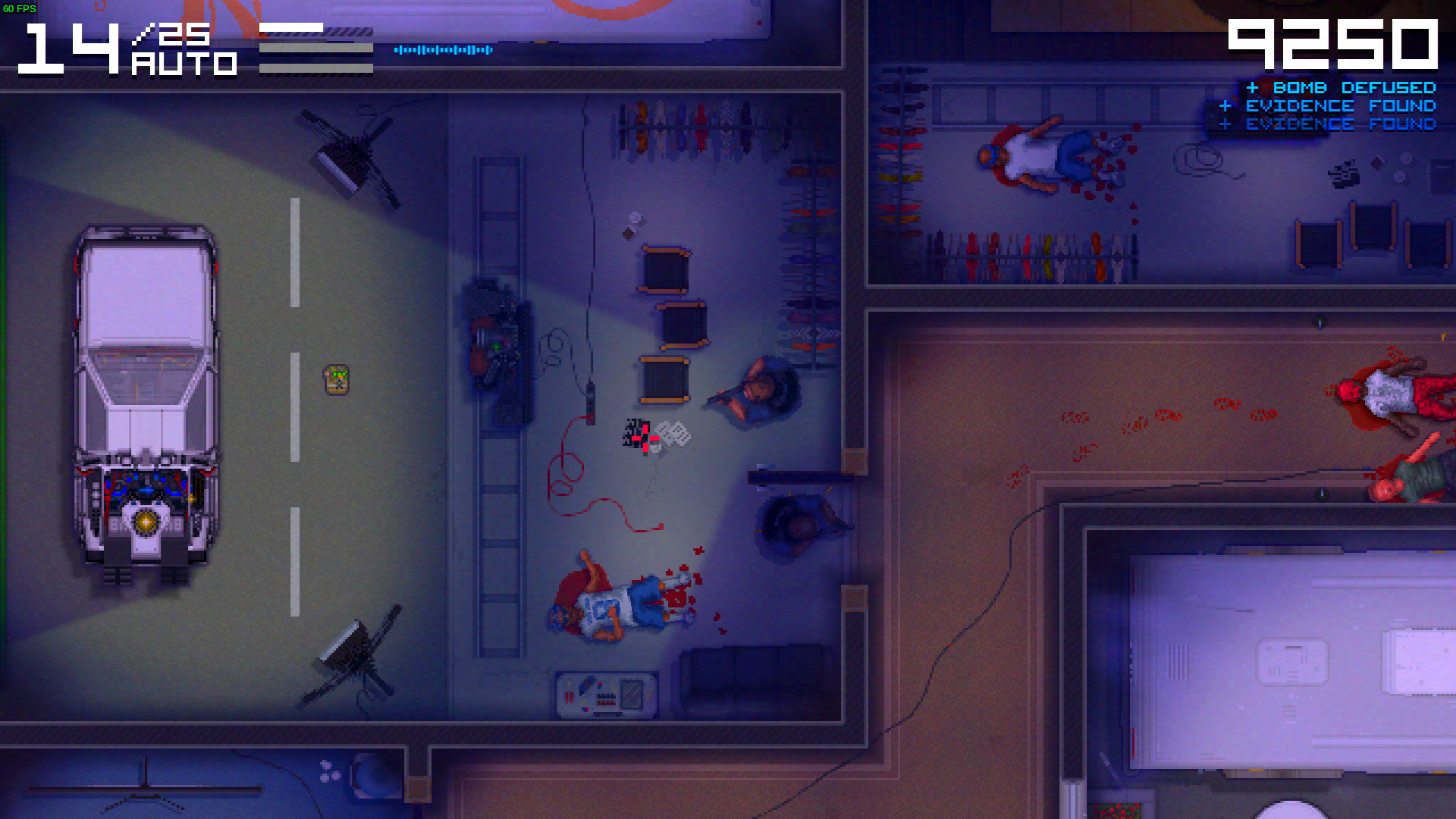 As you can see in the image above, it has some fun nods to other creative works too like with the DeLorean time machine and there's also a suspiciously Counter-Strike looking bomb site in the same level. It was a little odd, amusing though.
Part of what makes it interesting enough to replay is not just the randomness of it it's also the scoring system. Doing things by the book gets you more points, so you can keep trying to beat your score and get a better time while honing your skills. Each mission needs a certain amount of points to unlock too, so sometimes you actually need to do well in a mission to progress. I'm a little torn on that side of it personally, completing a mission to unlock the next is pretty normal but forcing people to up their score to get the next one feels too limiting especially if you're struggling. I can't be that bad though, I never had to replay a mission for more points so that's something.
While the current content is seemingly quite short when looking at the level count, it does however still take a while to get through. The first four levels took me a good two hours before I really got into the swing of it. Once you get going though, it feels awesome. Tactically lock-picking a door, then hitting it open and throwing in a stun grenade and then order in your partner so they die first—not much else like it.
Just recently they added in online co-op (which has been suffering major problems) with a promise of more to come. These include a custom mission mode, along with a level editor and additional extras like new equipment, suspect types and levels too. I'm happy to see that, as I would like to play with more so I will check it all out when it's available.
Overall, I had a huge amount of fun with it. The partner AI issues are seriously annoying and do need big improvements but it's still enough fun to make it worth playing. When another real person is controlling your partner, it's much better and incredibly fun. Trying out a different approach each time, choosing different equipment and the completely different pace to other shooters makes it very entertaining. A solid co-op experience that's worth picking up.
You can grab it from Humble Store and Steam.
Some you may have missed, popular articles from the last month: