Get ready for a few more cuts and bruises as RageSquid and No More Robots just gave Descenders the biggest update yet. Modding support is now in using mod.io along with a massive new map.
Thanks to the mod.io integration, you can subscribe to and download mods directly in the game and it works perfectly. They said they went with mod.io instead of the Steam Workshop to ensure that everyone could play together easily, which is part of the point of mod.io to make mods cross-platform with open APIs.
They also added a new built-in level found in the Mods menu called Mt. Rosie, which seems like the biggest map in the game so far at 4km x 4km in size (seriously it's enormous). It has some huge slopes, plenty of hand-crafted areas to try out your tricks and some huge ramps. Personally, I'm more excited about the new BikeOut map inspired by the silly Wipeout game show.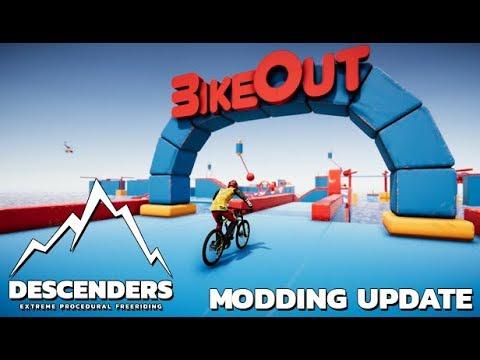 I've been testing out the BikeOut map and as expected, it's completely ridiculous. Difficult too of course, it's supposed to really challenge you. However, pretty hilarious seeing other players getting completely annihilated by all the moving parts.
Since Descenders now has multiplayer, this is going to be so much fun. Absolutely fantastic to see such a massive free update to the game.
You can pick it up from Humble Store and Steam.
Some you may have missed, popular articles from the last month: