Today, Valve have released an exciting update to the Steam Beta Client which adds in Remote Play Together, allowing you to play local co-op, local multiplayer and shared/split screen games over the net with your friends.
From what Valve said, it will allow up to four players "or even more in ideal conditions", meaning if you all have reasonable internet connections you might be able to play with quite a few people.
Something that has of course been done elsewhere, although the advantage here is no extra payments or software needed as it runs right from the Steam client. It's very simply done too. Just like you would invite friends to join your online game, you invite them to Remote Play Together from the Steam Friends list and if they accept…away you go. Only the host needs to own the game too, making it easy to get going.
Feature Highlight:
Play local multiplayer games with Steam Friends online
Stream video, audio, input, and voice between players
Use your own controllers, or share control of the keyboard & mouse
Play together across Windows, Mac, and Linux
You can see the full announcement on Steam here.
To access it, you need to be in the Steam Client Beta. To do so is simple: click Steam up the top left, go to Settings and then hit the Change button which will bring up the box on the right below: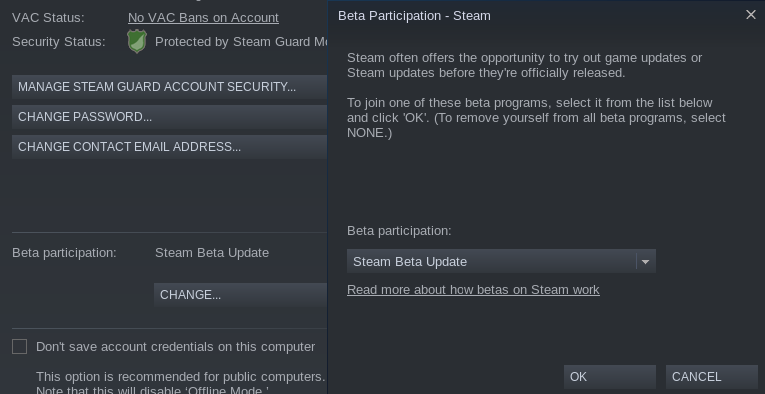 After that, Steam will need to restart and you will have access.
Giving it a test run earlier with contributor Samsai we fired up CRYPTARK, Wizard of Legend and Enter the Gungeon and sadly none of them seemed to work at all. They all have the Remote Play Together tag on Steam to show they should work but neither of us could connect to each other as the host. I put up a bug report here. Update: Should now work.
This is what a Beta test is for of course to iron out all the issues, hopefully it will start working sometime soon as it sounds like a good feature. It could even be Steam servers being overloaded or not entirely fully up for such a brand new feature. Will let you know when we get it working.
Perhaps if Valve keep doing interesting features like this, more developers might consider the 30% cut Valve take as worth it? Valve seem to be taking Steam in quite an interesting direction with Steam Play, Remote Play, Remote Play Together and lots of other smaller features.
Some you may have missed, popular articles from the last month: