I can't even begin to understand the fancy AI learning stuff behind the scenes, but AI Dungeon 2 is certainly a very fun idea and a possible look into the future of games.
AI Dungeon 2 is a text adventure, like the classics but with a huge twist as it's built with OpenAI opening up a huge amount of ever-expanding actions that are possible. It can be impressive, there's some really surprising and amusing interactions you can have with it.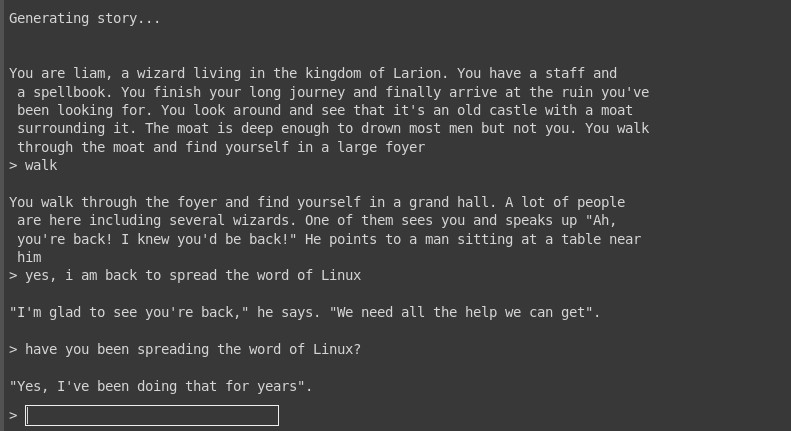 In my own adventure, I met a fellow Wizard trying to work out how to use a computer. It didn't go well, they didn't appear to understand there was an on switch. That's quite a barrier to spreading the good word of Linux around the Kingdom, this is unacceptable.
So, the Wizard can't quite figure out how to work a computer but they do know what Manjaro Linux is. Well, that's a start at least. There's times where it can get a bit stuck of course, nothing is perfect.
Due to a massive amount of interest lately, the game has been suffering a bunch of issues due to the cost of running it since it needs to pull data from the cloud. The developer is looking into solutions, with a temporary one up right now that pulls the data across from a Torrent and they're looking into a proper application now too. I'll be seeding the Torrent myself across today and possibly after to help.
Once they manage to make it nicer to get it running, this could really be awesome.
You can learn more on the official site. If you wish to play, you run it in the browser from here. and you can also see their Patreon here if you wish to support the developer.
Some you may have missed, popular articles from the last month: