Streets of Rogue, the absolutely crazy action RPG rogue-lite from Matt Dabrowski continues polishing up the level editor and Steam Workshop support. While we wait for those bits to leave Beta, a new Robot character became available.
To unlock the Robot character, it's quite amusing as you need to have hacked a Cop Bot or a Killer Robot. You can do that very early on too! Easy enough way to do it: pick the hacker, hack into the computer you find in the building holding a Gorilla hostage (level 1 usually has it), install malware on it and Cop Bots will get deployed, then just hack one. Okay, not exactly a walk in the park since the Cop Bot will track you down but it's seriously fun to try!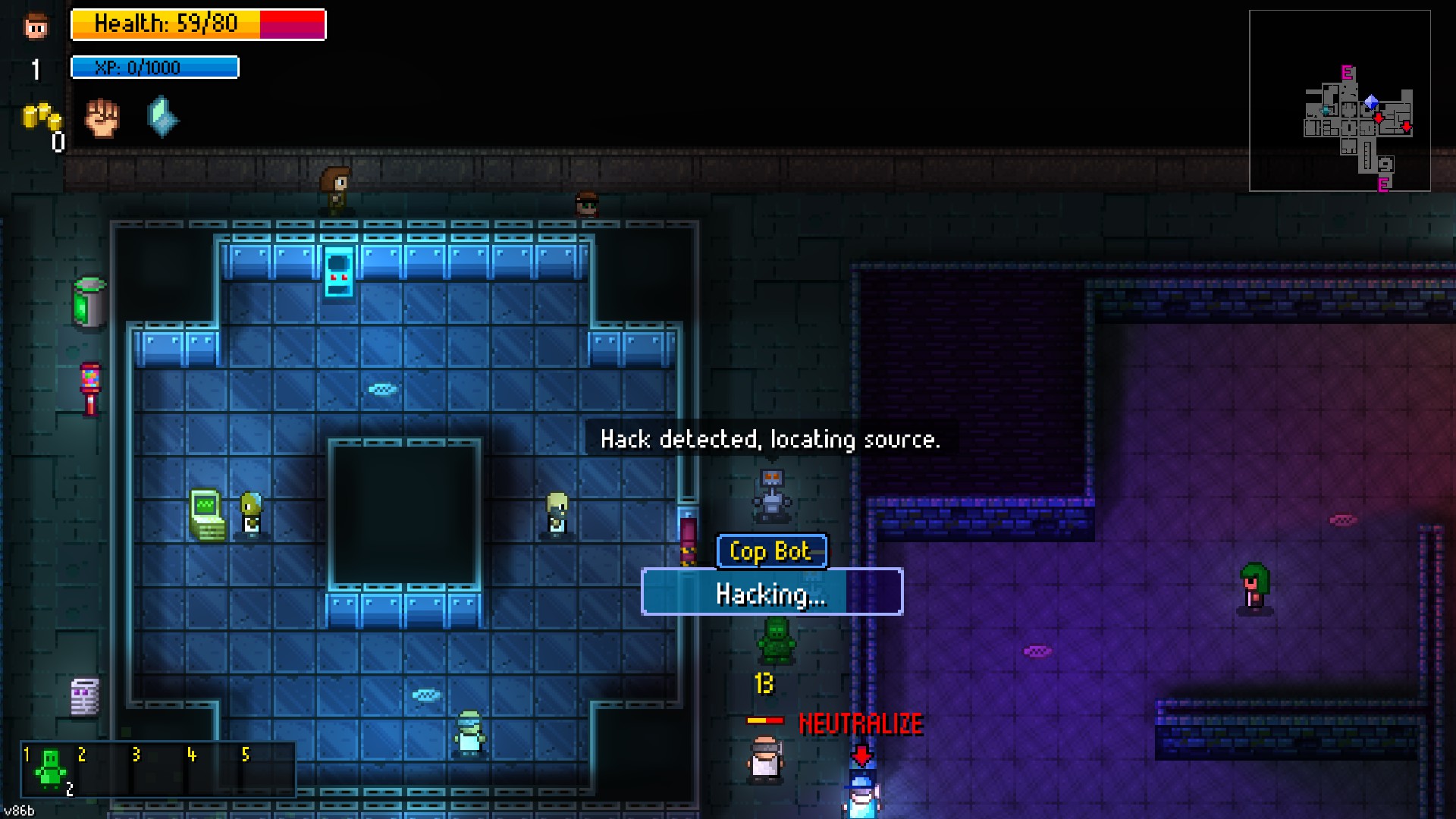 Making it even more insane, once you hack the Cop Bot you can then make it go haywire and watch the craziness unfold. Luckily on this run, one of my targets to take down just so happened to be walking along after I hacked the Cop Bot, so it could do my dirty work for me.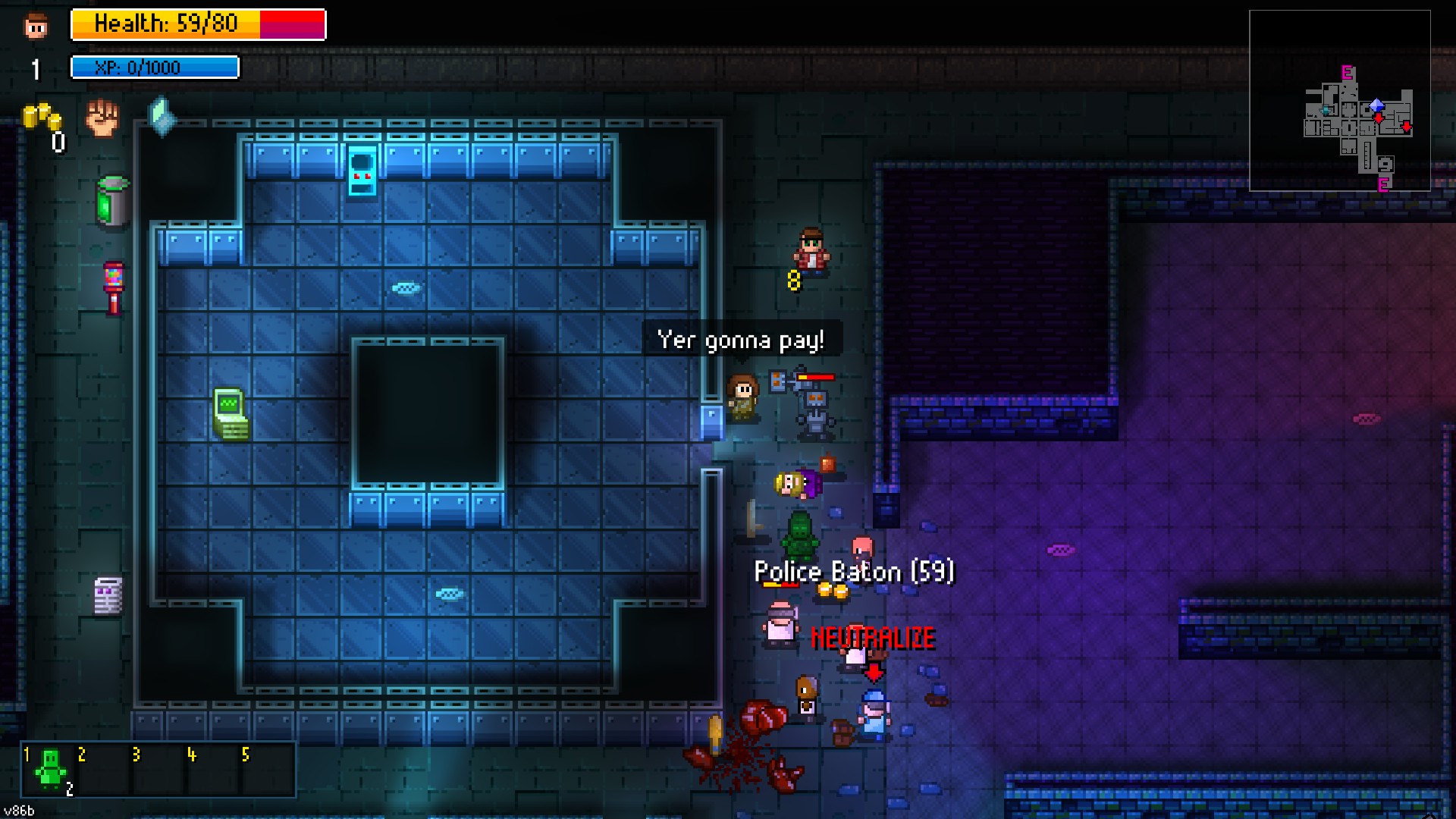 Like what happened above, it's easy to get lost in all the hilarious AI interactions. I only went in to unlock the Robot character, then I just went around hacking everything.
Eventually though, I once again realised I was supposed to be testing out the new Robot which seems to be powered by Beer (Futurama reference?). The Robot starts off with a Rocket Launcher, 5 Beers and a Sledgehammer and it has some quite peculiar traits and special ability as you see below.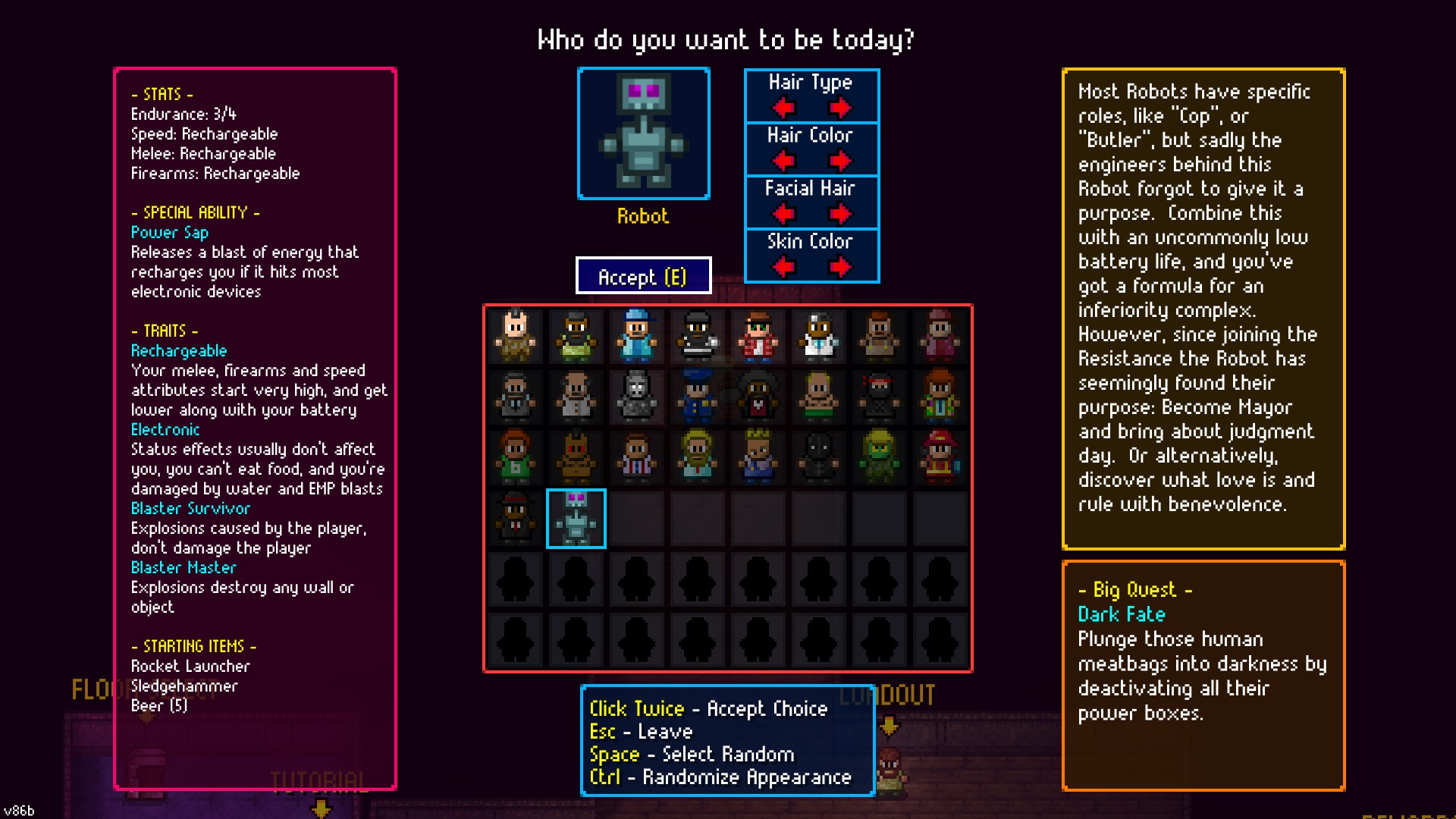 Constantly needing to recharge certainly makes a run challenging in some new ways, especially as each time you suck away energy it will likely annoy anyone around you. I caused some pretty big riots just trying to get my next energy fix, absolute madness.
Additionally, in this latest update some fun new abilities got added in too including:
Power Sap - Releases a blast of energy that recharges you if it hits most electronic devices.
Rechargeable - Your melee, firearms and speed attributes start very high, and get lower along with your battery.
Electronic - Status effects usually don't affect you, you can't eat food, and you're damaged by water and EMP blasts.
Sappy-Healthy - Power Sap gives you more health from electronic devices.
Sap Damage - Power Sap does more damage to people in its radius.
Streets of Rogue is such a brilliant game, a huge amount of fun in what looks like a small package. The interactions get quite ridiculous too. Earlier I hacked a fridge, the first time I've tried it and it gave me a "Run" option once done. I will admit, my own laughter after caught me a bit off guard as the fridge powered forwards and smashed through the wall of someone's house—woops.
With new characters, abilities, interactions and more being added after release like this it continues to be a personal favourite. Once Steam Workshop support is up, I can only imagine how much crazier it's going to get and I look forward to seeing the community creations for sure.
If you want to try Streets of Rogue you can buy it on Humble Store, GOG and Steam. Absolutely recommended.
Some you may have missed, popular articles from the last month: