The incredibly unique shooter Shotgun Farmers has a really amusing limited-time event going on, with a Hide & Freeze game mode now live.
Hide & Freeze is like a prop hunt mode, one team are dressed up in identical Snowman skins while the other team of Farmers have to find them hidden amongst a crowd of them. If you're a Snowman, you have 5 snowballs to throw and freeze a Farmer to make a quick getaway to hide again and it's hilarious.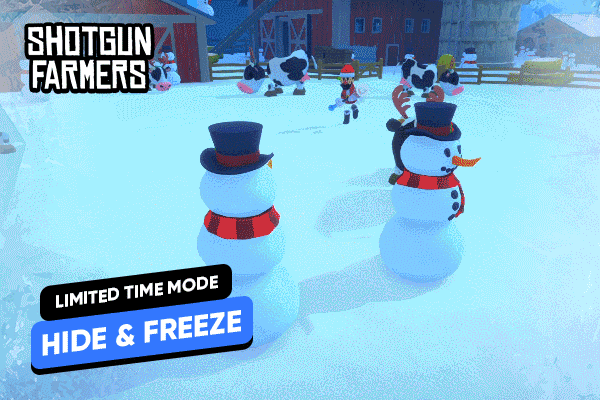 Farmers don't get a completely free pass to hit everything though, if they hit a Snowman and it's not a player it will take some of their health away so there's some sort of balance.
During this event you can also unlock the Snow Globe shovel skin and they've added in F to inspect items, much like you've seen in other shooters to take a good look at your skin.
That's not all, the Horde Mode that was recently added got a ton of fixes. Zombies will now kill any plant they touch (plants are your ammo, guns grow from bullets hitting the ground), reviving an ally will now give you points and experience, bots will stay in place while being revived, plus multiple more bug fixes to make Horde Mode smoother.
Lots of other additions like AI performance improvements, multiple performance improvements for weapons, performance improvements to multiple other parts of the game and they've made it easier to actually harvest plants (the weapons), the HUD will show the name of the weapon you're looking at when going to harvest them and more. A bug report I sent in was handled too, with Linux user profiles now correctly saving so you can customize your character and have it stick.
You can pick up Shotgun Farmers on Humble Store and Steam. Only a small community of players online, but the AI is pretty good and it's a very family-friendly game.
Some you may have missed, popular articles from the last month: