Monolith's twin-stick rogue-lite room to room shooting is practically perfection, it didn't need an expansion but I'm glad Relics of the Past exists so I can sit and play a huge amount more. Note: Personal purchase on Steam, GOG also gifted a copy of the original game.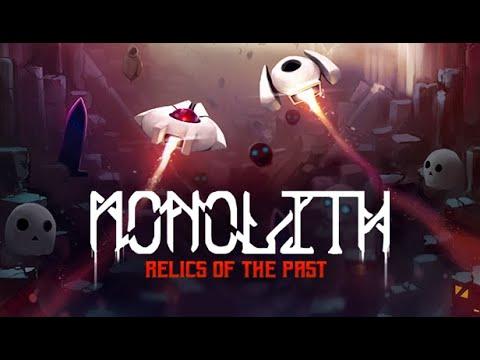 There's practically a whole game stuffed into this DLC. Seriously, it's massive. Priced appropriately I think too, at just a bit less than the main game but still reasonable. Take a look below at everything they added:
New enemies! New hazards! New bosses! Over 2000 new room layouts!
Two new floors! The elusive Temple and the overflowing b0unds o. -$556/-err
Infinite looping! Every game loop beaten unlocks a yet harder one.
Over 40 unique weapons! Rare, powerful and different spins on the default armaments.
Cartridges! Utilize the power of over 40 ancient, bootleg storage devices.
Blessings! The council lends their strength. Choose wisely.
Practice mode! Test your mettle, practice any boss you've faced.
New playable characters! Yes.
Hacking! Finally.
Other stuff, we can't fit it all here! Uh.
If you already enjoyed the base game of Monolith, I think this is an essential purchase. If you've never played it at all before, it's still one of the easiest recommendations all year. Monolith combines together an awesome chiptune soundtrack, fantastic retro visuals and maddeningly good bullet-hell play. Sometimes just down right maddening full stop though, as it really can be a challenge.
Thankfully it's the kind of challenge that doesn't get boring, everything about it is quick and it's good fun to blast through when you have a few minutes free. I was going to say that it doesn't take a lot of brain power, but that would have been a big lie. The boss fights (like the one picture above) are insane, you're constantly on guard as you fire and dodge and they're all beautifully designed. The most fun of all though? Discovering all the weapons. Some of them are just nuts.
With the Steam Controller, one tweak did need to be done to make it properly playable. Set your right pad to Joystick Move, otherwise it doesn't properly hold the direction where you're shooting. Once done, it felt fantastic with it.
You can grab Monolith on GOG or Steam (on sale too). The Relics of the Past DLC is available on Steam. The developer did say the DLC will release on GOG too, since the base Monolith game is on there but GOG are a bit slow due to holidays right now.
Some you may have missed, popular articles from the last month: