ShotX Studio (Kontrakt, Riskers) recently released Danger Gazers, a very stylish rogue-lite shooter with a lot to like about it.
It's a little like Nuclear Throne, that comparison is hard not to make but still manages to come across unique not only in the style of it (which is great) but the way you progress through it is different too. The map layout, levels given, events, loot and so on is all random so each play through is different.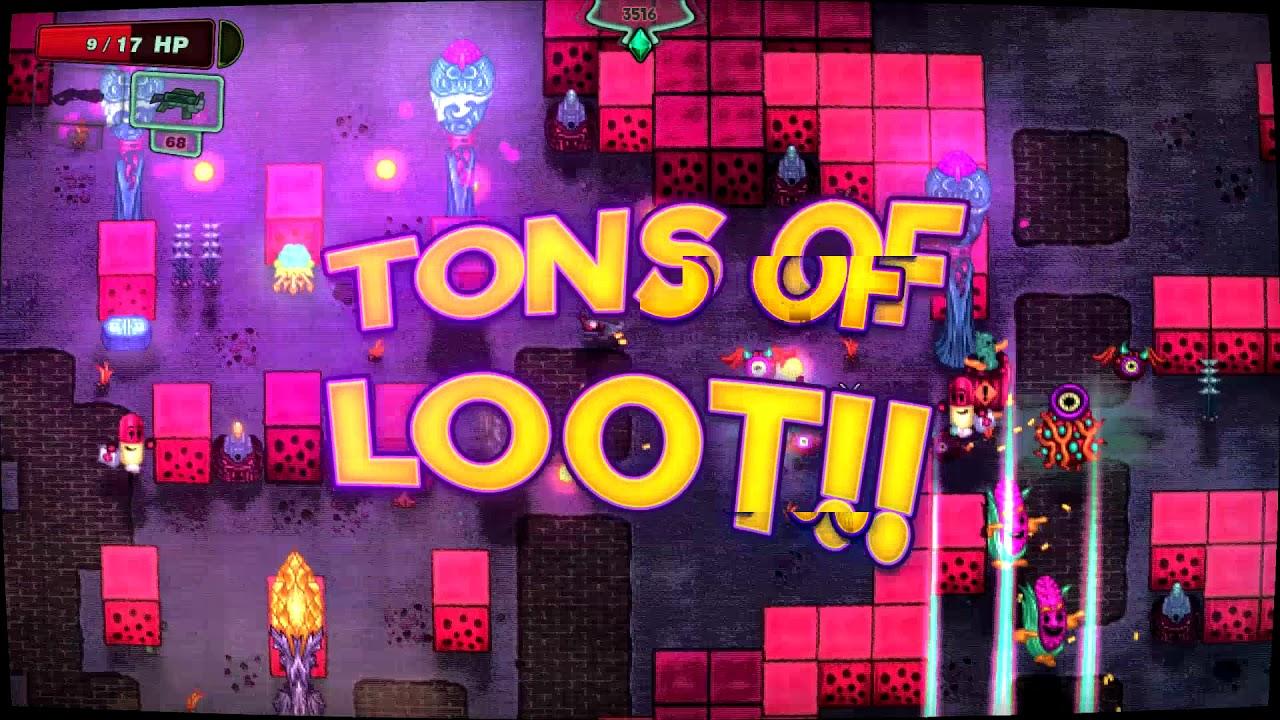 If you're not a fan of super retro styling, you can thankfully adjust the screen effects to make it look a lot cleaner. I'm all for retro inspired games, but I definitely don't like overly blurry effects so my play-through has been with the "Retro Style" option set to "Sharp" which does look quite good.
To progress, you need to defeat all the enemies in each map as you might expect. Then, you get a node-based travel system with multiple paths (think Slay the Spire, FTL). You might get to a Shop to spend some of the crystals you collect, a random location that might give you a special passive power boost, you could find a companion to join you, elite enemies and so on. There's a good amount of choice in your run, which keeps it feeling quite fresh each time you play.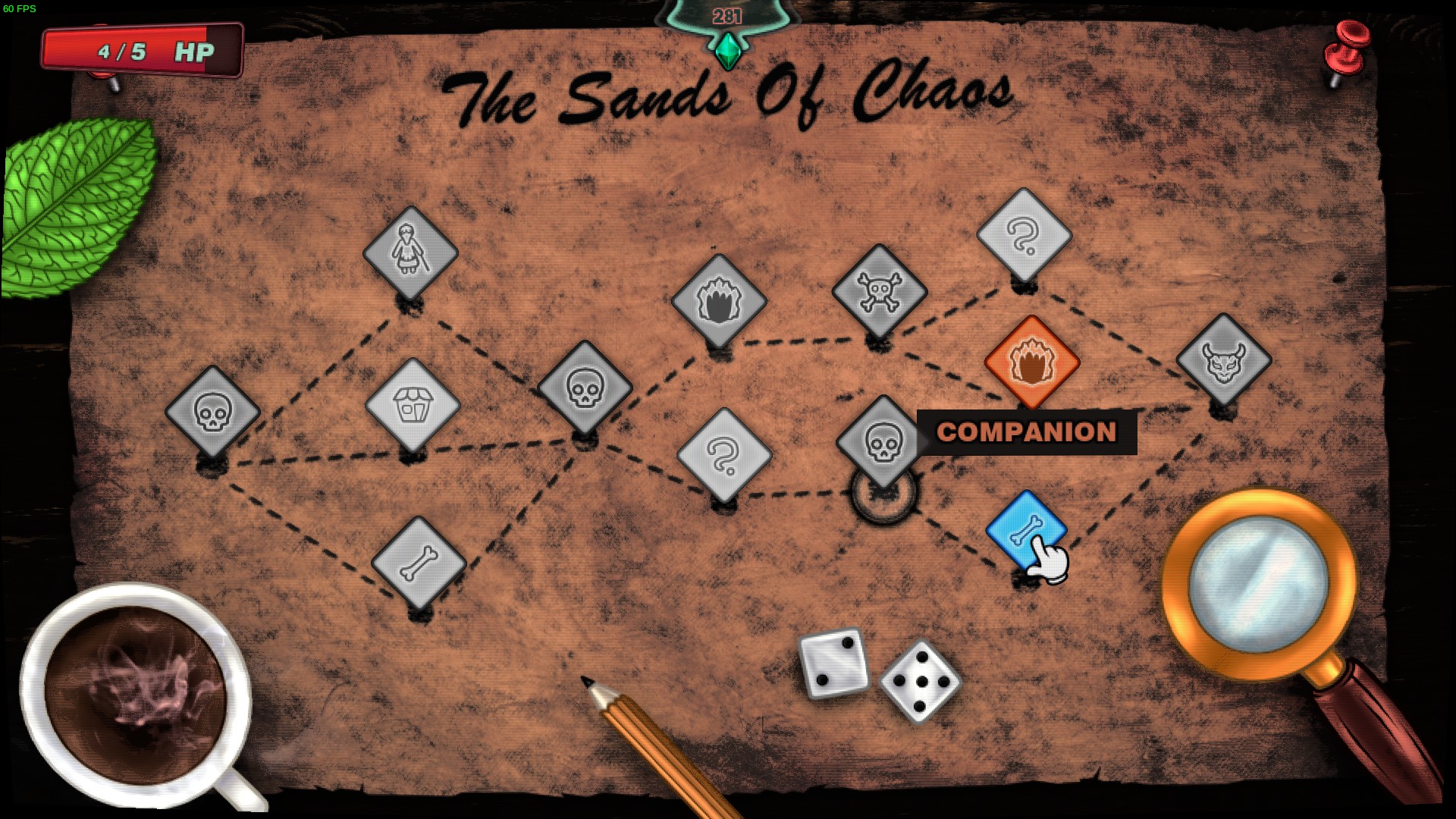 During the action, you can also find Red crates which contain special Relics. A fun system I like in Slay the Spire, that works quite well here too. Some might let you run faster but heal less from medkits, let you find more ammo, make enemies weaker and so on.
In the below shot, you can also see a Blue crate in the corner, which is where you can find various weapons and some of them are pretty powerful too. There's a caveat though, only your normal slow weapon has unlimited ammo. Your secondary special weapon that you can swap around from these Blue crates eats ammo for breakfast.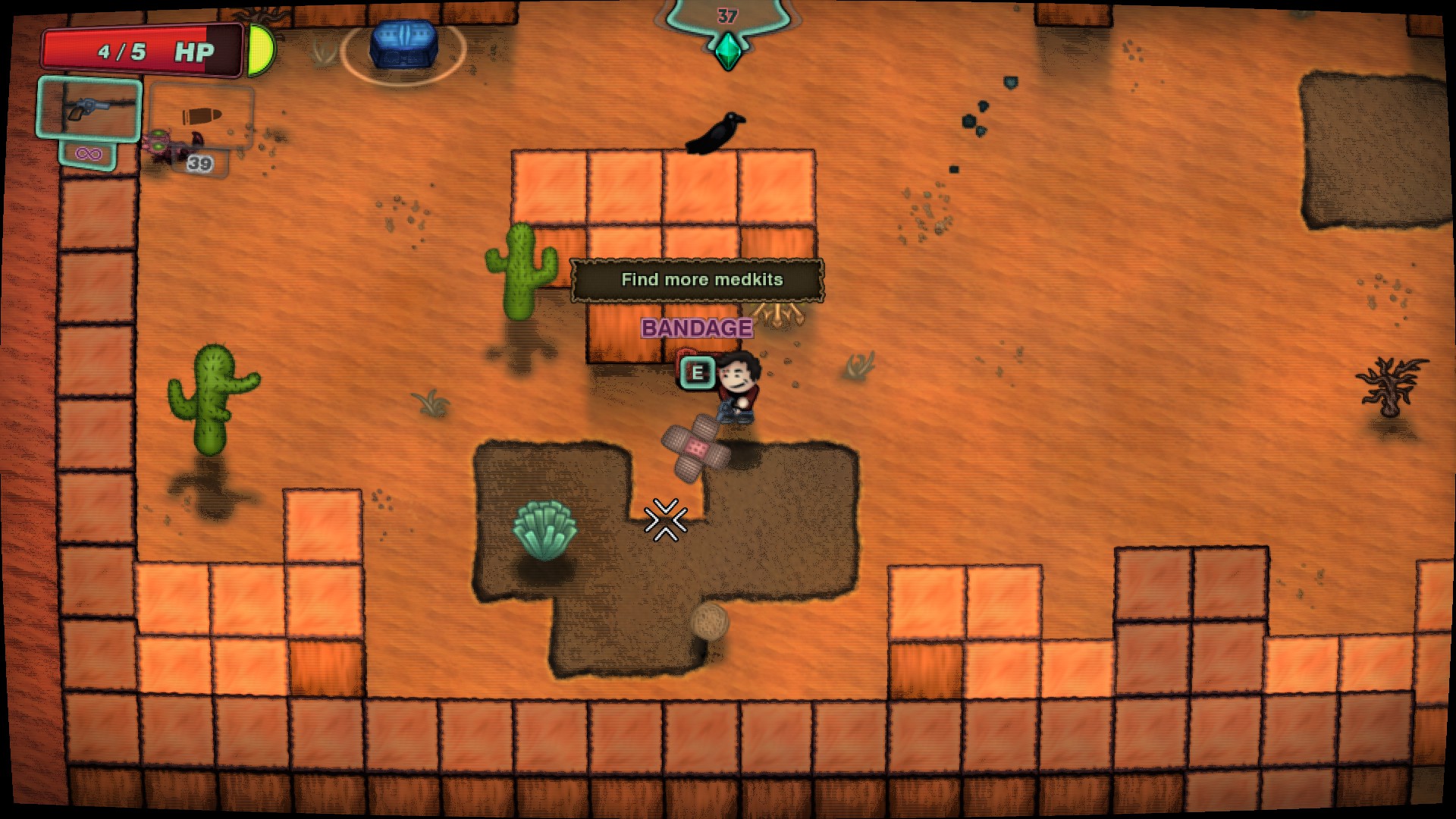 On top of that there's also special Gold Cards to find in levels, unlike Relics these don't seem to have any drawbacks to them and only give buffs. Plus, they can stack up to nine times so you can get a pretty decent boost from them.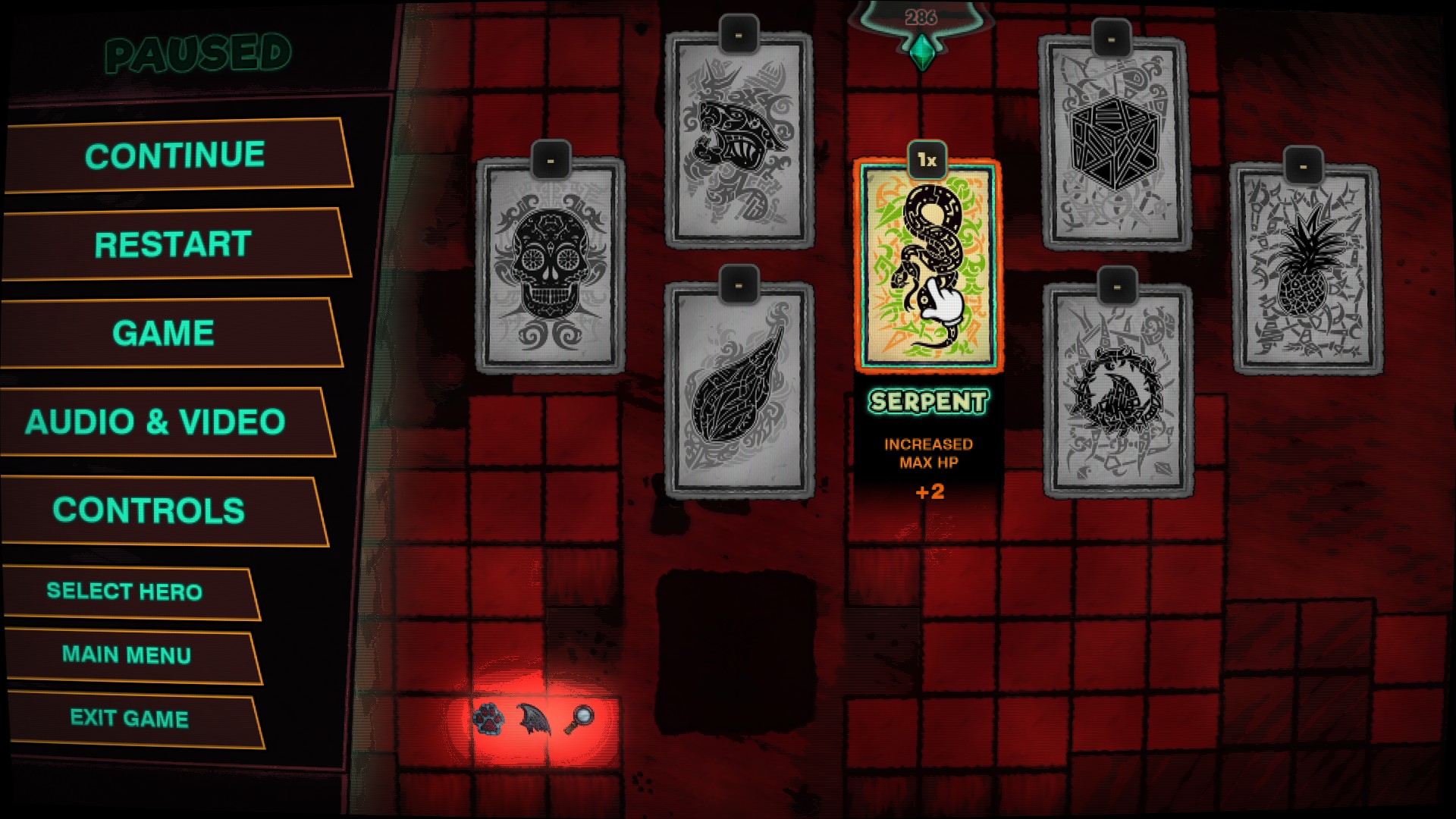 Thanks to all the different items, cards and weapons Danger Gazers definitely feels like a game that's actually different each time.
Unfortunately, the Linux version did suffer a few issues, with it being made in Game Maker it was coming up against dependency issues and didn't launch on modern distributions. Sadly, this is a repeating issue that Game Maker need to improve on. In this case, ShotX Studio updated the game to get around it so it now works nicely.
Boss Battles are also a thing here, some of them pretty darn crazy. The boss creatures have multiple attacks, their intros are really fun too, stylish and silly. They're challenging too!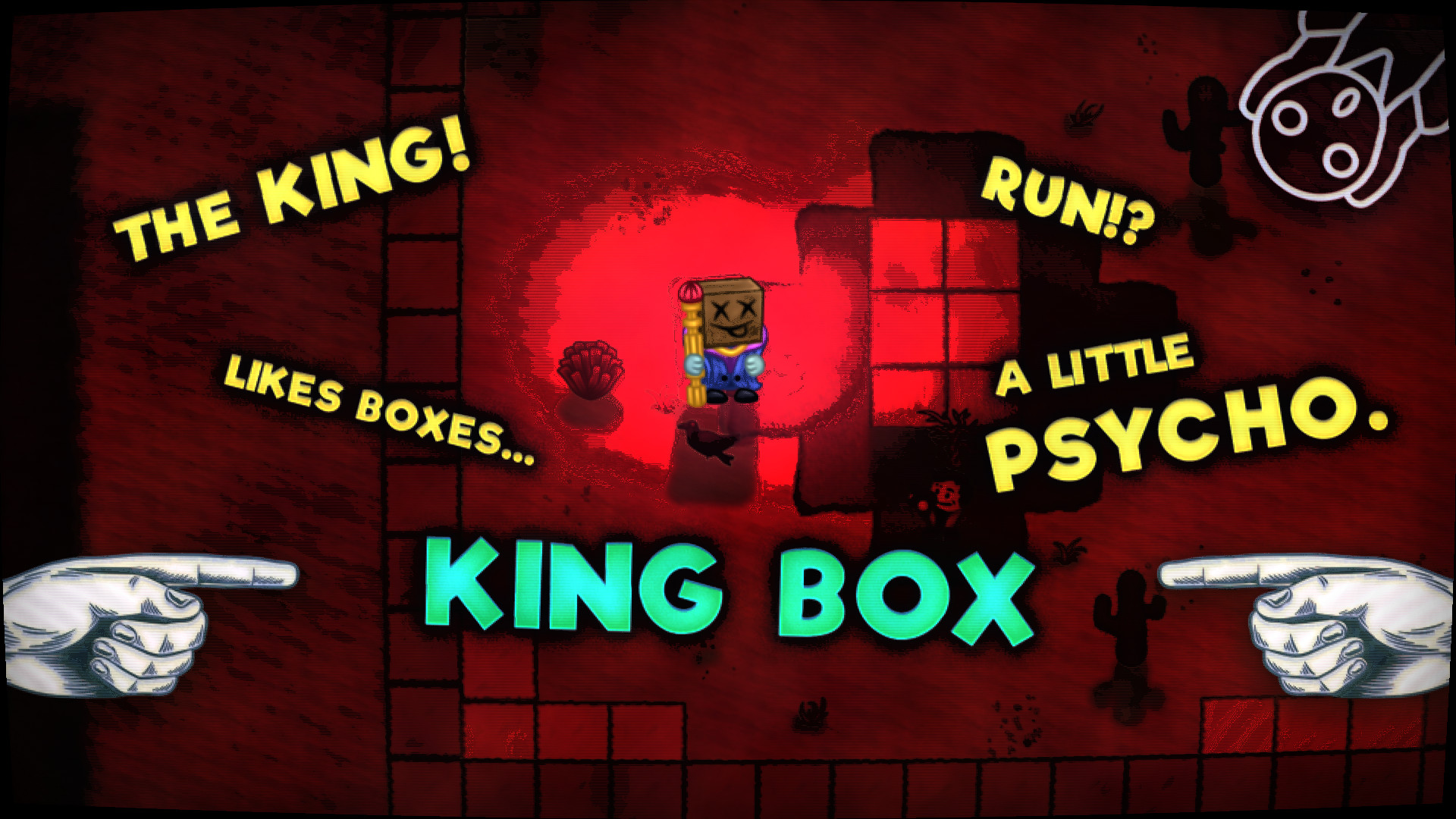 Danger Gazers also has local co-op so you can play with a friend (or try Steam Remote Play Together perhaps), along with multiple characters to unlock if you manage to get far enough. Although it only released officially out of Early Access in December, the developer is already adding in big new features. The latest update added in vending machines you can use during a level, a new toxic sniper rifle weapon to find, new audio and bug fixing.
Danger Gazer scratches the fast-paced shooter itch nicely, you can find it on Steam.
Some you may have missed, popular articles from the last month: