The Longing is a game that takes 400 real days to complete, a game that's pretty much impossible to review but I've played quite a number of hours now to get an idea of what to expect from it. Since this is something of a short preview, a few spoilers may be contained.
It doesn't release until March 5 and due to the immense length of the game, we've been allowed to give it a few thoughts whenever. So here we are, with a short preview.
"From time to time, solitude can be a good thing."
A game all about time. From the simple loading screen that just tells you to "Wait" to the credits rolling-in before you even get into the game. Everything involves time and to make sure you never forget there's a massive timer at the top of your screen. From the moment you start, even when you stop playing, the timer is always counting down. You're only given one single task to complete, to awaken the King once 400 days have passed. You can wait until the time is up or you can explore. There's several endings, some of which don't take the full 400 days.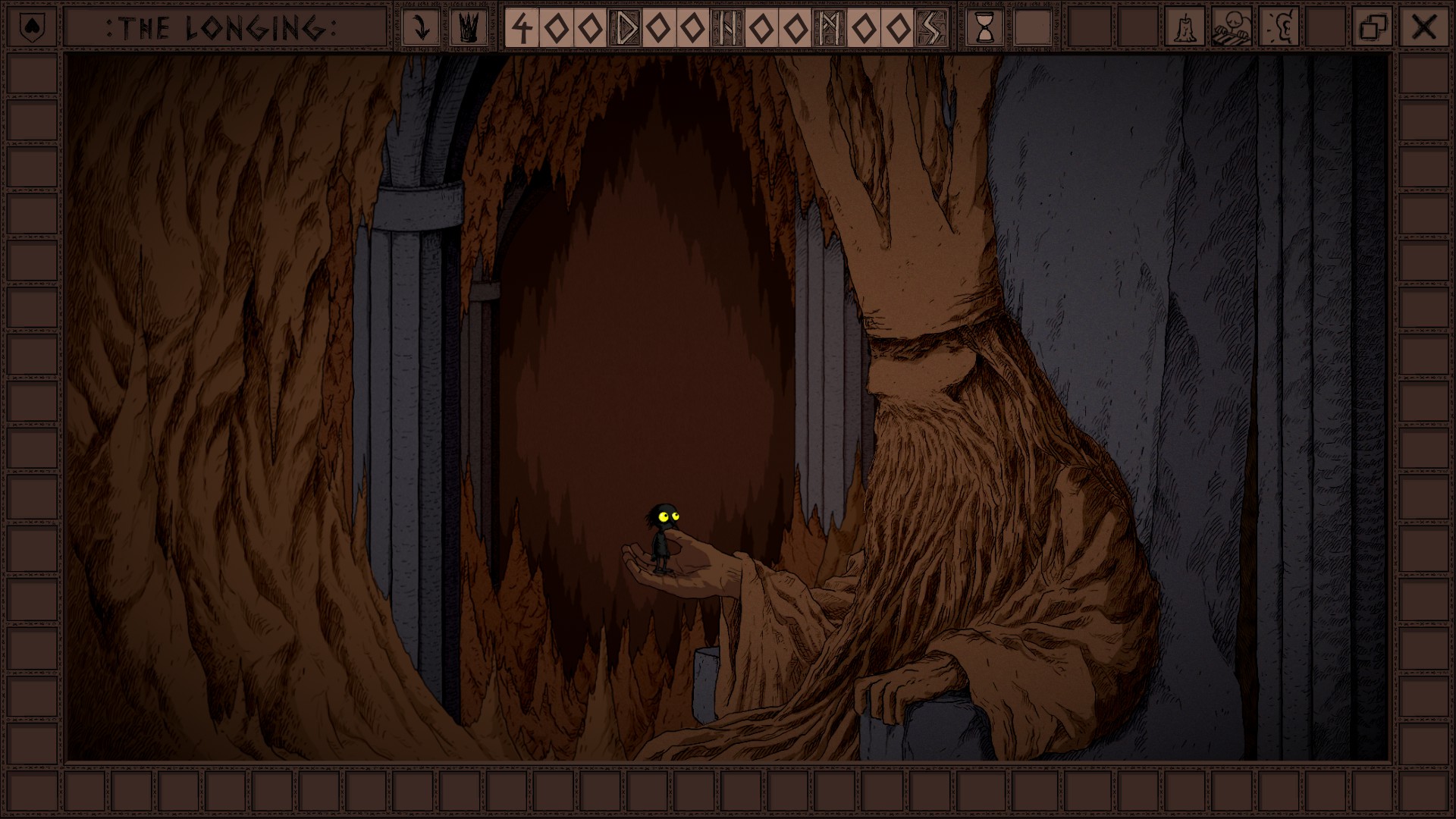 January 16/17 - My first day in The Longing was a day of quiet, lonely discovery. I drew a picture of a friend, found a broken instrument that needed more pieces before I can make awesome music, walked around without a purpose for an hour or two, read a book and explored some more. I found a good bunch of wood, which my character Shade mentions would be good to build a bed…I honestly didn't even think of that. We also found some moss growing but it's not yet ready to harvest. After walking for half an hour through dark passageways, we come up against a door and to open it felt like waiting a small lifetime. Again, everything here takes its sweet time.
I begin to question where I'm going, am I lost? Very much so. However, I did just come across a broken path with a massive massive stalactite above it. Over time, that should become unstable and drop down bridging the gap. I need to save the location and come back to it later. Carried on walking, found some paper so I can do some more drawing but where did this paper come from? Who left it laying around on the floor? Am I really alone? Walked until I could walk no more, came to a massive drop. Moss is growing, Shade gives it about two weeks before I can jump down safely. Time for a nap?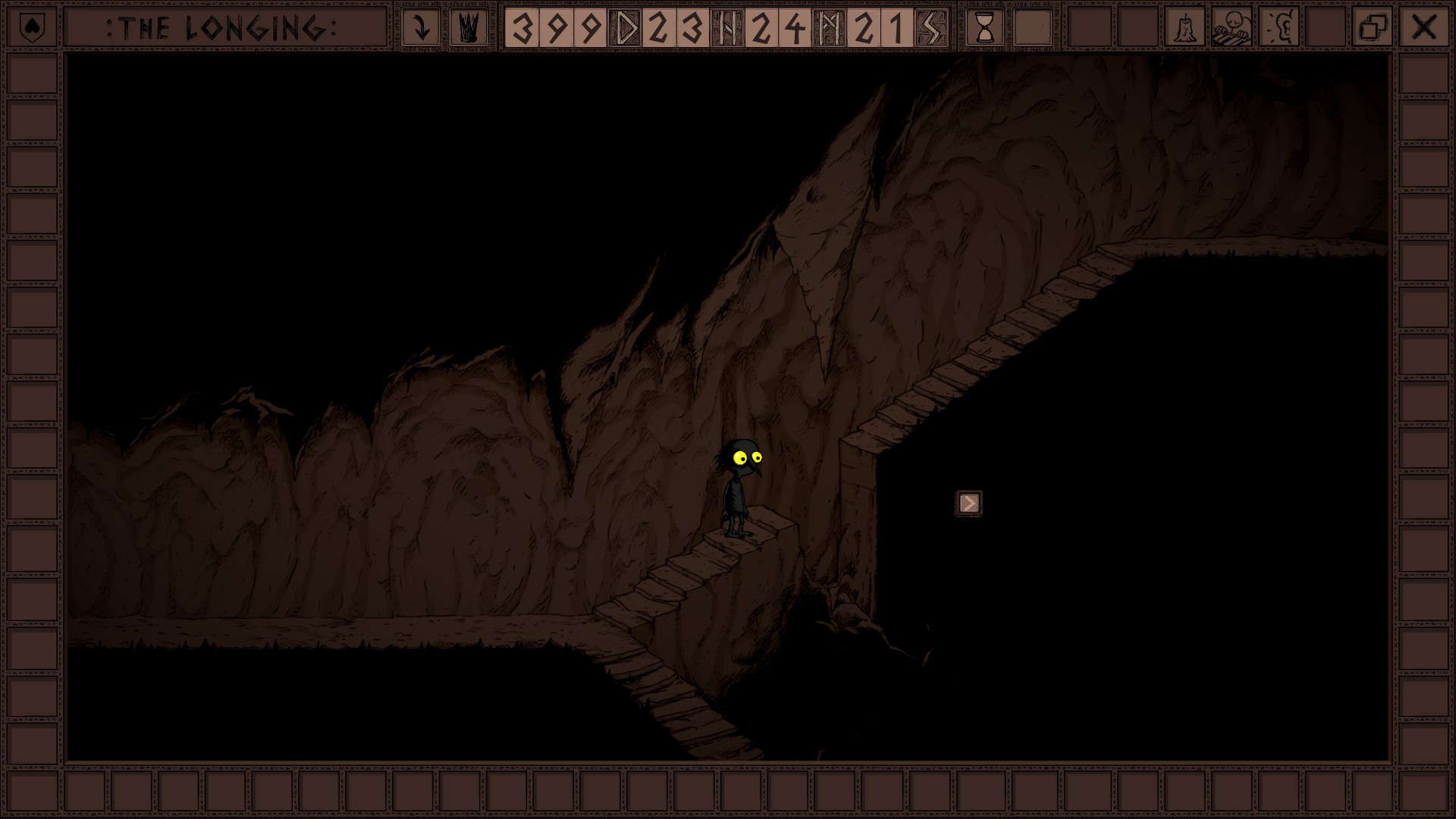 January 20 - Found what looks like it could be a map. It's going to take time to understand it, what a surprise! I sit and wait, not really sure what I'm going to find as Shade begins to understand it as time goes on. The camera slowly zooms out, giving me a glimpse of what to expect. I see doors, lots and lots of doors. Wow, this place really is big, I see lots of things I want to explore.
I continue walking, finding another part for my instrument so I can make some music—hooray! More importantly though, there's a door in this room and we're going upwards closer to the surface. Will it be dangerous or the next step towards seeing a blue sky? I'm keen to find out.
So I go to open the door and it will take Two Hours to open. I think I'll sit and take a nap.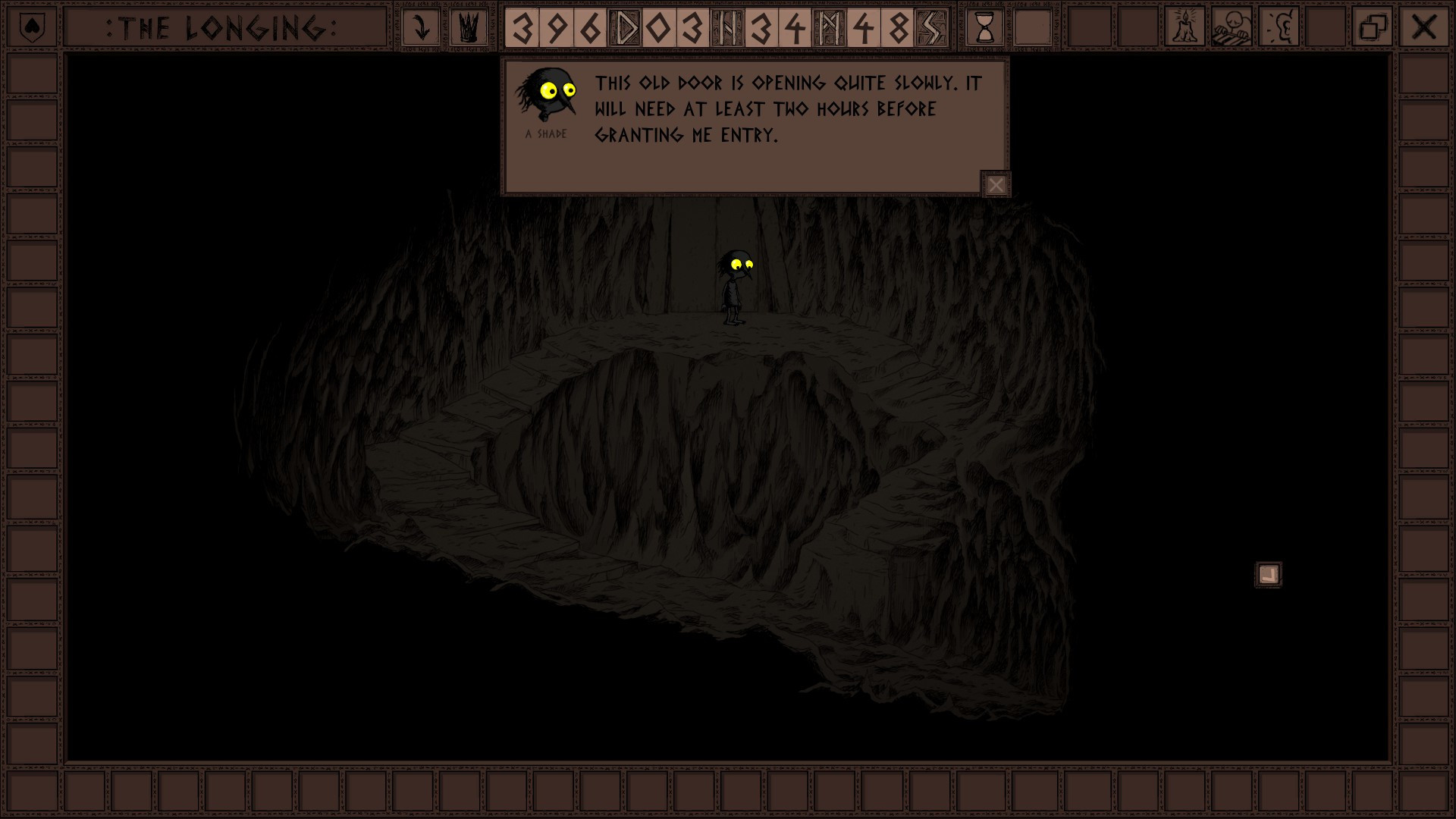 February 20 - See the beauty of The Longing, is I can take a good long break from it and come back refreshed to find so many new things and so much has changed.
I log in and Shade tells me about how extraordinarily lonely they've been these past few weeks. Okay, I feel a little bad now. The door we left Shade outside of is now finally open too, let's explore.
After a little more adventuring, we came across an area that was abandoned by the King long ago. Some pillars still stand holding up paths, others not so much. The path ahead is blocked but we've found a boulder, perhaps I can use it to climb up? In true The Longing style, pushing this along is going to take forever. "The King will not like this adventurous spirit of mine" says Shade.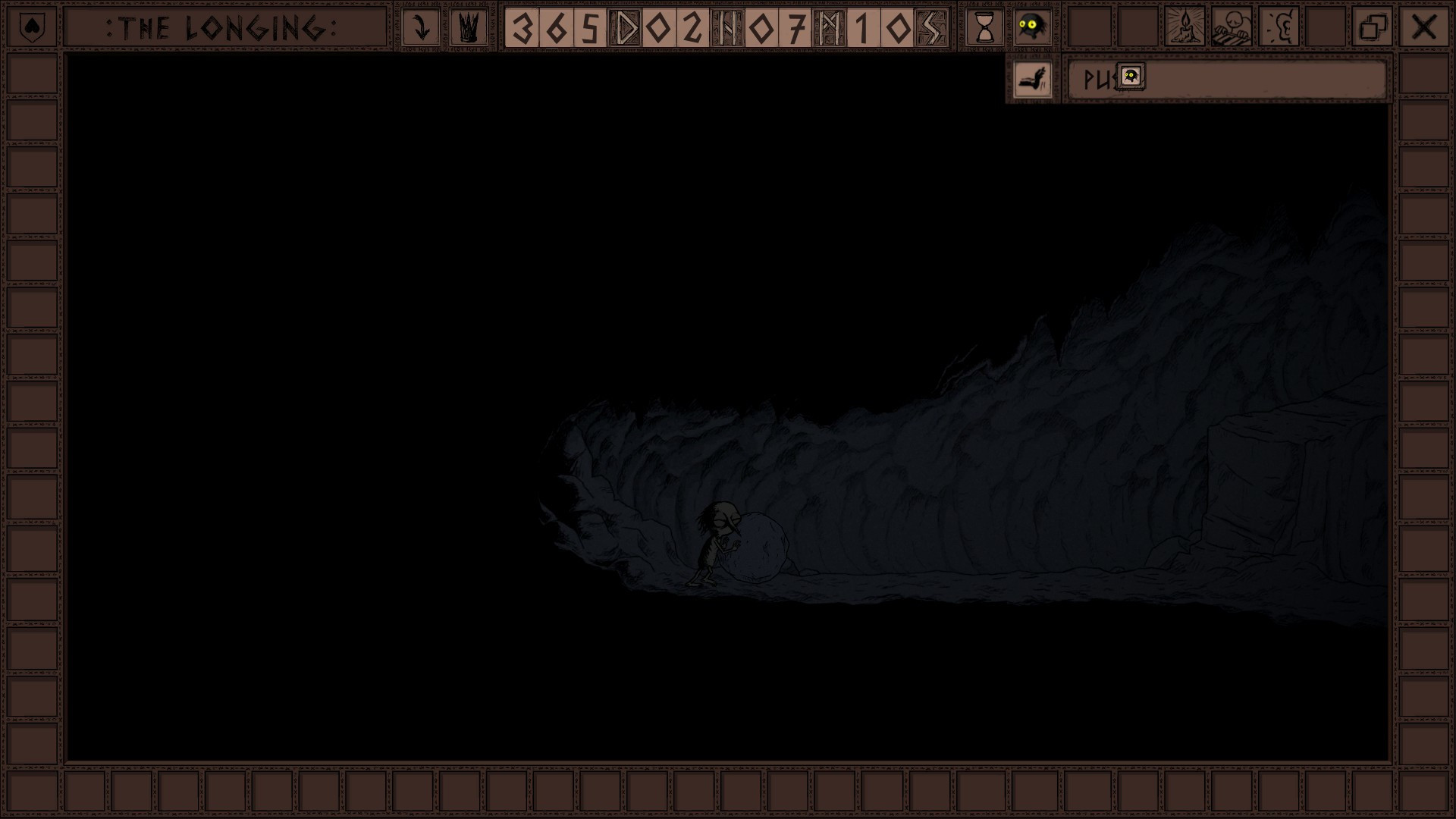 EXCITEMENT. We found some Lapis Lazuli, Shade can now finally paint a wonderful Blue Sky they're quite probably never going to see (I did forget about my little friend for an entire month after all). Things are going well for us now though, the wait and exploration was worth it!
We go further into the dark, hoping that perhaps we're going to find some more fancy new thi…oh, never-mind then. I've still got 365 days to explore everything, something's got to happen in all that time right?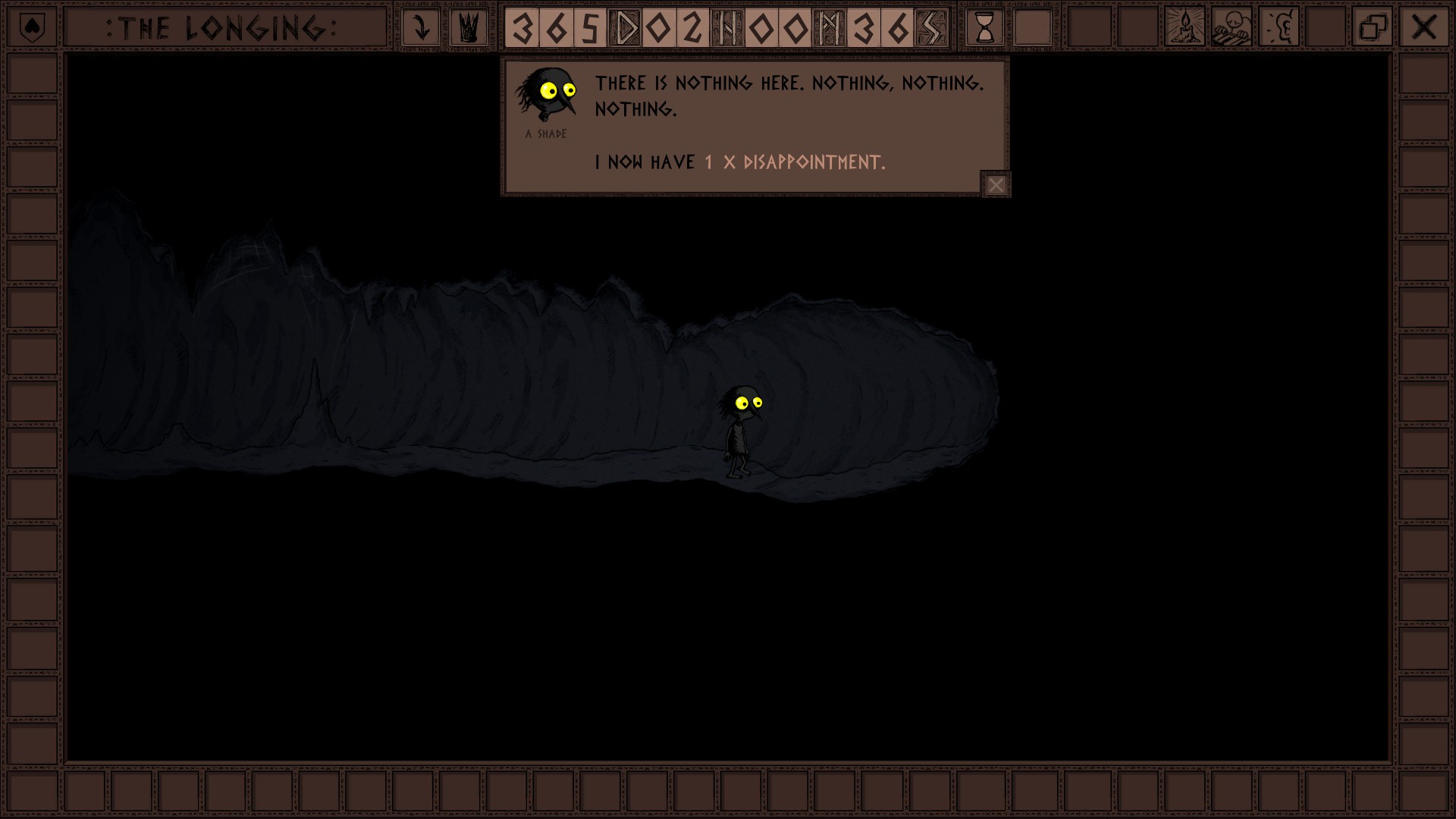 February 21 - Since you can store a limited amount of locations, I finally remember to check back on the broken path I found last month, to see if the stalactite had fallen yet.
Success, it has fallen! Now I can explore a previously cut-off section. I'm actually pretty excited to be able to explore a previously unreachable part of the cave system. What will I find? "I have never felt more alone" Shade says as we cross over the stalactite, we all feel that sometimes I guess.
We found some more Wood and Coal, we're getting closer to building that bed. Continuing on the path, we come across a room with two shiny Crystals either side of a creepy face in the wall. I'm going to need a pick to get them out, maybe the face knows where I can get one? The face can answer some questions but they demand a tribute of my Disappointment, Coal or Moss and I don't have enough to get answers for anything—dammit!
At least I can mark another interesting location to come back to.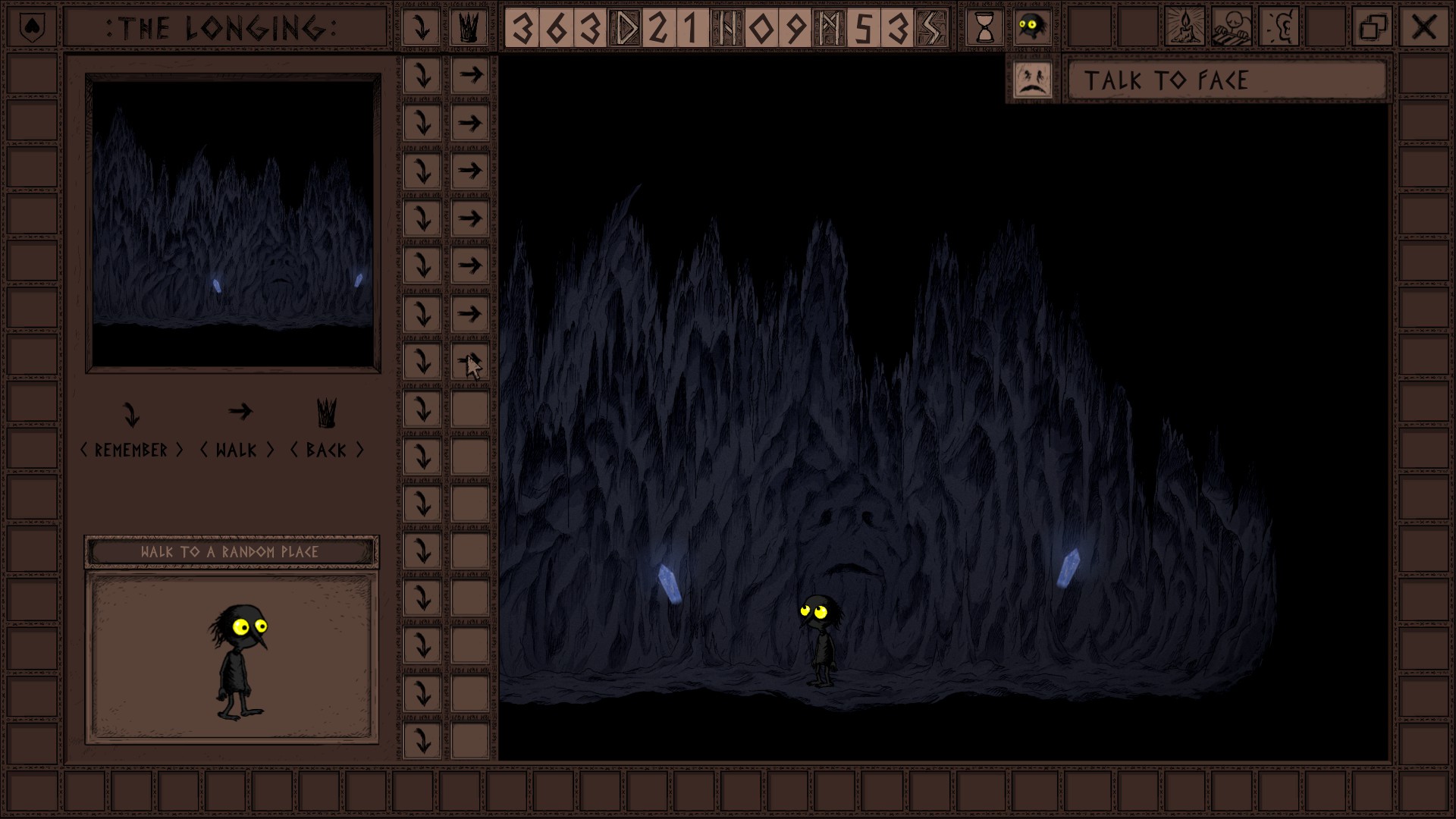 ---
I already feel quite invested in The Longing! The good news of course from my time spent in The Longing, is that Linux version works exceptionally well. Absolutely no issues so far. As slow and highly unusual as it is, it's also quite brilliant. Truly wonderful design went into it, with some lovely audio work and the very mysterious setting that absolutely makes my brain excited to know more.
Feature Highlight:
Slow exploration of a vast, hand-drawn cave.
Atmospheric Dungeon Synth soundtrack.
Various endings.
Lots of well hidden secrets.
Time-based puzzles.
A lonely but cute protagonist.
It's going to take until February 2021 for my game of The Longing to be over, what's going to happen in that time? I'm…longing to know. I'll see myself out.
You can wishlist/follow it on GOG and Steam, at release on March 5 it will be $14.99 / £12.99 / EUR 14.99.
Some you may have missed, popular articles from the last month: