Today we're starting off with a little double-dose of distribution news, helping you to keep up with the wider community around Linux and gaming.
Firstly, Arch Linux now has a new project leader. After heading the project for over 10 years, Aaron Griffin has stepped down. In the brief post they said "Arch Linux needs involved leadership to make hard decisions and direct the project where it needs to go. And I am not in a position to do this.".
To get a new leader, in a team effort, the Arch Linux staff came up with a new process to elect a new leader around every two years. The first official vote has already been done, with "Levente Polyak (anthraxx)" taking over as Arch Linux leader. Hopefully they will keep it going strong.
---
As for Manjaro Linux, itself based upon Arch Linux and a distribution I use as my daily driver, there's a huge new release out with Manjaro "Kyria" 19.0. You can pick it up with either the Xfce, GNOME or KDE desktop environments with Xfce being their "flagship" offering that has the most attention to it.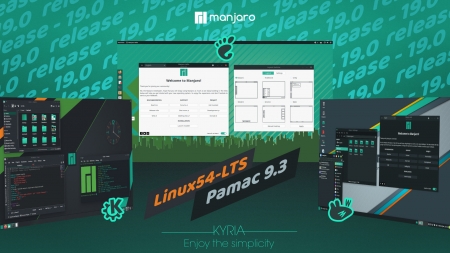 It's shipping with Xfce 4.14, KDE Plasma 5.17, GNOME 3.34, Kernel 5.4 LTS and Pamac 9.3 as the package manager. You can see the release announcement here.
Since forming an official company, Manjaro just seems to be going from strength to strength.
Some you may have missed, popular articles from the last month: