Unconventional Warfare is certainly a peculiar mix with visual novel styled story-telling with anime characters, plus it's also a tactical shooter.
Telling the story through 3D animated cutscenes, when you get into battles it's a real-time 3D tactics game where you're in direct command on a squad. You will need to attack, defend, suppress, flank and outsmart your enemies like you would in say Company of Heroes. Have a look at the trailer below to get a better idea: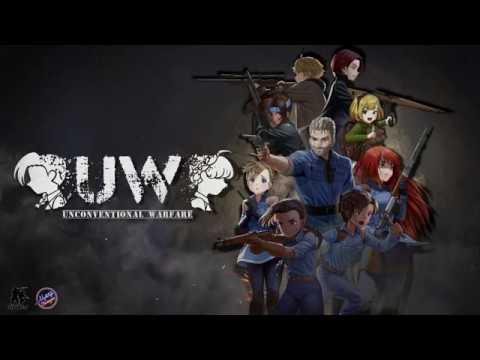 To get a slightly better idea of what they were going for, I spoke to the developer team behind it to get a few questions answered. Asking what inspired them to create it, Team Lead Duke said they were "inspired by games like Valkyria Chronicles, Company of Heroes and many more like them" however they "didn't just wanna make a clone of these games".
When asked what the gameplay would be most similar to, the answer gets a bit complicated. They said as more people came onto it, the game "got feature-creeped into what you can see today" and so "the combat can be compared to Men of War and the visual novel aspects can be compared to games like Fire Emblem and Persona". There's more to it though, you also have the World Map feature to travel which they said it's like "a weird limbo between Faster Than Light and Bethesda-RPGs like the modern 3D Fallout games". Now, they're going for a system where the "node-based world map will remain, but rather than being filled entirely with random events and encounters like in FTL, there will be a main quest line that takes you through the entire game, while you're free to do optional stuff on the side".
I also asked them about using Unity to produce a Linux game which another member of the team, Philip, answered:
It's one thing for an engine to support Linux as build target and it's another to have an actual Linux editor (even if it's experimental, as is the case with Unity). I work on Windows for a variety of reasons, but I can reboot into Linux and work there if I have to. If there is an issue with the Linux build, I can just reboot into Linux, troubleshoot, debug and fix the issue right there and then push my fix to our git repository. I can do all of that without having to reboot even once. It cuts down on iteration time in a huge way, without having the problems of using VMs for heavy 3D applications.

As for platform support itself; it seems like Unity has come a long way. I remember the days when Unity games could only use OpenGL 2.1 on Linux. Nowadays you get OpenGL 4.5 and Vulkan.
Lastly, I asked if they had an essential advice for others doing Linux support, to which Philip said:
Don't treat multi-platform support as an afterthought. Even if you're dead-set on supporting only Windows, I can't think of many good reasons not to build your game using tech that supports other platforms right out of the box anyway. If you have your game and decide that supporting Linux & Mac isn't worth your time, then you can still just not support them. Games are enormous code projects. When you're already locked into using tech that's Windows-only, that's when adding support for other platforms becomes complicated and expensive should you ever want to.
If you're not creating something using bleeding-edge, state of the art technology for which there are no multi-platform alternatives and you're not creating your own engine either, then you might as well build a tech stack that already supports other platforms.
We're rewriting large parts of the game and I ensure that all third-party tech we use supports Windows, Linux & Mac.
Great to see such open answers to our questions and a clear focus on keeping it cross-platform and the game, Unconventional Warfare, certainly seems like it's true to the name after testing out the demo which you can find on Steam.
If you like the sound of it, find it and help fund it on Kickstarter. They have until March 30, to raise at least $20K and they've had a good start with over $3K already pledged.
Some you may have missed, popular articles from the last month: