The Longing is highly unusual, a game that takes 400 real-time days to come to a conclusion. As soon as you load it up, a timer will start counting down even when you're not in the game. Note: Copy provided for GOL from the publisher before the release.
A game about loneliness and solitude based on the Kyffhäuser legend, created as a passion project by German indie developer Anselm Pyta of Studio Seufz and publishing by the wonderful Linux-friendly team at Application Systems Heidelberg.
Presented in the classic point and click style, you explore a vast underground network of caves that over time change and allow you to access new areas. You can see something of a preview I did recently here, and today I decided to come back to it for the release to explore some more. Part of what's great about The Longing, is being able to come back to it days and weeks later to do more. We're talking about a game where opening a door can take a few hours, however I have managed to explore even more of the cave system as I continued travelling around.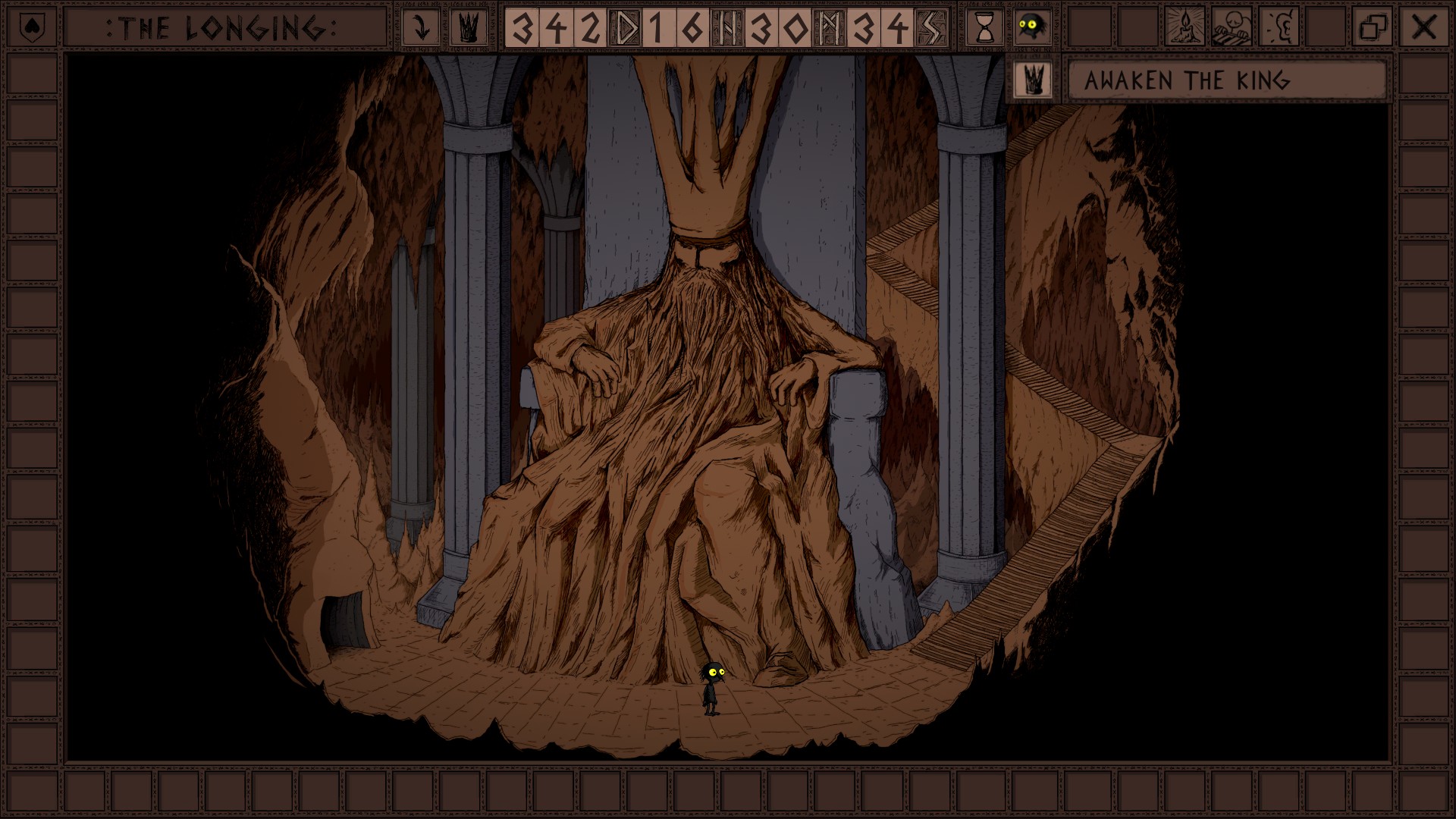 Some of the artwork is truly striking too! Just look at the scene above. They say a picture is worth a thousand words, well I don't have that but I do have a lot of questions about the world that I still need answered. I'm…longing for some explanations and I won't get them until February 2021 for my game of The Longing to be over.
What's interesting is how the exploration actually works. You can manually and slowly walk yourself, pointing and clicking around or you can tell Shade (the little person) to walk somewhere random. I've actually done this, quite a few times, with the game in the background checking back on it every 20 minutes or so. If you have two monitors like I do, it's also a fantastic off-screen distraction to have around. Sometimes, this is awesome. I switch back to it and see something wondrous and occasionally I might spot a bit of Chalk that I simply must interrupt everything to take manual control and go pick it up. I have become something of a collector.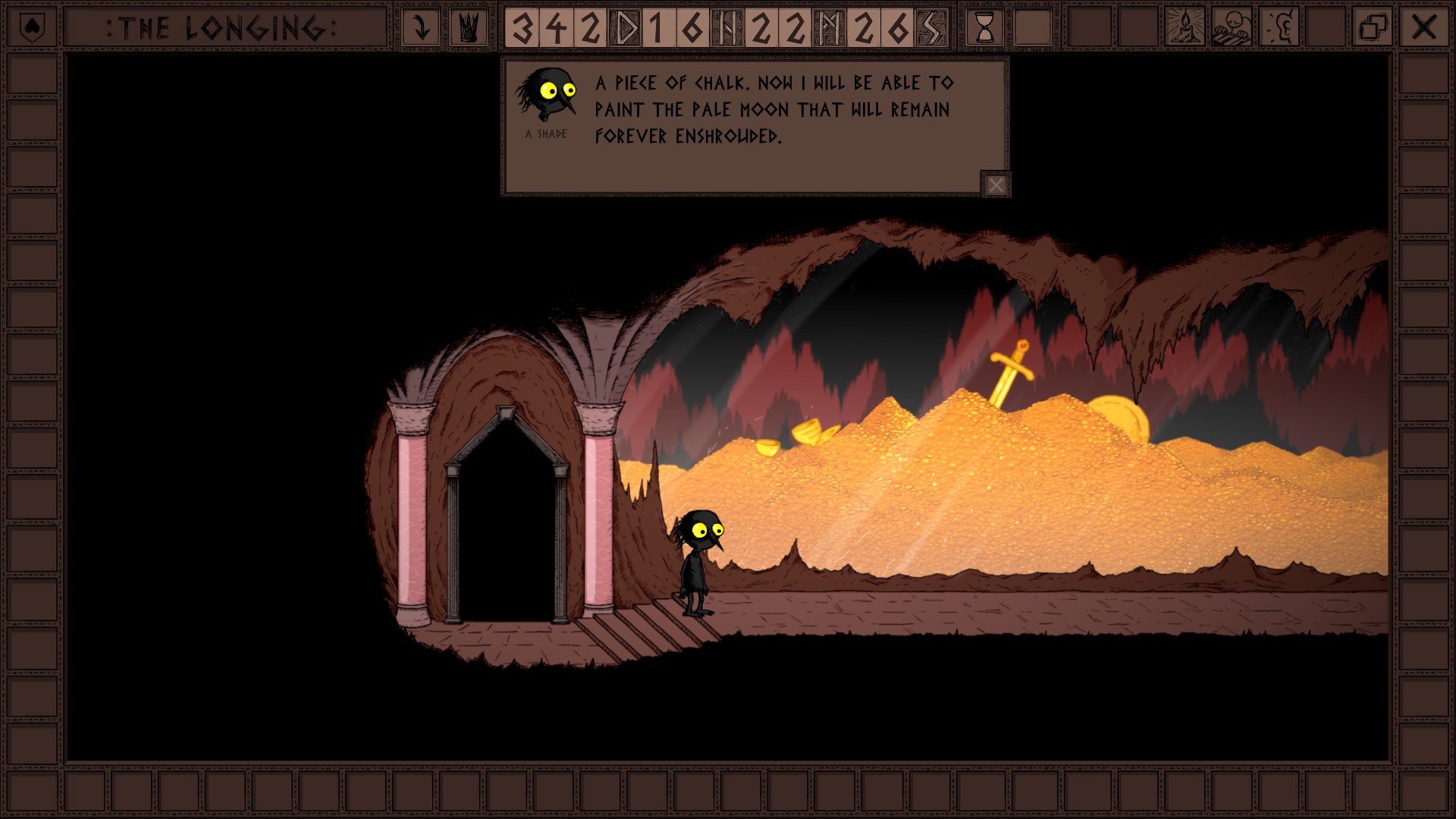 While setting off to explore some more, I remembered how I was waiting a few weeks for some Moss to grow at the bottom of a big drop. Shade seemed to think that would be comfy enough to fall onto, so excitedly I set off back to that same location to see if it had finally grown. It had! I could finally after weeks explore a part of the cave system that had previously been cut off! Back onto my main monitor the game goes…
I take back control, I walk a little further to see what I had been missing and—wow. What a sight to behold. So impressive, I add it to my list of remembered places which is filling up quite quickly. If I come back to this in a month, what will have changed? It's running water, perhaps it will break something down or fill up? The Longing makes me curious about everything.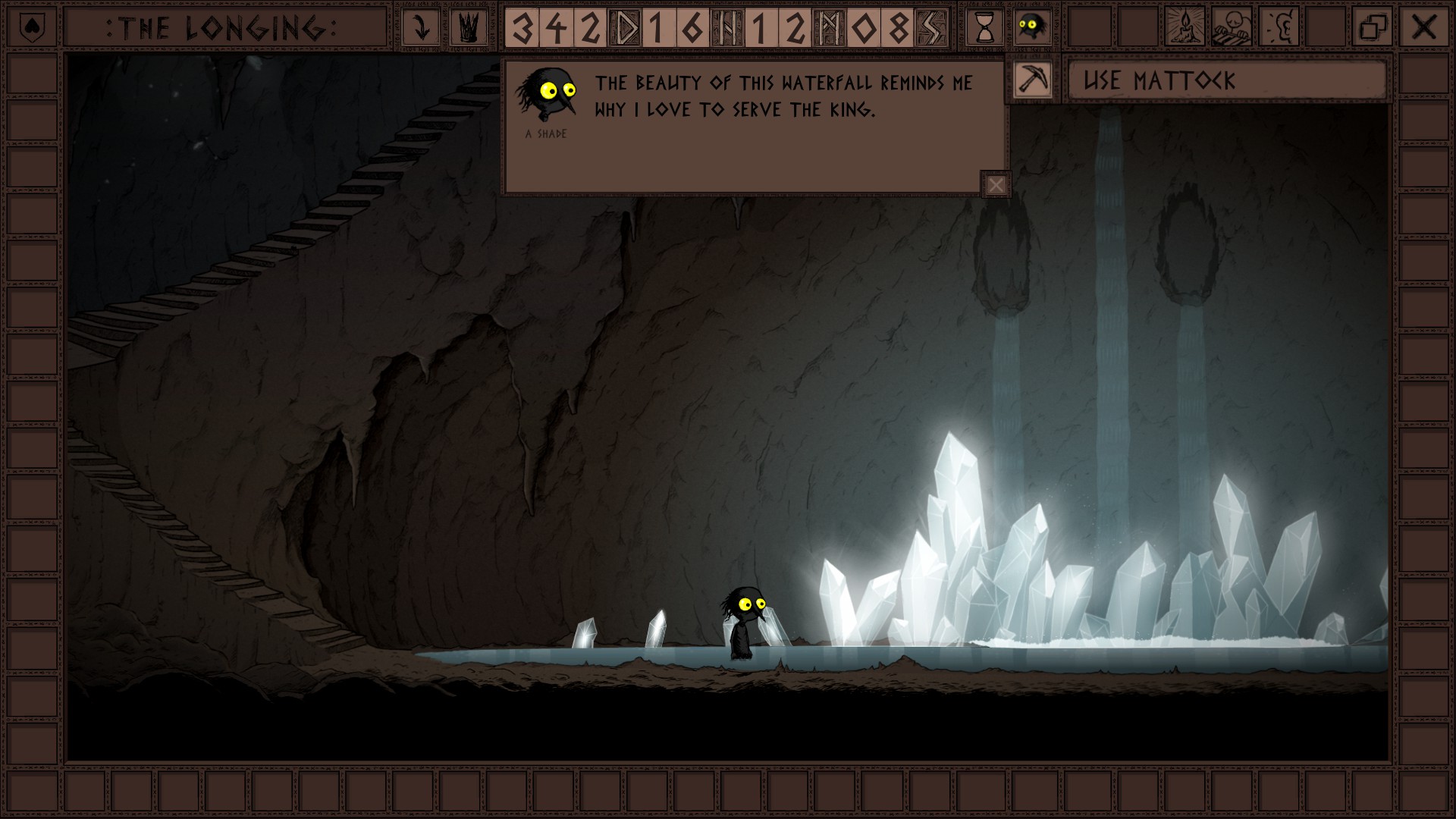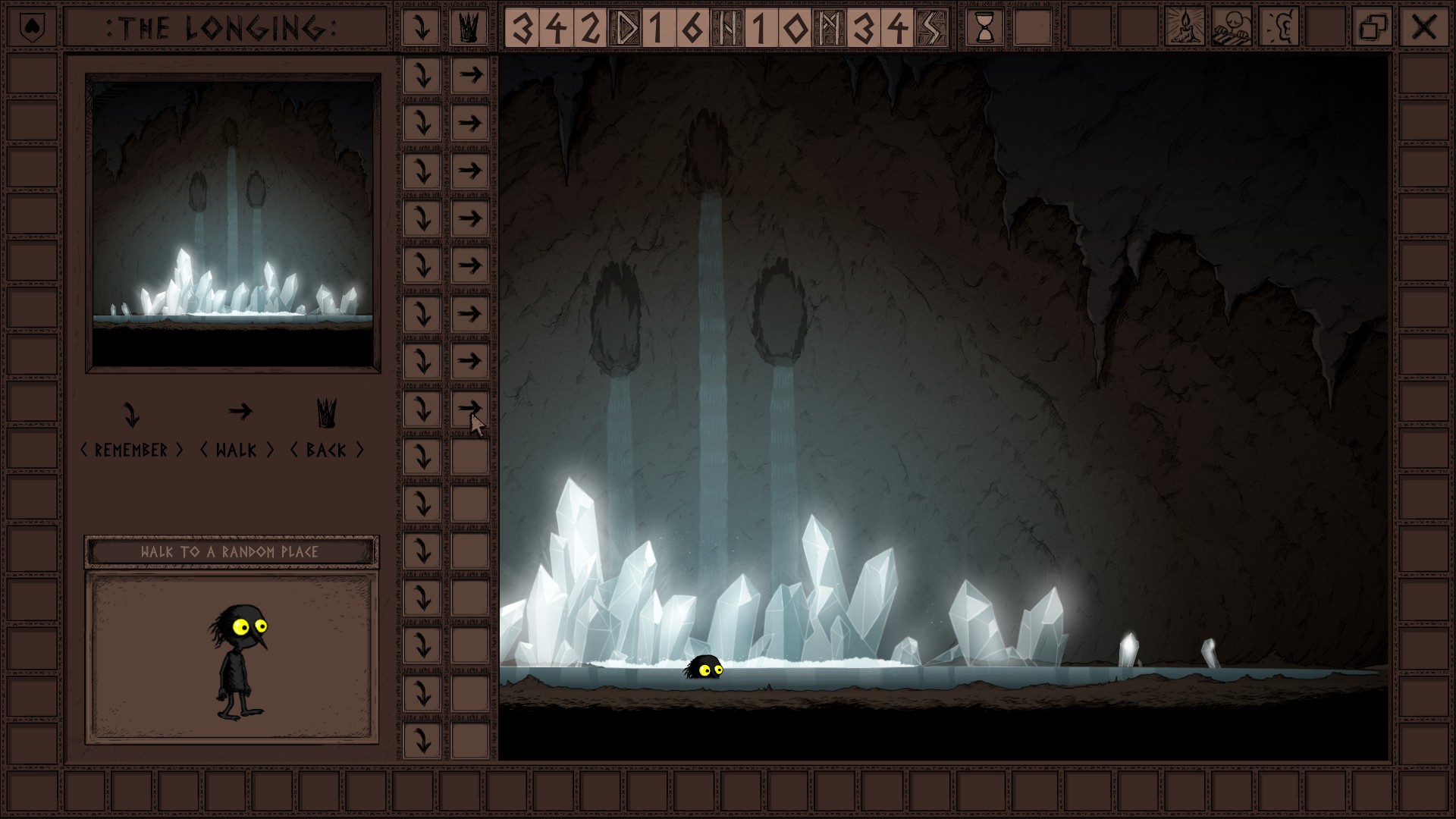 Each time I look at this picture, I can't help but laugh at Shade just standing in the water like that. For a very lonely and lifeless looking creature, Shade sure does have a lot of character.
When you quit and come back, it's the little touches that I thought were sweet. The different ways Shade explains their loneliness without you, or the time I came across them napping and felt quite bad about waking them up to continue their duty.
Feature Highlight:
Slow exploration of a vast, hand-drawn cave.
Atmospheric Dungeon Synth soundtrack.
Various endings.
Lots of well hidden secrets.
Time-based puzzles.
A lonely but cute protagonist.
The thing is, you don't actually have to wait 400 days. Waiting until then will mean The King is awake but there's got to be more to it right? You would be correct. The developer won't say what of course but they have said there's multiple endings "and not every one of them might involve waiting for 400 days". From what I've found out, time literally moves faster in-game with certain actions and if Shade is comfy in their home with lots of nice things. To say then it takes 400 days isn't entirely correct, but it also is, it all depends on how you wish to play it.
Some actions might also set you back a few hours, not as in the in-game timer increases your time left but in exploration and action time, one interesting mistake I made when trying to be greedy lost me an essential item for example that meant I needed to find another.
You might even be lucky enough to come across a place where time just stands still, and it seems like it goes on forever. I must have walked through there for a good 15 minutes, now that was the first time in The Longing I felt truly lost and alone. Was it worth it though, letting my timer stay so very still to explore these blindly bright halls? I'm not entirely sure. Even Shade started questioning me, making me feel bad about how long the walk back will be, telling me how it probably does just go on forever—or does it? I need to know! I'll come back here some time, maybe in a few months.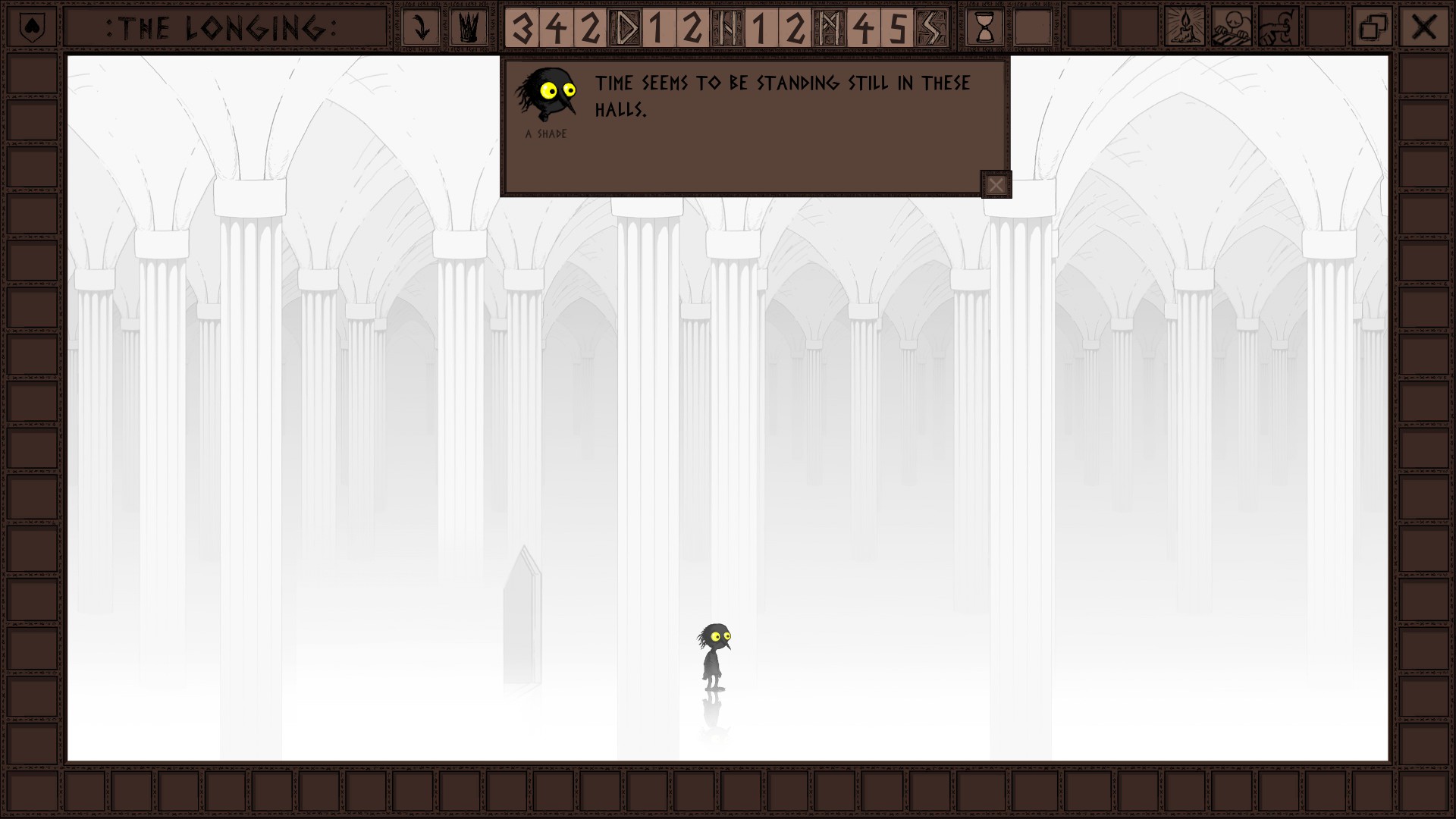 "Eternity is rather overrated"
Okay, really. Was the long walk through the endless hall worth it? Well, I sure did get a lot of paper which Shade is currently putting to good use. The wait to go back home was certainly long indeed, although telling Shade to get going and then being able to close the game, go make a cuppa, do some other work and then come back later to find them at home is certainly part of what makes The Longing such an fascinating idea.
We definitely still need to make a bed though…poor thing, sleeping on the floor still.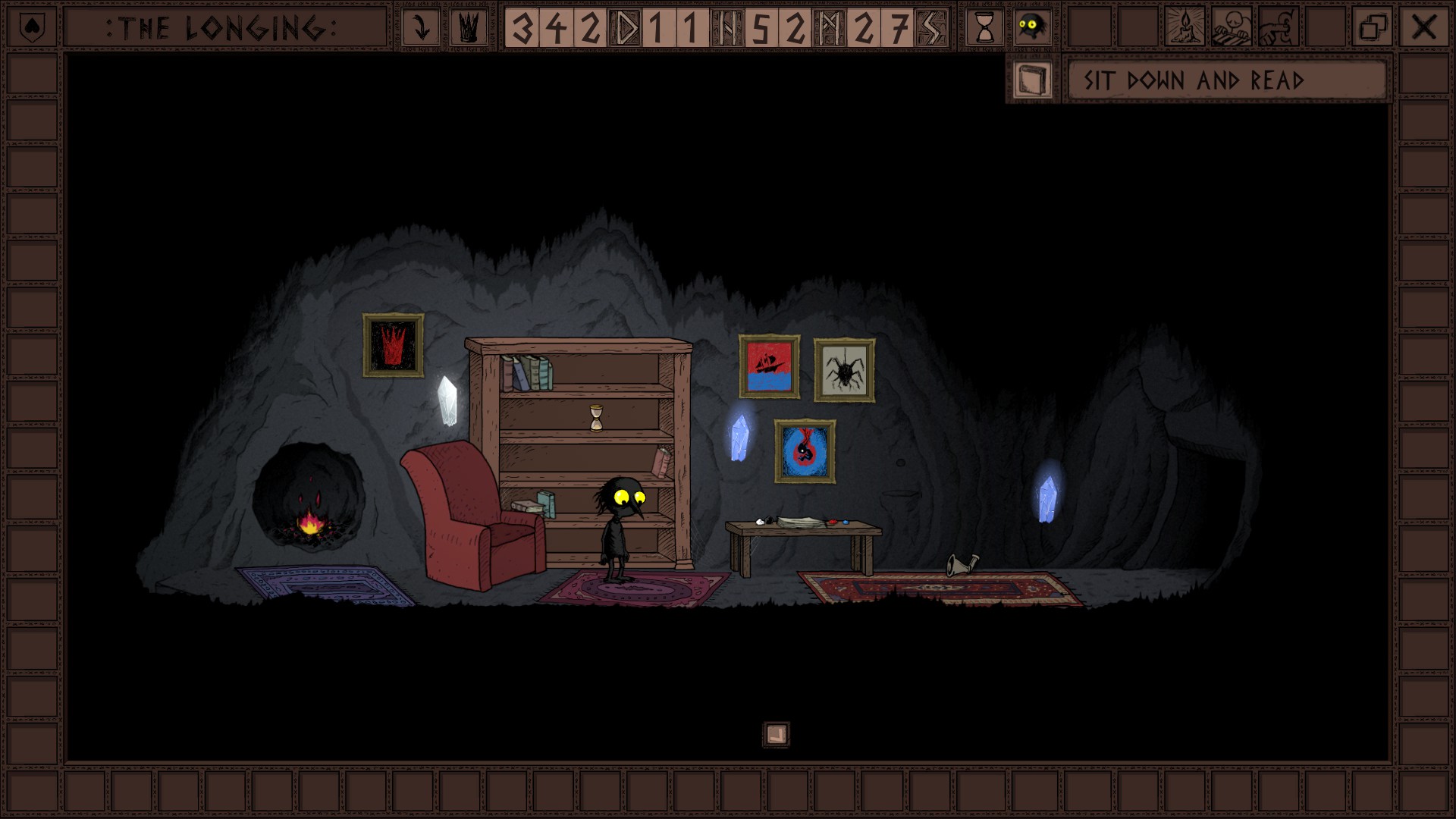 I honestly did try to make a bed, I even spotted some wood in the distance at one point but then I got distracted and ended up spending 45 minutes doing something else. The Longing makes you forget about your plans, as you walk around discovering new areas and differences each time you come on.
The mystery of it, the very idea of making players seriously slow down and think, take in the world and explore. Such a wonderfully odd idea for a game that blends together the boundaries of what makes a point and click adventure/mystery of some classics with an idle-like game system and yet, it's also brilliant. I want to see more and thankfully I have a very long time to enjoy it.
You too can today begin your own 400 day journey with a copy from Humble Store, GOG.com and Steam.
Some you may have missed, popular articles from the last month: