Suits: A Business RPG is a mysterious comedy game that was released more than four years ago; from time to time it's being featured as part of Steam's Weeklong Deals, as it is the case right now (50% discounted), so I've been looking into it for some time.
Just a couple of days ago, a somewhat convoluted formal announcement was posted on the Store page, where it's stated that a critical bug was fixed and that Linux support was enhanced. I selected the most descriptive parts of the message to make it more clear:
A lot of players have encountered a strange bug (...) the game would just get stuck on a loading screen. (...) Eventually I managed to encounter the same problem, but with no way of fixing it. (…) I decided to give it another go and I wasn't encountering this issue anymore. (...) I'm guessing this new version of RPG Maker MV fixed something. Not only that but now I was able to make a proper Linux and Mac port of Suits via RPG Maker MV rather than the weird hack I had to do.

Please let me know if these versions are working.
I'm going to be honest: if it was only for the graphical style, I wouldn't pay any attention to it, but after checking that out of 705 Steam users' reviews it has a very decent number of 616 positive ones (88%), I became progressively interested on giving it a try one day, when I finally have roughly four hours to spend on it. Also, it's going to have a sequel that is releasing in a few days (although no Linux support is confirmed at the moment), so it definitely appears to be one of those cases were appearances are deceiving.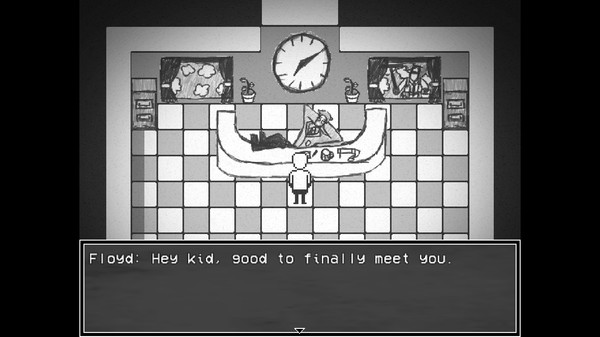 Besides, although it's very obvious from the beginning that the plot takes place in a corporate environment, and that it has to do with a certain character who will become corrupt, it's hard to tell what's going to happen during the story; the cryptic store description doesn't provide more clues either, since it's only a parody of a job advertisement. The only concrete information is on the second half of the description, although it only consists of a list of features about the game itself:
- Over 99 Different Types of Enemies

- Find Hidden Treasures Within Each District

- Enjoy a Kickin' Soundtrack Composed by Gbone and the Biz

- 86% Interactive Environments

- (…) Multiple Hours of Game Play

- (…) Steam Trading Cards
In the event you decide to give it a chance, if you're an Achievement Hunter keep in mind that with the upgrade they no longer work on Linux, as expressed on the announcement and on the Linux system requirements.
And finally, if it turns out to be a game that you considerably enjoyed, you have the option to support the developers via Patreon (and by the way, check their hilarious description there). Or another option, considering the low price, could be to buy a lot of copies to gift. Whatever you decide, after all it's your business...
Find Suits: A Business RPG on Steam (50% discount) and itch.io.
Some you may have missed, popular articles from the last month: