I suppose there could be a potential situation where you need to urgently edit an image but don't have the time, or maybe you want to apply some effects to a particular image but are overwhelmed by the vast number of options that common image editors offer. Of course, a more mundane situation simply could be that you want to have some fun and experiment altering images without complications. Whatever the reason is, you might be interested to know about this online resource…
PhotoMosh is a web app developed by single developer Felix Turner, from Airtight Interactive. Despite being so versatile, it's extremely easy to use: you can either use the "Upload" function or activate your webcam to capture an image that will be used to apply a variety of psychedelic effects to it. You can check some of the options you have at the right part of the following official screenshot: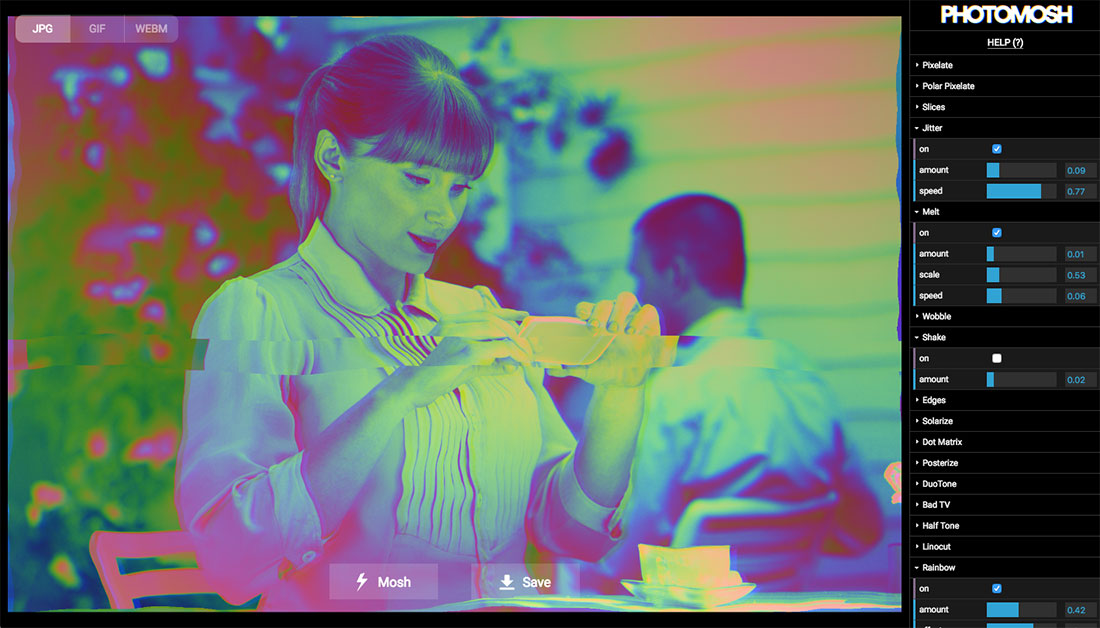 As you can see, the layout is very simple: you click on the effect you're interested to inspect, and then an activation option ("On") and other different parameters will be displayed, which can be tuned simply by adjusting the bars with your mouse.
Or if you don't directly want to configure anything at all, just simply press "Mosh" and the app will randomly apply effects to your image, and that's it. If you aren't convinced, just press again until you find something that meets your cryteria.
Here you can see different variations of my avatar, as a reference:

Once you're done, you can save your new image/animation on the following output formats...
JPG - 2048 x 2048 px max size.

GIF - 640 x 640 px max size. 4 seconds max duration. 20 FPS.

WEBM - 1280 x 1280 px max size. 4 seconds max duration. 10 Mbps data rate.
… and specifically for WEBM, these points were mentioned as well:
- WEBM output requires Chrome or Firefox.

- WEBM videos may be viewed in the browser or using VLC.

- Convert WEBM to MP4 using Handbrake.
Regarding permissions, it must be mentioned that by using this app you have a free license, which means that "images generated with PhotoMosh are free to use anywhere with no restrictions", but of course, if it's possible it would be nice to acknowledge the author and the website as a gesture of appreciation.
For some reason, the developer seems to insist a couple of times on using Chrome to enter the website; in my case, I always used Brave and I have no issues, everything works flawlessly. There is also something else:
"Some Chrome Extensions may interfere with PhotoMosh. Try running Chrome in Incognito mode which will disable most extensions. If that doesn't work, try updating your browser to the latest version."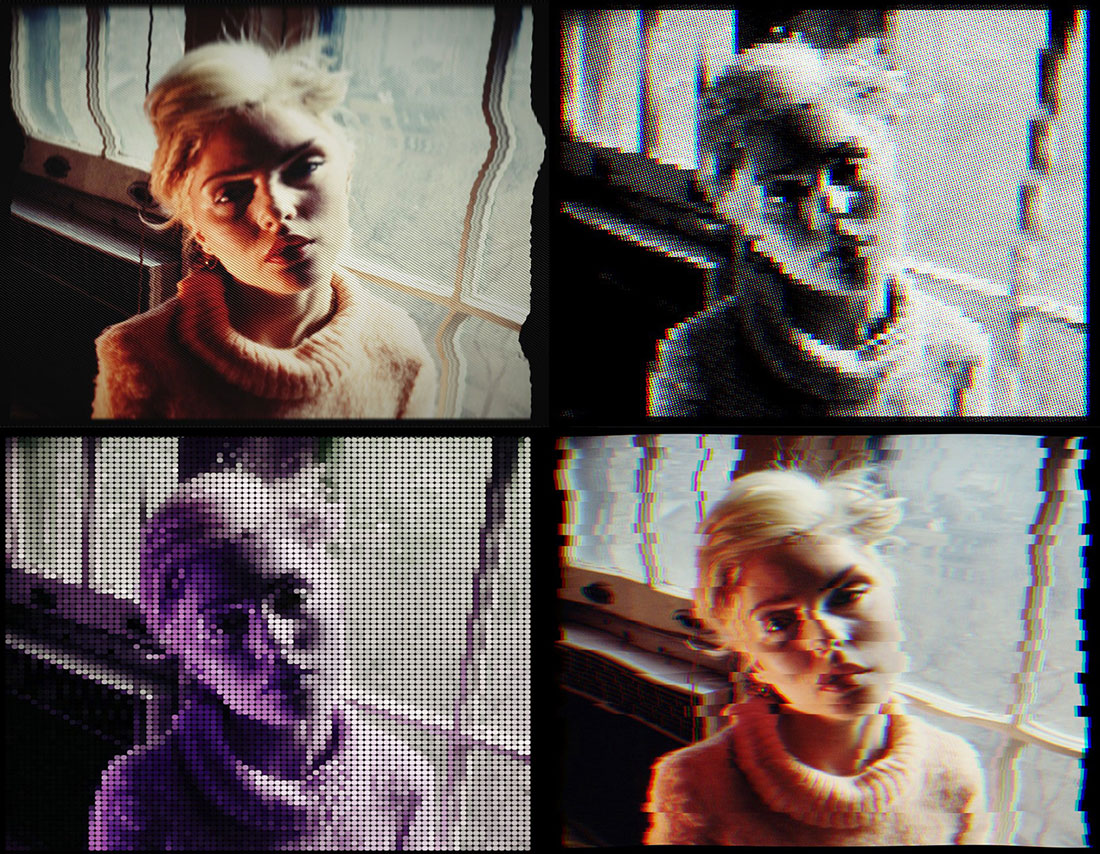 And apart from this, there are other two points to keep in mind:
"PhotoMosh requires a recent device with good WebGL capabilities."
"Render quality is limited by device and GPU speed. Processing large images or videos may make your computer unresponsive or crash the browser."
Finally, although PhotoMosh is currently free, a paid pro version called PhotoMosh-Pro is apparently in active development, though there isn't a release date yet. You're encouraged to send suggestions and express what features you would like to see implemented. Also, and as a curiosity, if you enter that link, you'll notice how in the question "Which Operating System do you mostly use with PhotoMosh?" Linux is completely absent from the listed options; this must mean that among the alleged 70K monthly visitors there aren't many Linux users exactly, so maybe we can start making some small steps to change that situation right now...
Enter the official site to use PhotoMosh, for free.
Some you may have missed, popular articles from the last month: