This new talkative Valve is certainly welcome, as they continue to do blog posts talking about the Steam ecosystem and how good and bad developers are doing. The latest is a 'Data Deep Dive' which has some interesting information.
Giving a brief bit of history on how Steam was pretty much locked-down until Greenlight launched in 2012, opened up to a lot more indie games and then in 2017 they launched Steam Direct fully opening up Steam to pretty much any developer. Since then, obviously, Steam has exploded in size.
Even with Steam having so many thousands of games now, according to Valve more "new releases than ever are finding success". Showing the below graph: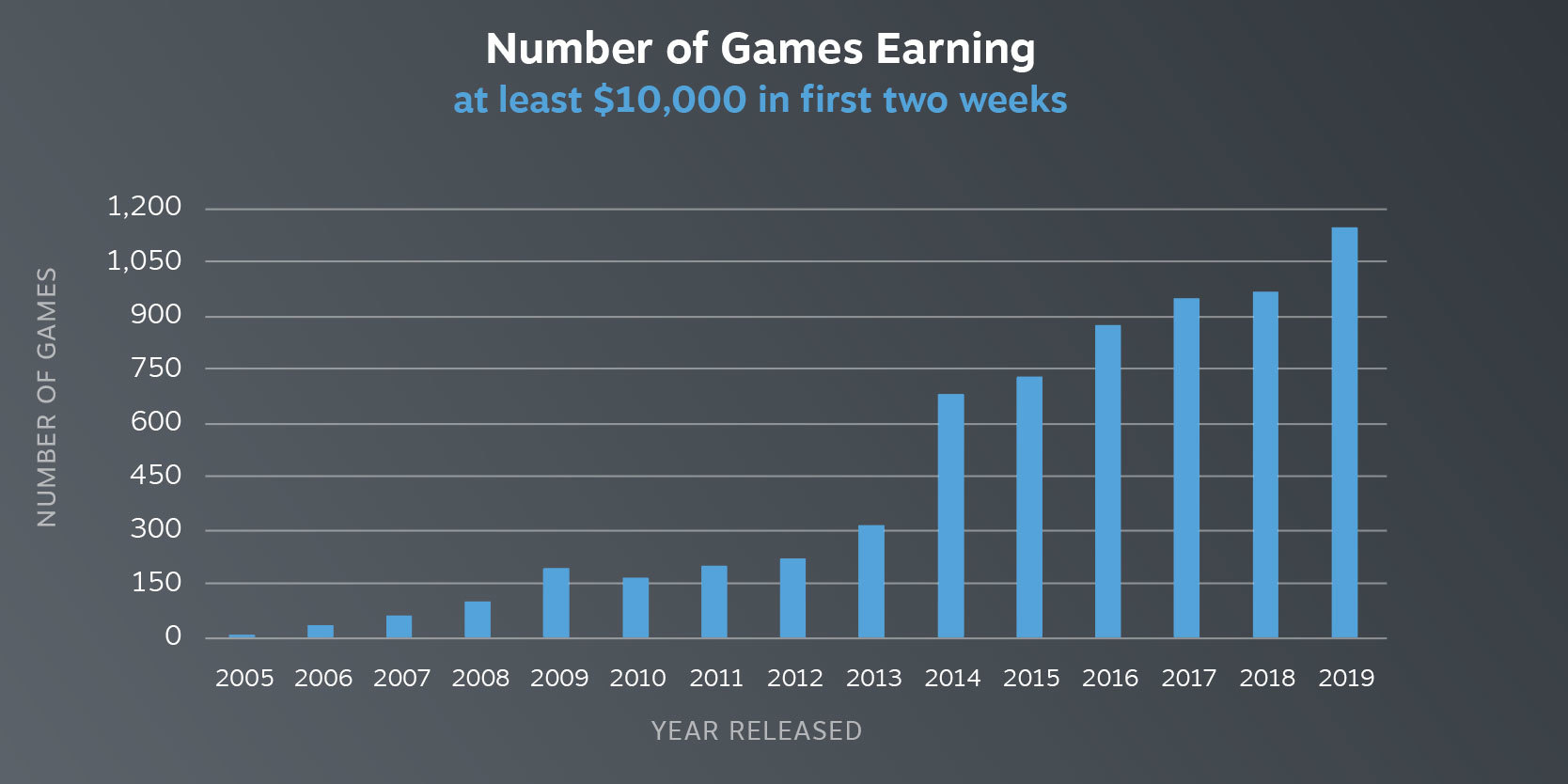 So, we can see that more games than ever are hitting at least $10K in the first two weeks. Valve say that most recent games that hit this amount actually go onto earning "between $20,000 and $60,000 over the course of 12 months following release".
That sounds nice but it's not really that much over an entire year (especially for more than one person). Valve also didn't mention where their 30% cut comes into play with this. However, also to note is that Valve looked at other earning points too including $5K, $50K, $100K and $250K with it all being a similar story as you can see (research notes):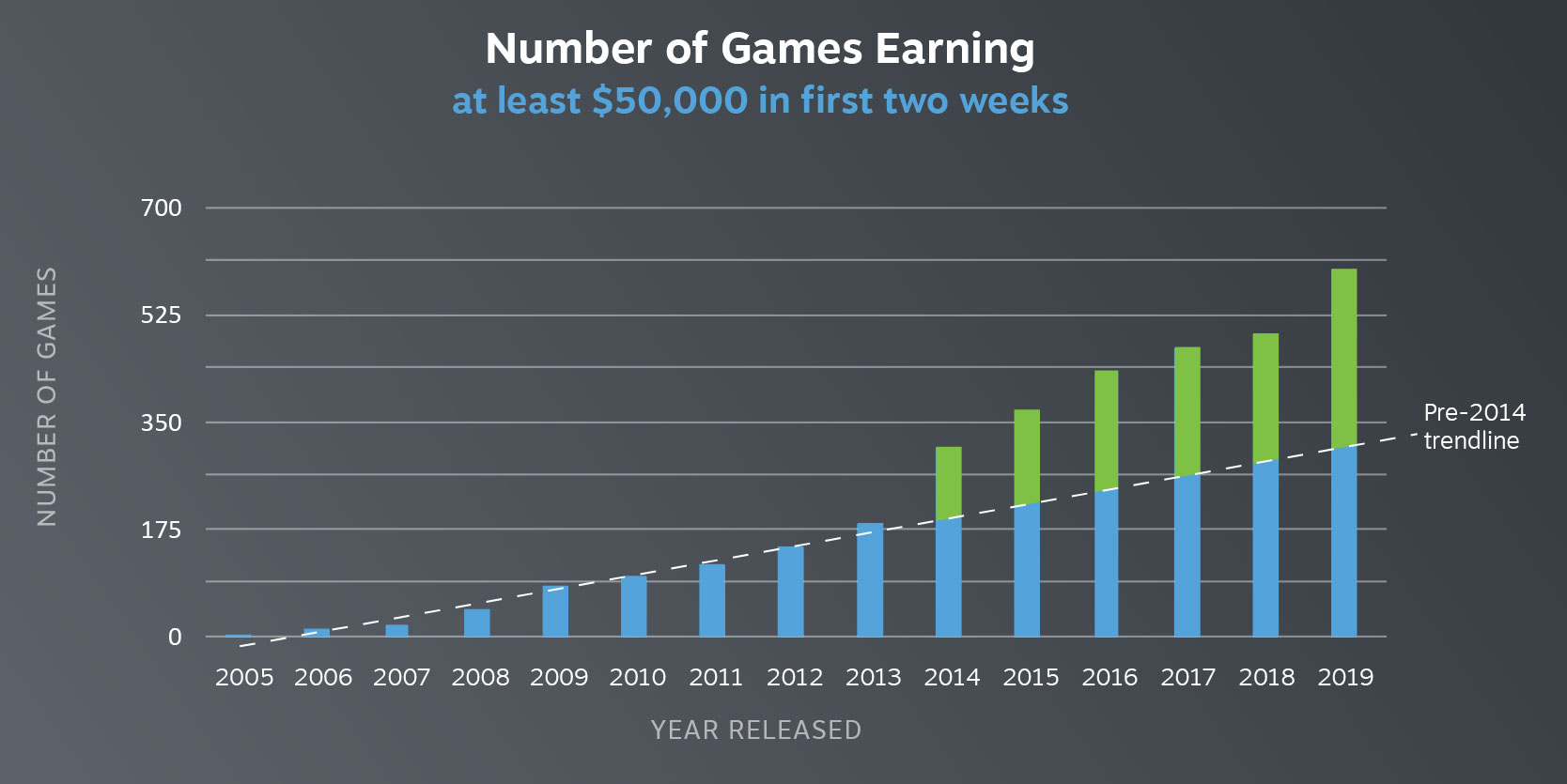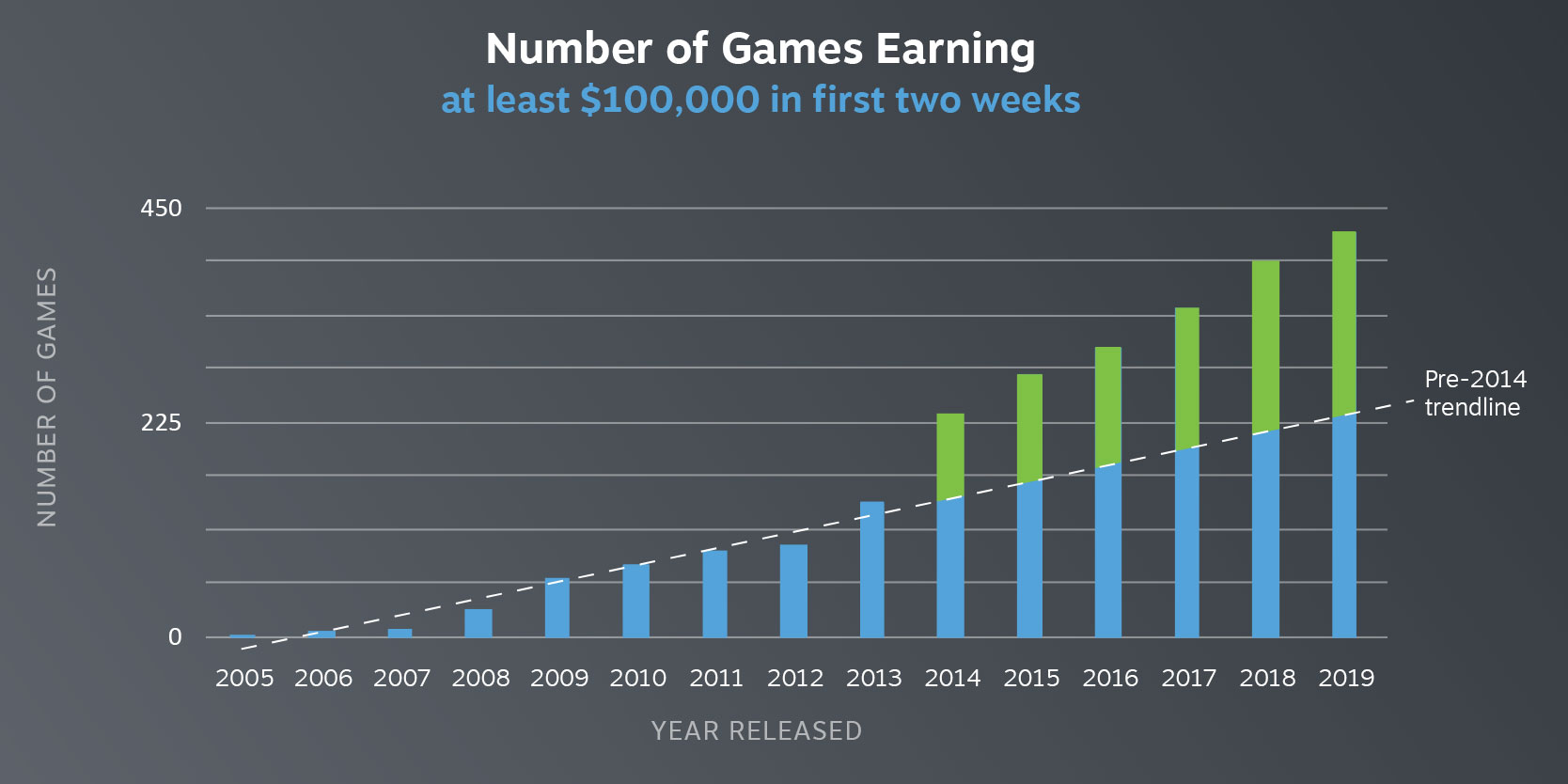 A lot of this is attributed to Valve opening Steam up, as they mentioned in the blog post. The dotted line above, Valve said is to show their estimate of how it would have looked if they hadn't increased the quantity of games accepted onto Steam. They said they can't be certain on this but "we think the green portions of the bars above the dashed line are, largely, games that would never have previously found success on Steam... because they never would have been released on the platform at all".
This still doesn't mean launching on Steam will be an instant or guaranteed success, as Steam grows there's clearly more games than ever also not reaching even $5K in the first two weeks. In Valve's own graph in their research notes, they showed approximately 1,450 titles hitting $5K in the first two weeks in 2019 but when you look at how many titles released in 2019 it means the vast majority didn't even hit that. This is debatable on how bad that actually is in reality, since even on Linux which is a niche platform on Steam there's a large amount of very quickly made "filler" games released every year.
Since this is largely focused on the first two weeks, there's a lot it doesn't take into account. There's games that will find success later, a small amount for a solo or hobbyist developer could be taken as a nice success and so on.
Valve do also mention that most "games did better in 2019 vs 2018" and they go over median earnings and some different percentiles which give more of a mixed figure. You can see the full post here.
Some you may have missed, popular articles from the last month: