Orcs Must Die! 3, a hybrid of tower defense and third-person action set in a slightly silly fantasy world from Robot Entertainment with publishing by Stadia Games and Entertainment is a huge amount of fun.
It's a really ridiculously easy game to get into, and that's why I think I've enjoyed playing Orcs Must Die! 3 so much. You get to play through various levels that throw waves of Orcs at you, as you run around placing down traps and at times using your special character abilities and just blast through hundreds of enemies. There's no big fuss to it, it's good stress-free fun for anyone after a more laid-back experience that still has plenty of action involved.
As you progress through it you get to upgrade your character, your weapons, your traps and unlock new traps to create all sorts of crazy mazes of death. It's not gory though, as they keep it quite cartoony to appeal to a wide audience. There's a great variety to what you have too including spiked floors, spiked walls, anti-gravity suckers, a rip saw to place in the floor, rap-fire ballista and a whole lot more. Thanks to the level design mixing cramped corridors and open spaces, you get to be quite creative with your traps.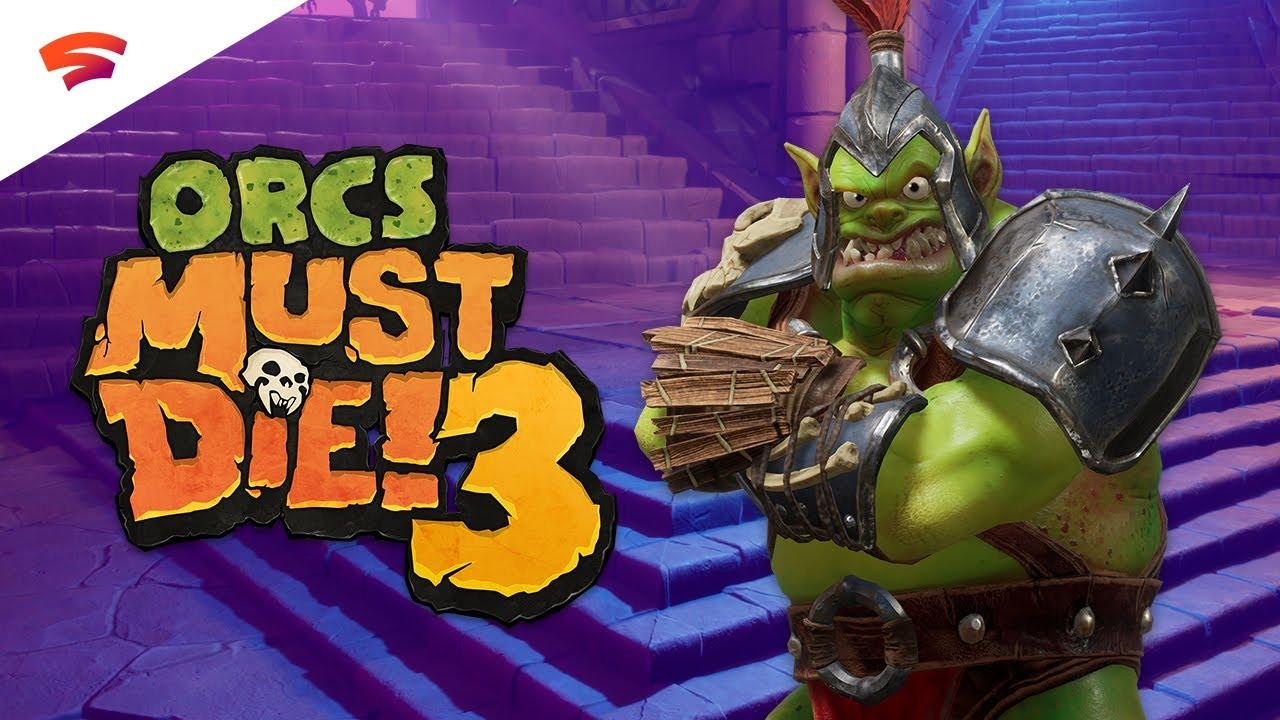 Orcs Must Die! 3 can be a surprising challenge too. As totally laid-back as the game setting is in how it represents everything, that doesn't mean it won't test you. There's been a few times I was totally overwhelmed by the amount of enemies that came running in during a wave. It definitely can keep you on your toes. This is due to not just the amount of enemies that end up on screen but the variety of them too. After all, it would be boring if you were the only one to have a few tricks up your sleeve. There's small and slow enemies, bigger enemies that take a fair amount of effort to take down, and speedy little nuisances that run right past everything and set off all your traps stopping their effectiveness.
As for how much playable content there is? There's 18 standard levels, along with an Endless mode for you to be able to go back and truly test yourself with three differently difficulty settings. You also have a rating based on how you do each time, which allows you to unlock more so the perfectionists have plenty to go through. Overall though, it's not a big game but enough there that's certainly worth a go.
What makes it quite special though are the War Scenarios. These are much bigger levels, that end up throwing hundreds of enemies at you. It's here, that you get to use some of the bigger mounted weapons and it's all kinds of chaos. They can take quite a while to get through too, and they act as a sort-of boss battle. I just wish there was more of them, it was like being in a big Lord of the Rings battle.
It might not be the best game available on Stadia right now but it's absolutely a quality game, and that's what's important. Just good wholesome fun. If you've ever played a tower defence styled game where you control a character in the level, you know what to expect from it.
Curiously, even though it's a game from Stadia Games and Entertainment it's only a timed exclusive for Stadia. Presumably this is only because Google chucked Robot Entertainment some cash to help out, which is why it's not a permanent exclusive. At some point, it's confirmed that it will release onto other platforms too (including Windows on Steam). Until then though, Stadia is the only place to play it which admittedly will be quite the deal-breaker for some.
Thankfully, Stadia in my own testing has remained strong. Performance hasn't been an issue outside of a few minor stutters that no game can get away from on any platform and with wireless Stadia Controller support in the web browser that was enabled a while ago, it's actually pretty great. Input with mouse / keyboard in Orcs Must Die! 3 on Stadia felt fantastic too, really smooth.
Orcs Must Die! 3 is currently free to grab with a Stadia Pro subscription and you still get 1 month free of Stadia Pro when you open a Stadia account, otherwise on Stadia it's a $29.99/€29.99 purchase. Find it on Stadia.com in a Chromium/Chrome browser on Linux.
Some you may have missed, popular articles from the last month: