Platformers come in all shapes and sizes. Some are about hacking and slashing, some are about precision and some like Deleveled take almost everything away from you. Note: key provided by the publisher.
It's a puzzle platformer, one with a simple aim but it's been perfected. All you have to do is reach the exit. Simple enough? Except, there's no jump button and there's plenty of platforms around both high and low. Oh, you're also controlling more than one thing at a time. You have two little squares, above and below, which you need to use falling momentum from one to bounce up the other. It's actually quite brilliant, inspired by Newton's third law of motion. Simple and very effective.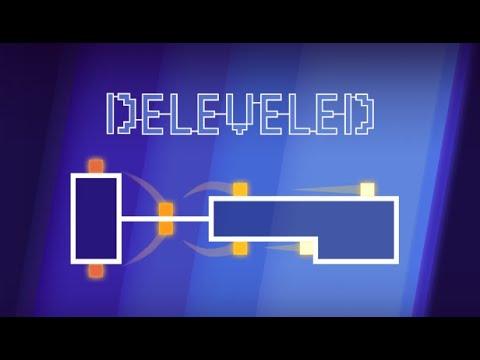 Thanks to 120 levels, you can enjoy quite a lot of this bouncing around while you try to solve each little puzzle. They're not big, all nicely compact and not overly difficult to solve. It sprinkles in a little complication, with you need to touch certain switches spread across each level to unlock the exit. Quite surprisingly I got stuck quite a few times for a while on some levels, the design is wonderful on making you think things through. Getting your timing and momentum right for each ends up as a good and fun challenge to play through.
Here's what the developers had to say about making the game:
"We love how many solutions exist in the Deleveled universe because it breeds creativity from something that might look like it's prescriptive. We hope that it always hits those exact right notes of difficulty: tough but also tough to put down." - Patrick Nance, Level Design and Audio
"We've been inspired by all the ways that indies have built on their core mechanics in their games, and I've always wanted to see what would happen if you took away the jump button from a player." - Kyle Donnelly, Game Programmer
Feature Highlight:
Chiptune soundtrack, with unique music for each world
Minimalist, abstract art style that comes to life as you play
Momentum-based platforming keeps movement flowing through 120 levels
Change gravity, fall through walls, and rotate levels to find the most creative solution
Secrets and bonuses for the curious gravity-defying adventurer
You can buy Deleveled on Steam.
Some you may have missed, popular articles from the last month: