With the release back in April of Pop!_OS 20.04, the distribution made by hardware vendor System76, it came with an impressive Auto Tiling feature that System76 continue expanding.
Stacking is the name of a new feature recently included (source), which allows Pop!_OS 20.04 users to stack together tiled windows. The result is that it should make it easier to organise your tiled windows in the same workspace without sacrificing window size and it's especially useful for smaller screens like laptops.
It looks like it combines their awesome Auto Tiling with a form of Alt+Tab to produce a really useful way to manage your workflow. Take a look: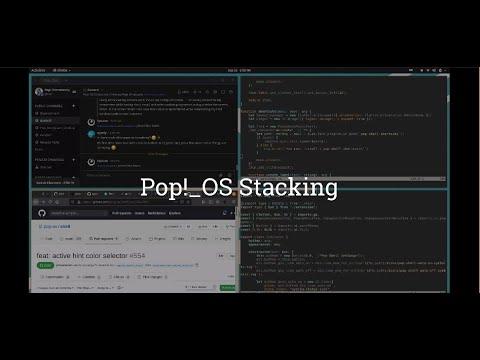 Replying to some quick questions of ours on Twitter, the System76 CEO Carl Richell mentioned that this feature was added towards the end of September 2020. Users on Pop!_OS 20.04 just need to check for updates to grab it. Richell also mentioned to us that the video above was captured on a 14" 1080p screen and that "Four floating windows would be hidden behind each other and you'd have to alt+tab your way through to find what you want. With tiling it's all in front of you and easy to navigate with super+<>".
If I ever leave my new comfort of EndeavorOS, I think my next stop will be Pop!_OS for sure. Pop!_OS is pretty popular too, with the Steam Hardware Survey (filtered to just Linux) for September 2020 showing it has gained 5.72% of users there. That's a lot, considering the highest individually shown distribution is Ubuntu at just at 21.34%.

Previously, Pop!_OS was showing as Ubuntu.
Learn more about Pop over here.
Some you may have missed, popular articles from the last month: