Fraymakers is a brand new platform fighter coming from McLeodGaming, the creators of Super Smash Flash 2 which is the most popular Smash Bros. fan-game on PC.
What sounds like it really could end up being the ultimate platform fighter, Fraymakers will feature over 80 high-resolution custom animations per character as they've "spared no detail or expense". They're also releasing it alongside FrayTools, their custom tool they're using to build all parts of the game as they want it to be highly customizable. It's also going to have an all-star cast, as they've teamed up with several other developers to include some well known characters.
Check out the trailer: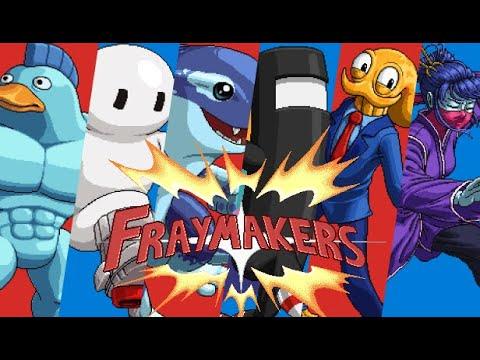 It's currently crowdfunding on Kickstarter, where it managed to get 100% funded in only around 3 hours which is absolutely insane. Clearly there's a lot of love for Smash-likes on PC. Against their $46,000 goal, they're currently looking good at over $73,000 and with 28 days to go they're clearly going to go much higher. Due to how high they've been funded, they're revealing stretch-goals to unlock features they will add in at specific funding amounts like new characters, new stages, more music and so on.
The great news is that they're planning full Linux support with it too, as they confirmed to us over email and they're clearly listing it in the system requirements on their Steam page now too. Since we spoke to them, they've cleared that up on the Kickstarter page now too so that it mentions their release plan of putting "Fraymakers in Early Access on Windows, Mac and Linux by early 2022.".
Feature Highlight:
Easy to pick up, hard to master - Fraymakers is designed to be friendly to new players and challenging and expressive for veteran players. You're going to have a ton of fun whether you want a quick round with your friends or you're looking to climb the leaderboards.
Rollback Netcode - If you've been part of the fighting game community over the past few years, you know that rollback is the gold standard for fighting game netcode. We've prioritized and designed around rollback from the outset of development, meaning that Fraymakers will provide the smoothest possible online experience.
Full Movesets - With over 80 animations per character, we've skipped nothing! Each character comes complete with every motion and attack you've come to expect from a platform fighter as well as some brand new techniques.
Assists - Choose from a massive selection of indie characters to unleash an attack, fire a projectile, buff your character, or inflict a special status effect on your foes.
...And Infinite Expandability! - We designed both the game and our custom content editor to be accessible and powerful. We want the process of creating your own content to be simple and fun. Whether you're a player or a creator, this means that the possibilities are endless.
You can check it out on Kickstarter and follow it on Steam. 
Some you may have missed, popular articles from the last month: