Caribbean Skies is the name of the latest DLC for the satirical city-builder Tropico 6, and not just that there's a new developer taking over development.
This is the biggest expansion yet and shows that Kalypso as a publisher is committed to continuing updating the game. There's also a fresh free update out for everyone which includes two new sandbox maps, a 'Tropico Papers' edict that super rich citizens no longer pay rent but instead send you 15% each month to your swiss bank account, a new emergency job ability to get stuff done quickly and some bug fixes. Realmforge Studios (Dungeons III, Spacebase Startopia) have also now taken over development, with this being their first Tropico 6 release.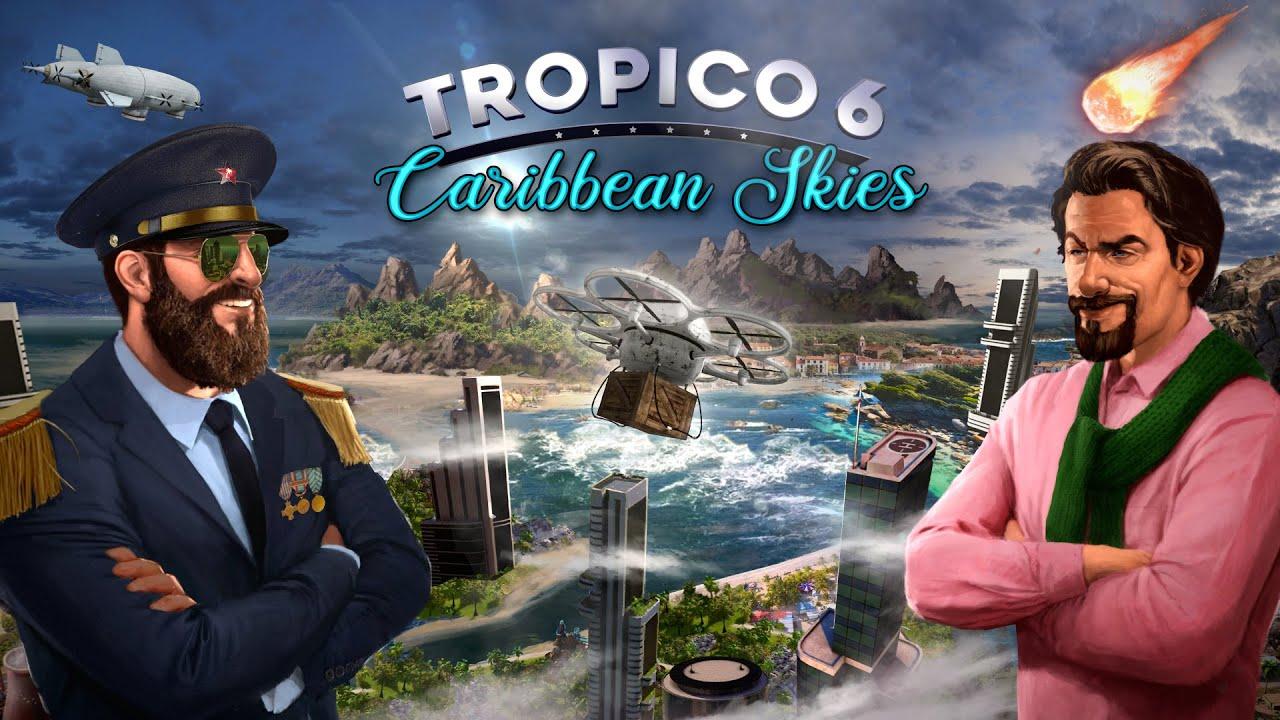 DLC Features:
New scenario-driven campaign: Play through new and dedicated scenarios featuring 5 all-new missions, each unlocking a new play style. Meet new characters and save the world as El Presidente!
Drones are here: Easily supply remote areas using Delivery Drones or use Drone Taxi for passenger transportation. Keep the people of Tropico under surveillance with Security Drones.
8 new buildings: Get cargo planes and drones in the air with the Drone Factory, Battery Plant, Cargo Airport and Drone Delivery Service. Make use of the Drone Taxi Service, Central Intelligence building and Drone to Home Delivery Service to immerse yourself and your fellow Tropicans in all things drones. Balloon Tours give you the chance to offer tourists a new kind of attraction.
4 new edicts: Gig Economy, Qult Anonymous, Drone Economy, Drone Recycling
2 new traits: Drone Enthusiast, Qult Leader.
3 new palace decorations: Keep your palace fresh with a miniature version of the mysterious SPEAKER. Show everyone you are a techie with a bunch of drones carrying Tropico flags. Use a smaller version of the inexplicable fertility bomb cannon to show everyone how modern agriculture is done.
New outfit: Good vibes only with the colorful new Banana Business Suit, featuring an all-over banana print.
Not only have Realmforge Studios taken over development of Tropico 6 from Limbic Entertainment, the publisher Kalypso Media has also now acquired 100% of Realmforge, so they are now a subsidiary of Kalypso Media Group. From the press release on this:
"The expansion and complete takeover of the shares is a logical consequence of our strategy to expand our own development resources not only in Germany but internationally. We are offering the highly qualified, motivated team in Munich the opportunity to focus exclusively on the further development of exciting franchises such as Tropico, Dungeons and Spacebase Startopia in the future," says Simon Hellwig, Managing Partner of Kalypso Media Group GmbH.

"Developing complex city-builder and strategy games with that special x-factor element, that are well-received within the community and the wider market on all platforms - that's something we do well. The Tropico brand is therefore a perfect fit for us" adds Christian Wolfertstetter, Realmforge.
"We are very fortunate to have had a strong and secure publishing partner in Kalypso for over 10 years, who supports us at all times and shares our philosophy. At the same time, it is a great honour and a great responsibility for us to have such an important franchise as Tropico in our hands" says Benjamin Rauscher, Realmforge.
You can buy Tropico 6 from Humble Store and Steam.
Some you may have missed, popular articles from the last month: