ENCODYA is an adventure that follows a little girl with a world-changing plan and her big clumsy robot, set in a dark and grey cyberpunk Neo-Berlin it's a pretty bleak future. Note: key provided by the publisher.
You know what I always find interesting about games like this? We've gone from them being total fiction, to often mirroring exactly how things seem to be going. Alarming in many ways but thankfully due to the stories they tell, they can often bring a bit of needed escapism in troubling times. ENCODYA is exactly that.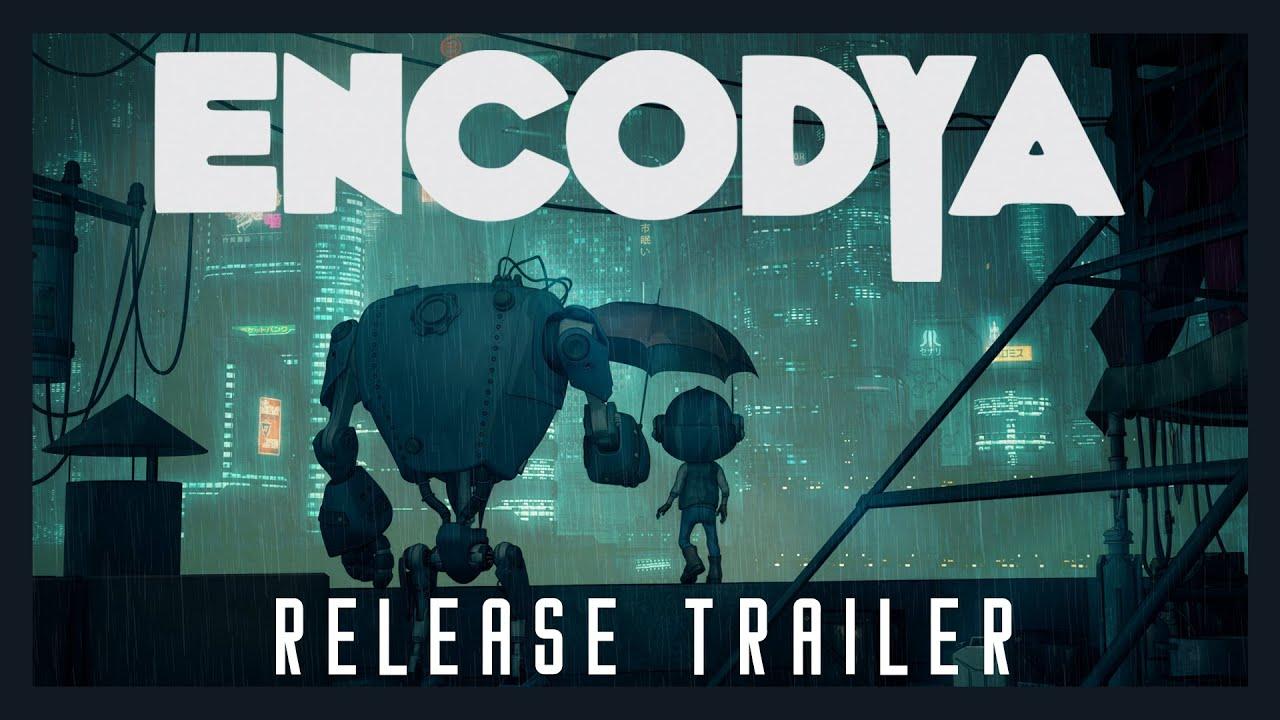 You're greeted by the usual "this is a work of fiction, it's not meant to be political" type of screen when you're first going in. All pretty standard, although it does make it clear it is pointing things out about the world and commenting on "private or public institutions controlling our lives through media". However, it does make a very clear parody of former US president Trump with Mayor Rumpf.
Mechanically, ENCODYA is a pretty standard point and click adventure. A modern one though, with all the niceties that come with modern design. It's the simple pleasures in gaming, like double clicking to make a slow walker speedily move to the next scene and save wherever the heck you want (hooray!). It all works, and it looks damn good too. Thankfully, you even get some fast-travel because this is the future and so the backtracking isn't too painful.
Hunt for items, combine them and try to use them on everything, you know how this works "nope, nope can't do that, why would I do that?" and so on. Sometimes it's quite easy and obvious, other times completely obscure requiring hints for my clearly tiny brain but always interesting thanks to the world design. Personally though, even with the hints I did find it a little on the difficult side and ended up doing a fair bit of backtracking until I finally found the right items and combinations. That is part of the hook with point and click adventures like this though, going through and working everything out in addition to figuring out the story. Perhaps I just got unlucky with the apparent random generation of parts of it.
Feature Highlight:
Explore the dark cyberpunk world of ENCODYA in 2.5D with 2 playable characters.
Over 34+ non-player characters bring the world of ENCODYA to life and provide a varied and exciting story.
Your journey will take you to more than 100 locations where there is a lot to explore and discover.
Special, randomly generated puzzles provide a unique gaming experience and present you with great challenges.
The cinematic cutscenes and the futuristic art and sound design brings the story of ENCODYA alive.
The original soundtrack, especially created for ENCODYA, makes the exciting, crackling atmosphere even more tangible.
Professional dubbing actors lend their voices to the characters
One of the really nice things about ENCODYA is the difficulty option before you get going. Do you like story and want to focus on that? Go for the "Easy" mode, and it allows you all sorts of hints and a highlight ability for collectible items. More like a standard nice adventure mode, or you can go all-in with the "Hard" mode and figure out everything for yourself since you're clearly a master detective and can spot any collectibles hiding throughout the world.
Not many downsides to it overall, although I do think you already need to appreciate object hunting point and click adventures to enjoy it, even on "Easy" mode. SAM, your big robot friend, also needs to move out the damn way when you're doing something as it's often in the way and that does become a nuisance because SAM sticks out like a sore thumb often.
For the Linux version, I've got absolutely no complaints and the performance was fantastic. So on a technical point, it was really great. If you enjoy good looking point and click puzzlers, especially if they make you scratch your head along with an interesting story - ENCODYA seems like a good choice.
Some you may have missed, popular articles from the last month: