Ready for your next keyboard? How about one that's properly open source and looks quite fantastic? System76 has today properly revealed and released the Launch Configurable Keyboard.
Sticking to their ethos, they've launched the Launch as a fully open source unit. This includes the hardware (certified by the OSHWA), firmware and configuration tooling all as open source and firmware updates can be done directly through LVFS but it's not forced - it's up to users if they want to update the firmware.
While System76 remains a Linux vendor selling their custom Thelio desktops, laptops and they continue with their Pop!_OS Linux distribution - this is their first to be fully compatible with Windows and macOS too. System76 created the System76 Keyboard Configurator app to allow full customization of the keyboard layout - with changes saved to the keyboard so you can take it anywhere.
"Launch with macOS and Windows 10 is a phenomenal, high-end keyboard with a comfortable feel and unique high-speed USB hub," said Carl Richell, CEO of System76. "Combined with Pop!_OS and, in particular, auto-tiling, the hardware and OS blend into a holistic desktop experience that's faster and easier to navigate."
Just like their Thelio computers, the Launch is custom-built in their own facility in Denver, CO. Featuring a chassis
milled out of a solid block of aluminium, as well as a custom PCB (printed circuit board). Created for customization, it comes with a set of red, blue, or brown keycaps to get it how you want it. It also has runner feet to keep it still, along with a magnetic foot for an optional 15% incline.
"With a wide swath of customization options, the Launch is flexible to a variety of needs and use cases. The keyboard's thoughtful design keeps everything within reach, vastly reducing awkward hand contortions. Launch comes with additional keycaps and a convenient keycap puller, meaning one can swap keys based on personal workflow preferences to maximize efficiency. Launch also features a novel split Space Bar, which allows the user to swap out oneSpace Bar keycap for Shift, Backspace, or Function to reduce hand fatigue while typing. Launch uses only three keycap sizes to vastly expand configuration options." — System76.
Check out our gallery of pictures below, click the image to view more along with some close-ups of the switches:
Ever feel like "I don't need it but I need it"? I've got that right now. Although, I'm not sure how I would cope without the trusty numpad. Would be interested to know in the comments how many of you never use the numpad though, does it bother you it doesn't have one?
System76 Launch Configurable Keyboard Specifications:
Chassis
System76 Open Source milled chassis design
Detachable lift bar to adjust keyboard angle by 15 degrees
Electronics
System76 Open Source PCB design
Individually addressable RGB LED backlighting
N-Key Rollover
Sockets and Switches
Kailh MX Hotswap Sockets
Kailh Box Jade or Kailh Box Royal Switches
Key Caps
PBT plastic
Dye sublimated legend
XDA profile
Layout
ANSI US QWERTY
Custom Configuration
Customize layout and lighting in firmware with the System76 Keyboard Configurator
Available on Linux, Windows, and macOS
Integrated Hub
2 × USB 3.2 Gen 2 Type C (Up to 10 Gbps)
2 × USB 3.2 Gen 2 Type A (Up to 10 Gbps)
Connectivity
Wired, with detachable USB cable (USB-C to USB-C and USB-A to USB-C cables included)
Dimensions
12.17′′ × 5.35′′ × 1.3′′ (309mm x 136mm x 33mm)
Weight
2.09 lbs (948g)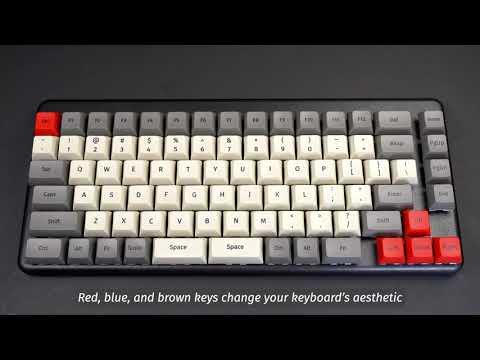 Available to pre-order from May 13, 2021 with shipping starting in June - with a price of $285. We're hoping to see a review unit at some point to give our thoughts.
Check it out on the official site.
Some you may have missed, popular articles from the last month: