Now that Valve has actually revealed the Steam Deck, we finally know what all their recent Linux work has been for over the last few years. We have some thoughts to share on it both positive and negative.
It's probably the most exciting thing to happen for Linux gaming in a very long time, in fact, probably the most interesting since Valve originally announced Steam Play Proton back in August of 2018. With SteamOS 3 being based upon Arch Linux, along with KDE Plasma for the desktop mode, it's a fantastic sounding device overall.
This time around, they've got their marketing right. Steam Machines were a failure, a pretty abysmal one (let's be honest). There wasn't really a market for a living-room Linux box, from different vendors that ended up confusing. We're now seeing one model, with different storage options (and a better screen on the top-end), that's pretty much perfect and exactly what was needed. One device type to test against. Not only that, the handheld market is actually a very exciting one to be moving into!
Heck, even Tim Sweeney of Epic Games appears to love the idea:
Amazing move by Valve! A handheld PC/console hybrid running the SteamOS fork of Arch Linux, and it's an open platform where users are free to install software or their choosing - including Windows and other stores.
When it comes to Linux gaming, Valve are now going all-in with Steam Play Proton. So much so, that they're telling developers "No porting required.", because they want to get everything on Steam working with Proton. Is that surprising? No, not at all. A little concerning perhaps? Yes, for multiple reasons, a lot of the same reasons we've spoken about before. To sum it up quickly:
It relies on Microsoft to set the standards (unless developers pick OpenGL/Vulkan which reduces it a bit), since Proton is based upon Wine which translates Windows calls to something Linux understands. Linux as an actual platform takes a seat way at the back, even further in the minds of developers from where it is now.
If it fails and Valve pull back from Proton - Linux gamers are truly left out in the cold.
It largely forces Linux gaming to be from a single vendor with Valve. If you're not concerned about that at all, you probably should be.
There's still no guarantees that a game update won't break the Windows build in Proton. How long will we have to wait for a fix? Tens of thousands of games on Steam is a ridiculous thing from Valve to take on to ensure they work.
Quite a lot of games will need UI improvements for it too. Think about how many are cramped as it is, have no UI scaling, are terrible on a gamepad? A large number of developers out there will regardless need to put in some effort for the Steam Deck to make it a good experience for gamers.
However, that's just focusing on the negatives. The potential positives likely far outweigh the possible negatives there. We've long said "hardware, hardware, hardware" as the key to Linux and Linux Gaming having a future - and so Valve has pretty much said "hold my beer" on that and hopefully it will deliver. To give some positives to the negatives above:
Could it be that Proton truly ends up being something developers directly target for supporting Linux? It gives a mostly stable base, with well-known APIs already used on Windows. It might also be an incentive for developers working all across Linux to get some more standards in place overall.
It all fails? The work is already done for Proton (and Wine that it's based upon), that won't just go away. Valve can just keep the Steam Play system in place and it already supports external Steam Play tools. It's all open source, it can't just vanish and that's a big mark in Valve's favour on what they're doing.
Other vendors? What other vendors? GOG still haven't bothered with Galaxy on Linux, Epic Games don't seem to care about their store on Linux, Humble Store sells Steam keys so they're in a good position. Honestly, if you end up buying a Steam Deck, why would you need look at any other store again? You then get a copy you can play on the Linux desktop, the Steam Deck and yes Windows too. We might end up seeing less exclusives on other stores, another win for Steam and so Linux and the Steam Deck too.
Actually having a device out there that might be popular (we reckon it will be!) with plenty of users finally gives developers a real incentive to actually test on Linux, and not roll out updates if it breaks for Linux with Proton (same goes for native Linux games).
A positive for me personally: I work sat at a desk pretty much all day. Do I want to sit here as well during all of my evenings? Heck no. I've wanted a device like this supported by a bigger company for a long time now. Being able to sit back and relax with a Steam Deck, in a room that's not boiling hot and also when travelling? I've never been sold this fast on something before.
Considering it's not exactly a beast (still quite powerful though), developers will need to look at optimizing their games. This is a net benefit for everyone. We've seen multiple times in the past that a console release has seen an update for the same game on Steam, to bring over some optimizations. Hopefully we will see a similar thing too, so that not only the Steam Deck will see good performance but that gain could be seen elsewhere on desktop Linux and other platforms too perhaps.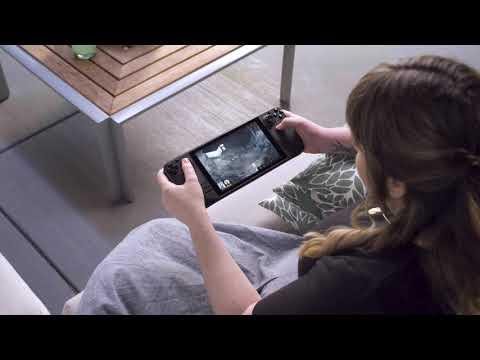 The desktop mode too, briefly seen in the above video is awesome. Giving you the ability to carry around not just a portable gaming unit, that will actually run modern games but have a full Linux environment to hook up wherever you want too. An incredibly exciting idea to really show off the device to other people. KDE Plasma has come a very long way in even just the last two years too, and it looks really good.
Gamepad support. We might finally see it become a truly serious thing in developers minds thanks to this. You cannot be expected to, or for developers to assume, that you're going to hook up anything else to it. We'll likely see a lot more games announce full gamepad support. Another big win for all Steam gamers.
Anti-cheat, the big missing puzzle piece for Linux with Windows games run through Proton, it's finally moving in the right direction too. In our original wishlist for what was code-named the Steampal, we mentioned how online gaming was a sore spot due to the likes of Easy Anti-Cheat and BattlEye not working but Valve do say "We're working with BattlEye and EAC to get support for Proton ahead of launch." and so we might finally be able to play the likes of Apex Legends, PUBG and more on a Linux desktop and the Steam Deck. A huge win for everyone to be sure.
Going by what Valve has said, they have plenty of work for Proton that is not yet public which we should hopefully see before the Steam Deck releases, that way they can ensure plenty of desktop Linux testing which would put them in a good position for launch.
Let's talk about the pricing too. As a reminder the Steam Deck devices come across three editions at £349 ($399), £459 ($529) and £569 ($649). Each version has more and faster storage than the previous, with the top-end having the anti-glare screen too. The higher model also gives you a special carry case and other little niceties. Considering the type of device it is, it's a shame the anti-glare is only on the most expensive version. Hopefully it won't be long before we see Valve or others create an anti-glare cover specially for it. Compared with the pricing on the Nintendo Switch (£279.99 original, £309.99 OLED model), it's quite aggressive given the higher specifications and masses more games.
The pricing should put the Steam Deck in a good position, and Valve CEO Gabe Newell even said to IGN that the price-point was "painful" and they're hoping to sell "millions" of units. Valve also aren't thinking about it in terms of having to shift multiple games per-device, they're more focused long-term on if it's the right product and mentioned about opening up this new category for other vendors to make devices.
Emulation is something to think about too. While obviously Valve are focusing on the bigger fish, this is going to end up being a hugely fun device for retro gaming too. You even have RetroArch on Steam (in Beta currently), which will have a bunch of different emulators ready for you and RetroArch supports Linux with a native build too. That can't be underestimated as helping shift a good few units.
Game streaming? Yeah, it will enable more of that too. Since it has the full desktop mode, loading up the likes of Stadia, GeForce NOW and Xbox Cloud Gaming should be just a few clicks away.
How about some game development? Well, there's game engines available directly on Steam like Godot Engine which offers a native Linux build of the editor and exported games support Linux natively too. Compile times might be an issue, but the point is the possibilities of the Steam Deck just keep on giving.
Thinking back to the original SteamOS and Steam Machines, there was a problem with the Steam Hardware Survey. SteamOS using Big Picture Mode didn't ever show the opt-in survey box, so it was seemingly never counted. Valve obviously know all the details but we could never see. How will they show it this time? Hopefully it won't be missed. Interestingly, since it's a PC and you can install whatever you want on it (even a different operating system), will they show it like VR devices and count who has used one recently, or will it actually show SteamOS 3 in the main operating system list? That will be interesting to see.
We're also very curious to see if Valve will actually show some kind of "optimized for Steam Deck" label. They've said they want pretty much everything to work on it, either through Linux native titles or Proton but how will users know what to buy without going to external and unofficial websites that often have dubious user reports? We think they're going to need something to show it at least officially. This has yet to be mentioned by Valve.
No matter what happens with it, Valve has possibly truly opened up a whole new market.
What about for us, GamingOnLinux? Naturally, we're going to be grabbing a device to test and report on specifically for the Linux audience. We're hoping to continue being at the front of it all. We're hoping to do regular games testing across the Steam Deck and desktop Linux together, in addition to everything else we cover.
You can pre-order it from today around 6PM BST / 5PM UTC / 10AM PDT from the Steam Store. There's a fee to place your reservation at $5/£4, which applies only to the specific model you pick - you can't change it unless you cancel and re-do it. That fee is used against the price of the unit, or refunded if you don't actually order one. Valve are also fully aware of scalpers, so they've made sure you can only pre-order if your Steam account has made a purchase before June 2021 for the first 48 hours and you can only order one. Your invitation to then properly order will be hopefully some time before the end of December 2021.
To repeat what we said in our coverage of the Steam Deck announcement: is this the holy grail of Linux gaming? Could be.
Will you be buying one?
Some you may have missed, popular articles from the last month: