Intel Architecture Day 2021 happened and Intel has put out quite a bit more information on upcoming processors, GPUs and more. So here's the major points announced relevant to desktop users.
One of the big parts of Intel's upcoming release calendar is Alder Lake, their new hybrid architecture with a mix of different cores. This is the first with their new naming revealed back in July for their process nodes at Intel 7. These chips will feature a mix of what they've named Efficient-cores and Performance-cores. This is a fully scalable architecture Intel say will power everything from ultra-portable laptops to enthusiast (high-end). Products based on Alder Lake will begin shipping sometime later this year.
Details from the press release below:
Efficient-core - Intel's new Efficient-core microarchitecture, previously code-named "Gracemont," is designed for throughput efficiency, enabling scalable multithreaded performance for modern multitasking. This is Intel's most efficient x86 microarchitecture with an aggressive silicon area target so that multicore workloads can scale out with the number of cores. It also delivers a wide frequency range. The microarchitecture and focused design effort allow Efficient-core to run at low voltage to reduce overall power consumption, while creating the power headroom to operate at higher frequencies. This allows Efficient-core to ramp up performance for more demanding workloads.
Intel say that when compared with the Skylake generation, their new Efficient-core will deliver 40% more performance at the same power in single-threaded applications or the same performance with 40% less power consumption.
Performance-core - Intel's new Performance-core microarchitecture, previously code-named "Golden Cove," is designed for speed and pushes the limits of low latency and single-threaded application performance. Workloads are growing in their code footprint and demand more execution capabilities. Datasets are also massively growing along with data bandwidth requirements. Intel's new Performance-core microarchitecture provides a significant boost in general purpose performance and better support for large code footprint applications.
For the upcoming Intel Arc GPUs with the first being Alchemist that they announced a few days ago, they've revealed more about their own upscaling tech to take on NVIDIA DLSS and AMD FSR they've named XeSS:
XeSS works by reconstructing subpixel details from neighboring pixels, as well as motion-compensated previous frames
Reconstruction is performed by a neural network trained to deliver high performance and great quality, with up to a 2x performance boost
XeSS delivers AI-based super sampling on a broad set of hardware, including integrated graphics, by leveraging the DP4a instruction set
Several early game developers are engaged on XeSS, and the SDK for the initial XMX version will be available for ISVs this month, with the DP4a version available later this year
XeSS takes advantage of Alchemist's built in XMX AI acceleration to deliver a novel upscaling technology that enables high-performance and high-fidelity visuals. It uses deep learning to synthesize images that are close to the quality of native high-resolution rendering. With XeSS, games that would only be playable at lower quality settings or lower resolutions can run smoothly at higher quality settings and resolutions.
It will also run across other vendor's GPUs too: "We're enabling XeSS on a broad set of hardware, including our competition," Intel said, "We accomplished this by using the DP4a instruction, which is available on a wide range of shipping hardware, including Iris Xe integrated and discrete graphics."
XeSS will also eventually be open source too.
You can see a video of XeSS in action below with Unreal Engine: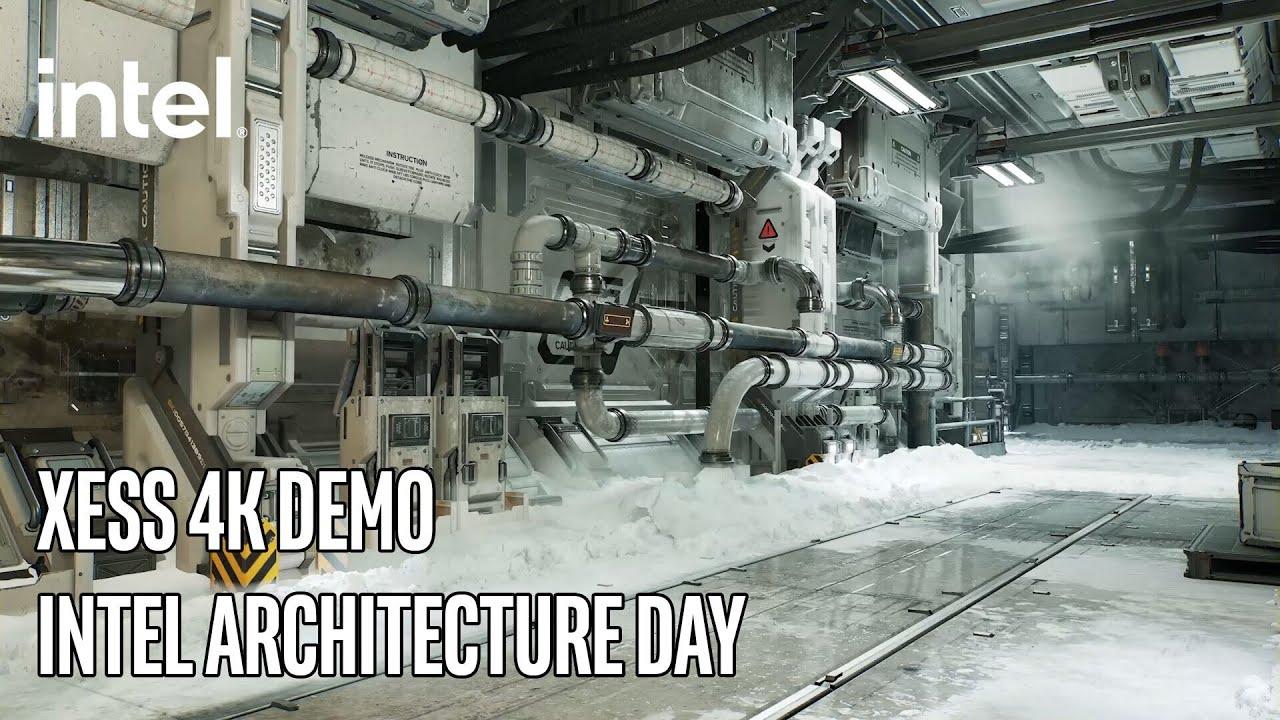 More videos from today are now on YouTube.
Some you may have missed, popular articles from the last month: