Take down the enemy King with a great big laser, that's the aim of the game in Deflection. It's basically the original Laser Chess updated for modern platforms by Coreffect Interactive.
A simple idea with you moving mirrors around that can bounce the laser, while also having different sides that are vulnerable to the enemy laser. Positioning and thinking ahead are the key to victory here and Coreffect Interactive have clearly put a lot of thought into it. It's another case of a game that's real easy to get into and understand, however becoming good at it is a whole different thing. It's more than that though as there's a few different pieces you get to use like portals to move the laser around and a disrupter to weaken pieces close to it too.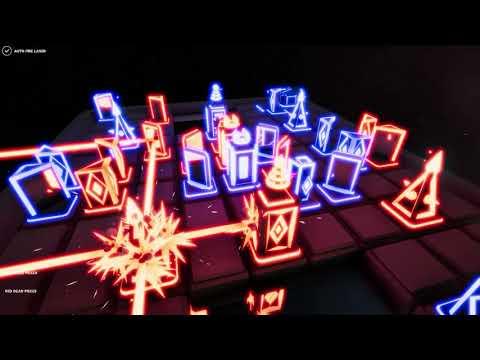 You have to be careful as even your own laser is dangerous. If you setup your pieces incorrectly (like I did), that laser is totally coming back to haunt you as it will kill your own King. Turns out there's even an achievement for that. Like a good game of, well, Chess - you're not just thinking about your offensive strategy but your defence too. You need to always keep an eye on the position of your king, and the mirrors being placed by your enemy. Overall it's a pretty damn solid strategy game that can keep you happily entertained for hours.
Game Features:
Local and Online Multiplayer.
Singleplayer: Play versus AI.
Level Editor!
Tutorial mode which goes through rules and tactics.
A lot of scenarios/maps designed to challenge you, some having unique pieces only available in them.
Many different pieces with advantages, downsides, abilities and more. (Portals, Tesla Towers, Spikes etc.)
3D Camera with full control, with cutscenes during kills, activations etc.
Steam Achievements and stats.
All games can also be played in Competitive/Timed Mode!
Available to buy from Steam.
Some you may have missed, popular articles from the last month: