Age of Darkness: Final Stand is like a fantasy version of They Are Billions, and compared with the latter it runs great on Linux thanks to Steam Play Proton. No native Linux version here but honestly it runs so well you can't tell the difference, it's click and play thanks to Proton and as such a massive fan of real-time strategy games I couldn't resist playing this one myself. Note: key provided by Team17.
The world in Age of Darkness is one of constant fear. Darkness brings out Nightmares, strange hellish creatures with a taste for flesh and destruction. It's a constant battle of preparation. Right now it only has a survival mode, which sees you build up a village as you attempt to survive each night. All the traditional elements of a base-building RTS are here with population management, resource gathering, army building and more. A game very much for those of you who like "turtling", where you focus on building up a heavy defence.
Survival. That's the pure aim of the game right now. With your selected hero (there's only one currently) and a band of brave warriors you will expand you base during the day with towers of light, then as night falls it becomes a frantic experience that sees you eventually swarmed by masses of nightmare enemies. It does start off nice and slow though, giving you a bit of breathing room to get to grips with it. That's needed too, since there's not really a tutorial. You get a few little tips here and there as you construct new buildings but it assumes you already know how to play a classic RTS.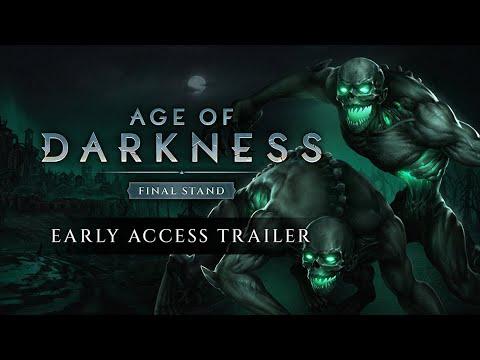 Every few nights you see a Death Night, which is where a wave of nightmares will sniff you out and come knocking at your gates. Think you're ready? Yeah, don't count on it. When they come they bring a lot of friends with them and during these events you get far less room to move around too, as you're blocked off by this shroud of darkness which will horrify units that step inside it. The key is not only to have an army ready, but to ensure you have enough space from your expansion to be able to move it around too. Age of Darkness: Final Stand needs you to focus on quite a lot of things even very early in the survival mode.
Once you do manage to survive though, you're then able to choose a Blessing which gives you some kind of buff.
The game does give you a few difficulty options to change the experience split across Easy / Normal / Veteran and two that are currently locked behind completing it on the previous difficult. On Veteran, you only get 5 saves (Easy / Normal are unlimited) too and it's just much more difficult. For me, Normal seemed like the right balance because it is genuinely tough the first few times before you get the balance of economy and army building.
Game Features:
Nightmares made real: Using an internally developed technology 'SwarmTech', Age of Darkness: Final Stand is able to render in over 70, 000 enemies on screen at any point
All-consuming fog: Claim back the procedurally generated world from 'The Veil', a dynamic fog that conceals enemies, and drains the life from a player's forces
Earn your blessings: Each 'Death Night', a random affliction appears that modifies the game, testing the player's best laid plans and ability to keep the darkness at bay
A champion must rise: Leading the charge against the horrors that await, Heroes can be the key to turning the tide of battle with their unique abilities
An army needs training: Configure your army differently each run with a skill tree system for different classes – grant your archers invisibility or imbue your sentinels with life-stealing rage
Performance seems pretty great too. With it on max details it's really smooth. A noticeable bit of stutter when it auto-saves but apart from that there's no problems there at all.
Happily one game I'm going to keep going back to for another attempt. With it being in Early Access there's a lot of room for it to grow too. Going by their roadmap they have some great plans for it including new heroes, new buildings, new enemies, multiplayer and a story campaign mode too. I'm looking forward to seeing all of that.
A fantastic start to what could end up being one of the best swarm strategy games around.
You can buy Age of Darkness: Final Stand on Humble Store and Steam.
Some you may have missed, popular articles from the last month: