It's been almost two years since the last major expansion for Paradox Development Studios' World War II strategy title. The developers have been busy, overhauling major systems in a patch and adding more content in the latest expansion all about the Eastern Front.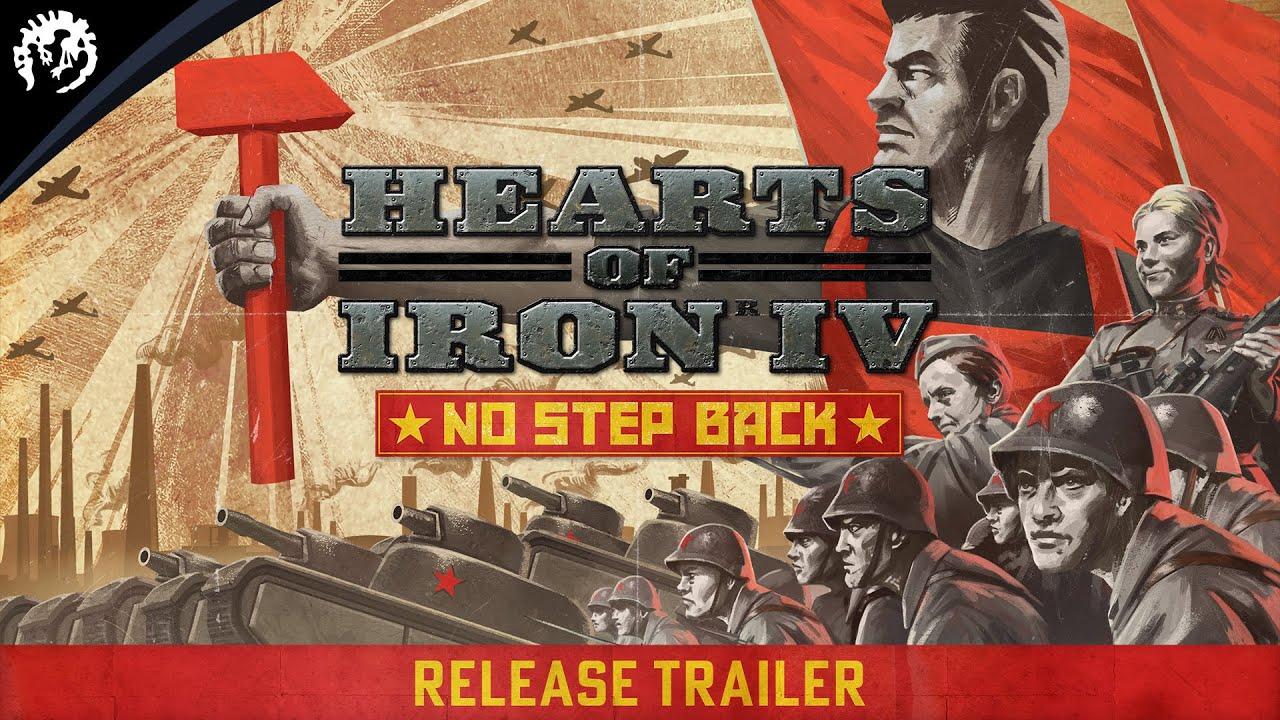 Note: Review key provided by Paradox
While there's plenty to chew on in terms of new free features and enhancements in the large patch that has come out alongside No Step Back, the most noticeable and important of these is the overhaul of the logistics system. Trains and rail lines make an appearance and, in order for armies to fight effectively, supply lines have to be protected and supply hubs captured. This new system is fairly elegant and adds an element of complexity that is easily understood and interacted with.
I've played several games and observed the new supply system and how it fits in with the overhauled combat and weather systems. There's plenty to love and I instinctively found myself planning offensives with supply hubs as primary objectives; disrupting enemy supply likewise was something that I found myself doing more and more. It's safe to say that it's a marked improvement to the old system and that in areas with low infrastructure it can be a right pain to keep momentum.
That said, the AI is less-than-impressive when it comes to taking advantage of this system. I observed it building rail lines in places, to get supplies to the front, but for the most part it continues to attack all along a front even when a good portion of its forces are under-supplied and slowed down in adverse terrain. It performs particularly poorly in the vastness of the USSR or in China, where attrition takes its toll as continuous offensives grind on and on in poorly-supplied areas. There are none of the seasonal offensives that were typical of these fronts as mud or severely cold temperatures would stop entire army groups in their tracks.
Even with horrific 1:1 casualties that number in the millions for the Axis powers, I found that both Japan and Germany continue to dominate their "main" enemies. I ran several hands-off tests by playing as a neutral country that did not interact with the world. China fell every time to the Japanese. Only once in more than a dozen games did the Soviets manage to counterattack and eventually push the invaders back. Twice, a stalemate developed on the front, despite Allied forces knocking out Italy, recapturing Western Europe and marching on Berlin seemingly unopposed. As large parts of Poland were being freed from a offensive that came from the Balkans and Austria, the Germans continued to push the Soviets back and managed to capture Stalingrad.
Most of the Balkans, Western Europe and North Africa were captured in a few months while the Germans continuously press their attack in the East
I'm not quite sure what the issue there is but I suspect that it is a combination of both skewed AI priorities as well as the penalties for being out of supply being too low or not scaling sufficiently for large armies. While I have no doubt that this is the sort of thing that Paradox will continue to tweak and improve, it was a major disappointment in the prerelease build that I had access to. I'm not the type of player who expects a truly close reproduction of the conflict but the real-life difficulties that defined war on the Eastern Front, in China, in North Africa simply aren't convincingly reproduced. Likewise, many of the limitations that held back Allied intervention in mainland Europe seem to be non-existent, with Italy being regularly knocked out quickly by invasion (without, seemingly, German intervention) and France being freed in record time.
As for the paid DLC content itself: it's mostly good. The USSR is the main focus of new content and has a massive new focus tree, special decisions and events. There are several alternative non-Stalin paths that can be taken and all lead to civil war. Much like the Spanish Civil War, there's choices that can be taken to build a base of power before armed conflict erupts; it's an interesting enough minigame of sorts with some of the alternatives to Stalinism definitely being more "rule of cool" than historically plausible. Still, they ultimately play out similarly, bringing conflict with the other major powers—who have all made their own alliances in the meantime—albeit on a different timescale.
While I had fun exploring the new tree and trying different things out, I think if the USSR is controlled by the AI, it is disastrous. The civil war weakens the USSR too much and every time it happened (with historical focuses off), any inevitable enemy basically could stroll in and conquer everything with minimal resistance. Even in a game where I formed the Baltic Union with the Communists and allied with the USSR, there was little I could do to make up for the severe deficit in Soviet equipment and divisions in the face of an aggressive invader. As a player invading them… well, it's predictably easy after their civil war, even if you're a relatively weak Baltic state seeking revenge.
There are some things that are modelled awkwardly as well, like the Anglo-Soviet invasion of Iran. In historical focus mode, it is selected around the time the Germans invade and can fail to have a quick resolution. This means that the already weak USSR can find itself with another front open and all alone—the UK does not get a heads up beforehand in-game as far as I can tell. It takes the Soviet AI too long to actually pick the focuses that reorganize their army and, uh, actually get to the eponymous not a step back order, get rid of many of their penalties to their army, and launch the counterattacks that followed.
I should briefly mention that the focus trees for the Baltic countries and Poland have also gotten an expansion in the DLC and do give quite a bit of flexibility (and challenge) to veteran players. I don't think that most people will play them more than once or twice, but they are well thought out and interesting in their own right. There is a lot of flexibility in terms of forming alliances or creating a different narrative, with various ideologies and ambitions being represented.
The customization of armored vehicles is also something that's available to owners of the DLC. The system works pretty well and is a nice little toy those who enjoy designing and experimenting. I can't say that I care to micromanage too much and, thankfully, there's an automatic design button and also an easy way to upgrade components without paying too much attention to the system. That said, it was a lot of fun making flamethrower tanks for specialized units as well as doing really stupid things like mounting a big gun and stripping away armor on obsolete tank chassis to give some divisions a little extra cheap firepower.
More flexibility is also afforded by a new system that allows the branches of your armed forces to be customized via selectable "spirits" and selection of preferred tactics on the overall as well as commander level. By itself, it's not a really big deal, but it adds to the overall experience of having as much control as the player might want over their forces. Along with all the other changes I've mentioned, as well as a bunch of new music, 3d models, art, and niche things like armored trains and railway artillery. All of this certainly makes No Step Back one of the more content-rich expansions that Paradox Development Studios have put out.
I want to be able to recommend No Step Back but I can't in its current state. Don't get me wrong—it's got plenty of content and interesting mechanics that are fun. The problem is that the base game is not in a state that allows all of the cool ideas in the DLC to shine. The safer bet is to wait and see if a larger pool of players will also notice the things I've pointed out in this review. Until issues with logistics and the AI are sorted out, Hearts of Iron IV will have taken one step forward and two steps in random directions.
You can get Hearts of Iron IV: No Step Back on the Paradox Store, the Humble Store or Steam.
Some you may have missed, popular articles from the last month: