Developer Moebial Studios has released Aquamarine, an underwater survival game that wants you to relax and soak in the atmosphere. Note: key provided by the developer.
This is the first title from Moebial, a small international artist collective spread throughout Canada, Brazil, England, and the US. Based in Portland, OR, founder Patric Fallon established the studio in 2017, after years spent developing games on his own as a hobby.
Aquamarine, the developers say, is best played "without distractions" and all your progress is permanent. So, you're going to need to pay attention to any of the choices you make as you progress, as your decisions will be key to your survival. You play as The Seeker, someone sent out to try and find a way for your people to move on and thrive but things don't go as planned of course and your ship ends up crashing into the planet you've come to call Aquamarine.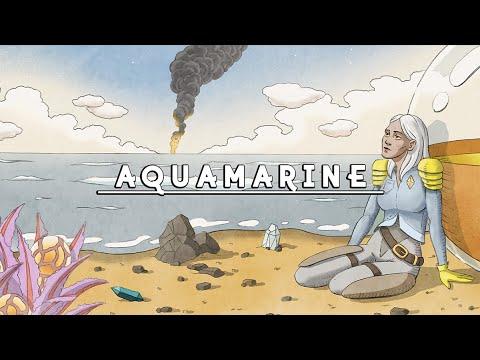 Marooned on this ocean planet, you need to find a way back to your ship but there's a lot of ground to cover in between and you need to just generally survive that time too. The key is - how do you do that? Well, Aquamarine is much more of an adventure-puzzle game as it is about survival. There's resources to do with, but a lot of it is calm exploration to learn more about the planet you're on. It's a beautiful game both in terms of the visuals and the audio and they fit really nicely together.
Aquamarine is really like nothing else. The developer may say it's a survival game, and in a way it is, but it's also much like a strategy and puzzle game hybrid. It's turn-based, you need to plan your moves and over time it opens up to give you more to do and see.
The key point of the game is to take it slow, if you go too fast without thinking everything through after very carefully following the tutorial you might end up a little frustrated (as I was before re-doing it). Once you've really got the movement and resources system down though, it's quite a pleasure to soak up. It does need a little experimentation as plenty of it outside the tutorial is left for you to discover.
The Linux native release did initially have a problem with some audio not playing, thankfully the developer Moebial was incredibly responsive and fixed it up so it's working well now. The game as a whole was also a little unstable but once again, Moebial appeared to work very quickly and have repeatedly put up patches that has improved the game quite a lot since the initial release.
Some you may have missed, popular articles from the last month: