The absolutely magnificent strategy game that is Crusader Kings III has today grown much bigger, with the Crusader Kings III: Royal Court DLC out now plus a big free update.
Bringing even more role-playing possibilities, Royal Court brings on the virtual fun of hearing pleas from subjects, and dealing with all the political fun that comes with having a court full of people who need to be kept happy. You need to climb the ladder a bit though to really show off, as the Throne Room is of course only available for those at the top, so time to get back-stabbing or marrying someone nice perhaps?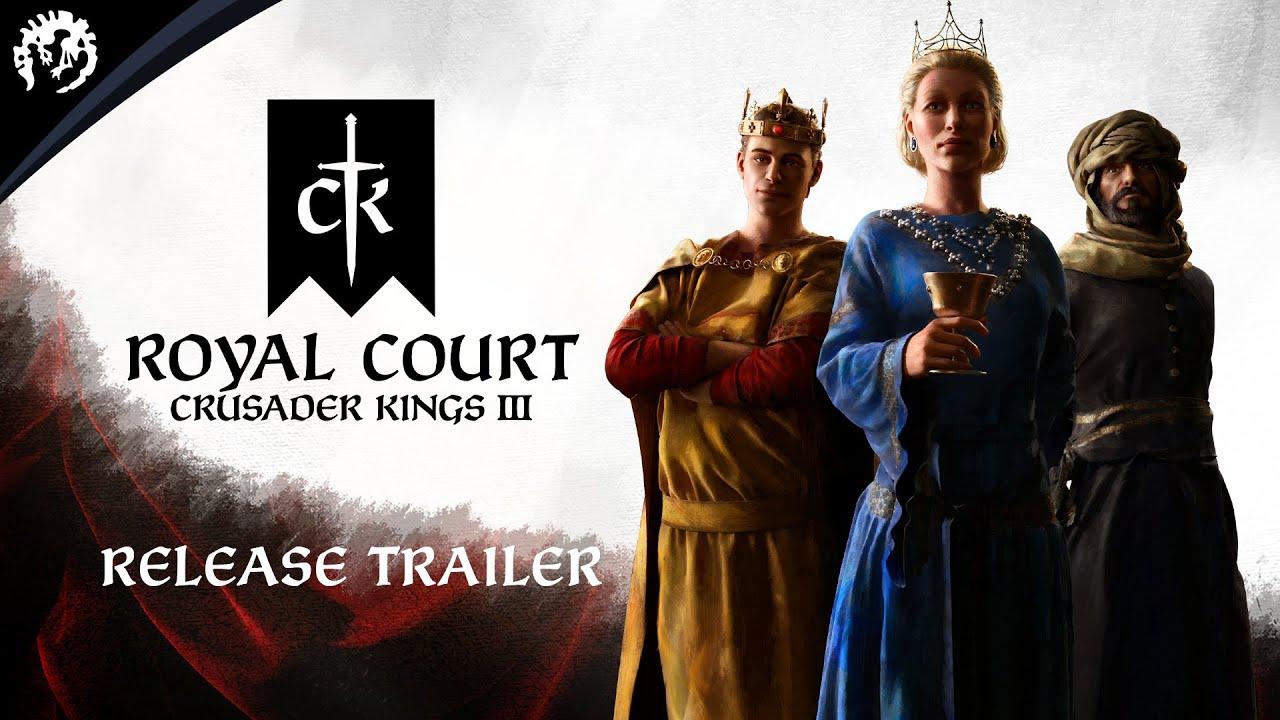 DLC Features Include:
Royal Throne Room: A visual representation of your royal court will reflect all the accumulated majesty and prestige of your dynasty. Only kings and emperors have royal courts, so climb the ladder of power to bask in your own majesty.
Hold Court: Interact with vassals and courtiers as they come to you with their problems, seeking a royal judgment.
Grandeur: Increase the quality of life at your court with fancier trappings and better food, all the better to impress your rivals and attract higher quality guests.
Inspired People: Talented artists, craftspeople and thinkers can be commissioned to work on new projects, adding treasures and artifacts to your court. The higher the grandeur of your court, the better the quality of creator you will attract.
Court Artifacts: Put your arts and crafts on display, and pass these items of great renown down the family line. All artifacts can be stolen in war, building a legacy of ownership and personal claims down the centuries.
Hybrid Cultures: Make the most of a multicultural realm, developing a new way of life that is specifically adapted to your varied population and geography.
Cultural Divergence: Split from your traditional culture, adapting it into something new that better fits your situation or aspirations.
It wouldn't be a Paradox game without a massive free content update too, and they've also delivered that with version 1.5.0 "Fleur-de-Lis".
Here's the highlights of the free upgrade new content:
Court Positions: Hire on characters to serve in various roles in your court, giving them a salary in exchange for an effect. There are plenty of roles; from Seneschals to High Almoners, Bodyguards to Antiquarians. Look for skilled characters, as their Aptitude will determine how good they are at their job!
Cultural Overhaul: The culture system has been completely reworked, cultures are now made up of several different components, making each and every one unique.

Acceptance: Cultures now have acceptance scores with all other cultures, determining how well they get along. The higher the acceptance, the lower the penalties, until they're completely gone at 100% acceptance.
Ethos: The spirit of each culture lies in the ethos, which determines baseline cultural acceptance, and which Traditions are easier or harder to adopt.
Pillars: Heritage, Language, Aesthetics, Martial Tradition, and more. Pillars make up the foundation of a culture, and have a vast impact on its Acceptance towards other cultures.
Traditions: Traditions give each culture a unique flair, carrying modifiers, changes to rules, interactions, and much more. For each era a culture progresses through, more Traditions can be added.
As the Culture Head, add traditions to your culture over time.

Personal Languages: Characters can now learn languages. Knowing a language cuts opinion penalties in half towards characters and counties speaking that language. A character can know a limited amount of languages.

Learn Language Scheme: A new scheme allows you to learn the language of another character. This scheme is improved through several Lifestyle perks and Dynasty Legacies.

New Steward Council Task, Promote Cultural Acceptance: Increase the acceptance of a culture in your realm towards your own culture. This job is significantly more effective for Independent rulers.
Artifacts/Inventory System: Characters can now carry Artifacts on their person. Equip a weapon, armor, regalia, headgear, and up to four trinkets.

Durability: Artifacts have durability, which decreases over time or when sieges/raids damage them. Pay gold to repair them, or reforge them into Court Artifacts if you own the Royal Court expansion.
Artifact Claims: Gain claims on artifacts carried by your predecessors, and go to war to reclaim lost heirlooms.

Steal Artifact Scheme: A new scheme that allows you to retake lost artifacts, as long as you have a Claim on them.
Challenge for Artifact Duel: Challenge those that hold artifacts that you claim, the winner takes it, the loser forfeits their claim.
Commission Artifact: Pay gold to summon smiths and craftsmen to forge basic artifacts for your inventory.
Coat of Arms Designer: Design your very own Coat of Arms and apply it to your House, Dynasty, or Title/s. Adjust existing designs, or create a CoA entirely from scratch. As with the Ruler Designer, CoA designs can also be copied to the clipboard and shared with others. You can also save the current CoA to disk as an image file, to show off to your friends.
Added a new look for the Duel event window, where weapons will brandish their weapons against each other. If a character has an artifact, the look of their weapons will reflect that.
Added a lot of new character animations
You can now change the map color of titles you're allowed to rename
You can now pick the map color of your new faith when you create a faith
Added the Gardener Trait
Added new Men at Arms - Monaspa, unlocked by the Caucasian wolves tradition (requires to be or descend from Georgian culture)
Added new Men at Arms - Mulaththamun, unlocked by the tradition Desert Ribats for Berber heritage cultures
Added new Men at Arms - Nile Archers, unlocked by the tradition Land of the bow, for East African heritage
Added new Men at Arms - Garuda Warriors, unlocked by the Garuda Warriors tradition (Dravidian heritage)
You can buy CKIII from Humble Store and Steam. 
Some you may have missed, popular articles from the last month: