The Steam Deck has arrived and Valve were kind enough to ship GamingOnLinux a review unit — here's my own initial thoughts after spending a couple weeks with it. See also: desktop mode, Discord and the Epic Store.
You're witnessing history in the making, Valve's secret weapon to not be attached to Windows.
What is it? If you somehow don't know already: the Steam Deck is a brand new Linux-powered handheld gaming PC from Valve Corporation that was released officially today, February 25th, with the first deliveries going out around February 28. Valve will be sending out weekly purchasing invites for those who put in a reservation.
Most article images can be made bigger, give 'em a click!
The Steam Deck comes in three different models:
64GB eMMC
256GB NVMe SSD
512GB NVMe SSD + anti-glare screen
Model tested: 256 GB (the middle one)
For testing it myself, the challenge was pretty simple: from the time I received it until the release of this article — every possible bit of gaming (where it made sense) would be done on it to ensure thorough testing. So this is the result of my initial time with it and I'll have plenty more to say across future articles and videos. Valve did not give any requirements or have any expectations to follow, it's all me.
To get something clear: I'm just a massive Linux nerd with a glorified blog, I don't have the kind of vast resources of LinusTechTips and other well-known stars. I'm much closer to your average consumer, so this is just my honest lowbrow experience and initial thoughts.
The launch lineup
Clearly the best launch lineup of any "console-like" platform ever isn't it? There might never again be a launch that's as good as this, except perhaps a future Valve system. It is a little different here, though, as there's a few categories of compatibility unlike traditional consoles. Here you have (as of publishing time):
Verified (430)
Playable (399)
Unsupported (389)
Those numbers will change over time too, and we fully expect compatibility to continue improving quite quickly. In the mix are native Linux games, and lots of Windows games that run through the Proton compatibility layer — which is seriously impressive.
Info: just because a game is not listed as either Verified or Playable, doesn't mean it won't work. It just means it hasn't yet been through official testing. You might find a lot of games "just work".
One big problem that remains are games which use Easy Anti-Cheat and BattlEye. Although they support Linux and Proton with the Steam Deck, developers still need to manually enable them. And don't expect Fortnite to ever be compatible. This still very much feels like the Deck's Achilles' heel.
Disclaimer: much like regular Steam, Valve works on the software a lot — and often pretty quickly too. Expect to see rapid changes to all parts of it, so you could see some differences in our videos / pictures. We expect results on all kinds of tests to be up and down for a while.
For scale, here's an ASUS Vivobook S15 (15.6" laptop). Gives you an interesting perspective on the size vs portability discussion that a lot of people have been having.
Even better — here's the Original Switch (top), OLED Switch and Steam Deck:
How does it feel then? That's what you all want to know, right? Well, I have a slightly different perspective and focus than other reviewers I think for two reasons. Let's get into that and allow me to explain why.
Ergonomics
I have a confession to make and one that worried me about the Steam Deck. I have truly tiny hands for an adult and the Steam Deck is…hilariously chunky at first glance. That's being kind; it's an absolute beast of a unit. It's so big that it was something of a shock when opening the box for the first time.
Then I picked it up and it's a bit like — oh, there's really not much to it. The actual feel of the weight in-hand was probably the biggest surprise as it's not just lighter than expected but the weight distribution feels nicely even too. As soon as I grip the sides, it's a bit like my hands melt into the unit and it's genuinely comfortable right away.
Obligatory shot of me holding it:
For reference, the hands of a 10 year old:
How does it compare to a Nintendo Switch? Since I own one I can safely tell you that, without a doubt, I vastly prefer holding the Steam Deck. I think the Switch is actually completely terrible to hold. The Switch is just too thin with your hands clamped awkwardly around the sides, this is the direct opposite.
Another unique point for my testing is due to a permanent injury. My right hand has a bone with a nice big circular hole in it (that was a fun MRI), one that can get quite painful and so this has been a serious test of just how comfortable it would be for longer gaming sessions. Not just because I have to keep holding onto the Deck but also I have to move fingers and thumbs around constantly.
Getting around 2 hours in without a break and it's still mostly comfortable. I say mostly because after 2 hours I do start to feel the weight. I do feel a slight bit of hand ache but that goes away after a 5 minute break. Then I cosy back up with it and carry on. I don't really consider it a big issue at all.
Really, the ergonomics have impressed me constantly. I went in nervous, thinking it would cause a real nuisance due to all the comments about the size, but came away massively impressed with the positioning of everything. No issues reaching any button at all. The shoulder buttons, too, are great, as you only need to tap the corners to use them (no need to stretch right on top) — I've often had problems with that on other gamepads. If it's not an issue for me, it likely won't be for the vast majority.
The feel of the device is not all perfection, though. There's two sore spots: the dedicated Steam and Quick Access buttons. They feel really off compared to the rest of the device. They don't really push in; they feel like they only need a light touch but you do need to push and they just don't feel good to use. You use them quite a lot which makes the issue stick out. They're a weird contrast to every other button, pad and stick because all other parts feel awesome.
What's also incredibly useful are all the keybinds setup, which you can view by holding down the Quick Access menu:
On the subject of comfort, what about the heat after gaming for a few hours? How does it feel to keep going? Well, that's an interesting one. The Steam Deck does get pretty darn warm, although this is again something Valve clearly prepared for. The design of the shell along with the airflow is excellent. The heat stays towards the middle where the fan is blowing from the top, plus the Deck is designed so where you're gripping always stays nice and cool. When you put the Deck down on a surface, the grips hold it safely above ground to keep the airflow.
For actual gaming though, the Deck feels marvellous. When it comes to flicking around thumbsticks, I personally find (you may disagree of course) that Microsoft has pretty much the gold standard for feel with the Xbox Controller. The Steam Deck thumbsticks feel very close to the latest generation of the Xbox Controller, with just the right amount of pullback to the centre, so they feel really smooth to play with. 

That's an Xbox Controller sitting in the background. Don't ask why, it just looked cool.
Thinking about the overall quality of the Steam Deck, that's something we can't honestly answer without a much longer time with it. However, for now I can tell you it feels rock solid and sturdy. Compared with the Valve Index and Steam Controller, which I've used both extensively — I think the build is actually a lot better for the Deck.
It's a LINUX system. I know this.
It's Linux! But not as you know it to be. SteamOS 3 is based-on Arch Linux, so it uses the packaging system of Arch Linux behind the scenes but with Valve handling all the updates and configuration for you. The default, of course, is the brand shiny new Steam UI for the Deck which will eventually replace Big Picture Mode on desktop as well.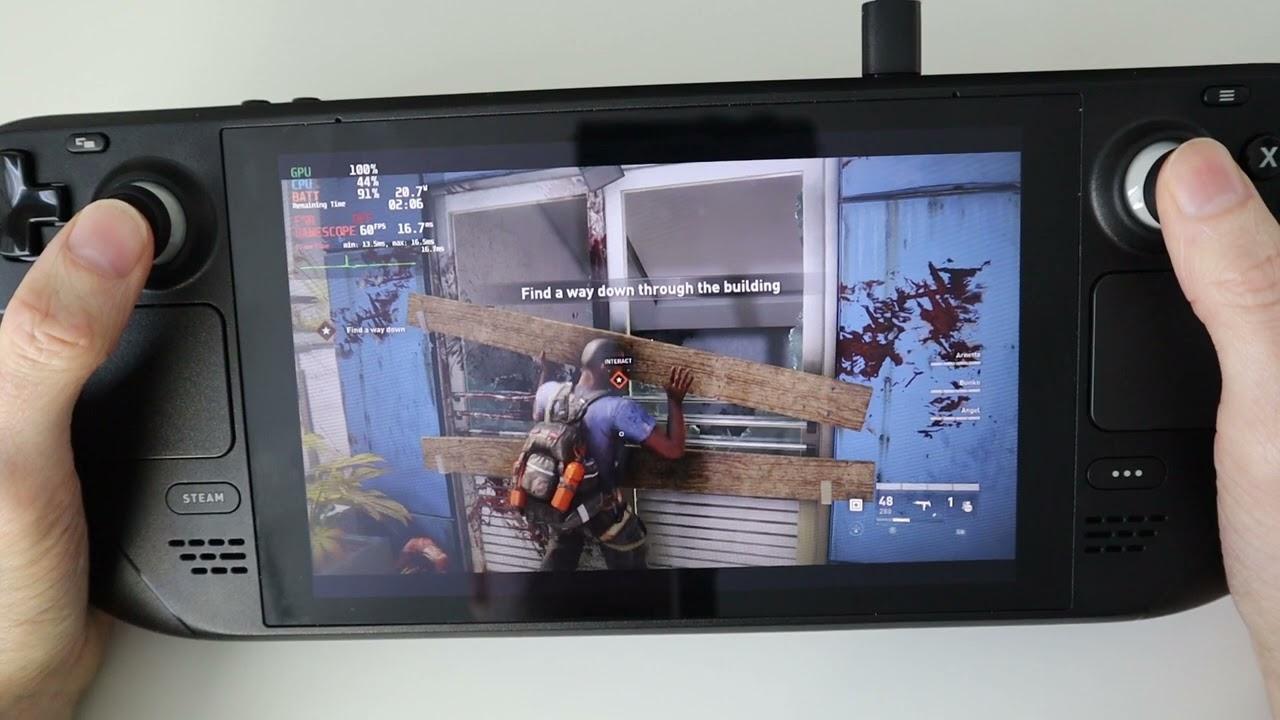 Is the Deck the biggest thing to happen in the Linux gaming space ever? People comfortable with Windows still didn't have much reason to interact with Linux and this puts Linux directly into the hands of a massive amount more people. Things like Linux being free, open source, privacy respecting and the like are great but now there's a good dedicated Linux gaming device! This new set of users will be using Linux and perhaps even without really realising it.
That's probably the biggest point here: you don't even need to know it uses Linux. Valve has carefully tailored the experience to do exactly what they want. Once people already like it, the "Linux talk" becomes that much easier and perhaps, as a byproduct, more may want to try it on their desktop or laptop — I think the Steam Deck will have a number of knock-on effects elsewhere like this.
Sidenote: interested in Steam Play Proton on desktop Linux? Check out our no-nonsense beginner's guide.
Actually finding something to play is pretty easy if you have an existing collection of games. The Library page has a dedicated "Great on Deck" tab. So right away you're presented with a list of titles that have been officially Verified by Valve.
Not just that, there's also a filter you can apply to your Steam Library to swap between: Verified; Verified and Playable; Verified, Playable Untested; All Games.
Valve has also added a very helpful additional section to the Library, where you will find Non-Steam applications. It seems Valve will gradually build this up, as an easy way to install and launch additional software. Right now, Chrome is the installer listed so you can easily get a browser sorted in Deck UI mode without touching the desktop mode.
For those curious on how the Steam Deck UI will show if a game is running a native Linux build or Proton, here's how. For native games, the Game Info tab on the Library will not really say anything but for Windows builds in Proton it will say it runs via Steam Play Proton and the version picked by either Valve or what you've forced it to use. Examples:
You can see no mention of Proton above, showing that it's running a version built for Linux. Although, some might specifically say they're running the Steam Linux Runtime.
Whereas Noita below, is clearly running the Windows version via Proton as it says below the compatibility mark:
For those curious on how Valve tests for native or Proton, Valve has updated their developer documentation (we covered it in a previous article) to state:
By default, we will test a Linux build if one is available. If the Linux build fails compatibility tests or otherwise experiences significant issues, we'll then test the Windows build of your game running under Proton. Our goal is for customers to have the smoothest experience possible on Deck, so we'll submit whichever set of test results is more favourable.

Your compatibility test results will specify what runtime they were generated on. You can see details in the "Details" section of your report under the "Recommended Runtime" field.

If you believe we tested the wrong version of your product, you can always submit for a re-review and specify the platform you'd like us to test.
You can also easily find new games to buy for the Deck, as the store has a dedicated start page. Naturally, all games shown on the Deck store area will need to have passed verification — so it's another little kick for developers to get their games into a good state for things like gamepad support and text clarity to ensure they actually show up.
The whole Steam store is available as well, so you can search for anything.
What happens if you try to buy a game that doesn't have verification for the Steam Deck? Valve puts up a very clear warning in the shopping cart that explains the situation. You really can't miss it but they also won't block you buying so you can still do whatever you want of course. It's your device — do what you want but Valve will guide you in places.
Prototypes
Naturally, Valve went through a lot of different possible designs. Just like with the Steam Controller, some were quite different. Here's a shot of some of what we could have seen:
How about the Docking Station?
We have shots of that too for you:
Valve said the Deck Dock will be available "late spring".
Benchmarks
It's all well and good talking about it, showing some shots and doing explainers but you want to know how well it performs, right? Thankfully it's actually really easy to test performance. SteamOS 3 on Deck uses Gamescope, a micro-compositor that's a massive evolution over what SteamOS 2 used and it comes with a whole bag of tricks.
One of these tricks is the direct inclusion of the MangoHud Overlay, with multiple preset levels of data output. From basic FPS tracking to VRAM and per-core utilisation. It's a fantastic thing to have set up and ready out of the box. It's an absolute dream for tech-nerds. All you need to do to enable it is hit the Quick Access button, go to the Performance section (the Battery icon) and then adjust the Performance Overlay Level.
Here's how it looks on level 1 and level 3:
Top left is MangoHud. Game pictured - Death Stranding.
Enough chat, time to show some preliminary performance numbers.
Borderlands 3
Dirt 5
Horizon Zero Dawn
Something that will no doubt confuse a few people: the HZD benchmark lists the Operating System version. Since this is a Windows game running through Proton, it will say it's Windows when it's not. Just to be clear.
Hitman 3
World War Z
Note: After an OS update, Valve now force-locks the Deck to 60FPS max, with a single toggle to bring it down to 30FPS. Previously there was no upper limit. The below benchmarks were done after this was added.
Shadow of the Tomb Raider
UNIGINE Superposition Benchmark
Valve said they were aiming for games at a minimum to hit 30FPS for their testing. Clearly the Deck can handle quite a lot — at least at its native resolution of 1280x800. The performance isn't going to blow away people who go buying an NVIDIA 3080 and squeeze every last drop, but there's no denying what this handheld can do is pretty surprising on performance level.
Deck…Verified? For Horizon Zero Dawn being a Deck Verified title as a first example, the default settings perform on the poor side. While benchmarks may look okay they never truly tell the gameplay feel. This is why I think people often put too much faith into them. Playing this Deck Verified title myself for many hours, the default settings had lots of repeating lows and stuttering (it was the same even on lower settings). It felt generally okay and hit the 30FPS mark for a fair bit of the open world but with stutter for new areas and hard drops for some battles. 
I had the same issues with Borderland 3 (that's only Deck "Playable" - but Playable titles should still perform well). Devil May Cry 5, another Verified title, seems to perform great but the cutscene audio goes constantly out of sync which is seriously distracting, Vampyr just doesn't launch and so on.
On the other hand some games are actually smoother than on my PC. God of War for example works on my main Arch Linux PC but NVIDIA drivers have issues while on Deck it felt better and remained smooth even during big fights.
Really, I just hope that Valve hasn't bitten off more than they can chew to accurately verify the multiple tens of thousands that make up the Steam store. I think it's going to take time for Valve to truly get Deck Verified right — especially when the majority of games are not made for the Deck. A solvable problem though, some of which will need the game developer to optimise for and more of an early adopter issue I would put it down to for now.
While we're on the subject of Deck Verified, one point that I've seen across quite a few games is a note about how they don't default to external controllers.
This is not usually a big deal at all as the Steam Deck gives you a built-in ability to rearrange controller order. All you do is load into the game, press the Quick Access button and the Quick Settings section when you scroll down has a "Rearrange controller order" button.
It's super easy to change too, on the screen below all you need to do is tap one controller and then place it where you want it. No fuss at all, it's absolutely brilliant. Tested working great switching between the Deck and an Xbox Controller with Elden Ring.
An extra quirk / bug I've come across here has me a bit puzzled. My latest-gen (Series X) Xbox Controller works perfectly using a simple USB-C to USB-A adapter to plug it directly into the Deck but it does not work if the controller is plugged into my USB-C hub. However, my knock-off Amazon Xbox controller works with both — eh? Confusing and a little annoying to be sure.
Thankfully, Bluetooth to the rescue! Testing two different Xbox controllers, both sync up just fine and input with them is great. A note though — you will need to make sure you have the latest controller firmware, otherwise the Bluetooth connection will not work.
How about a little gameplay captured from the Deck of Elden Ring? You got it: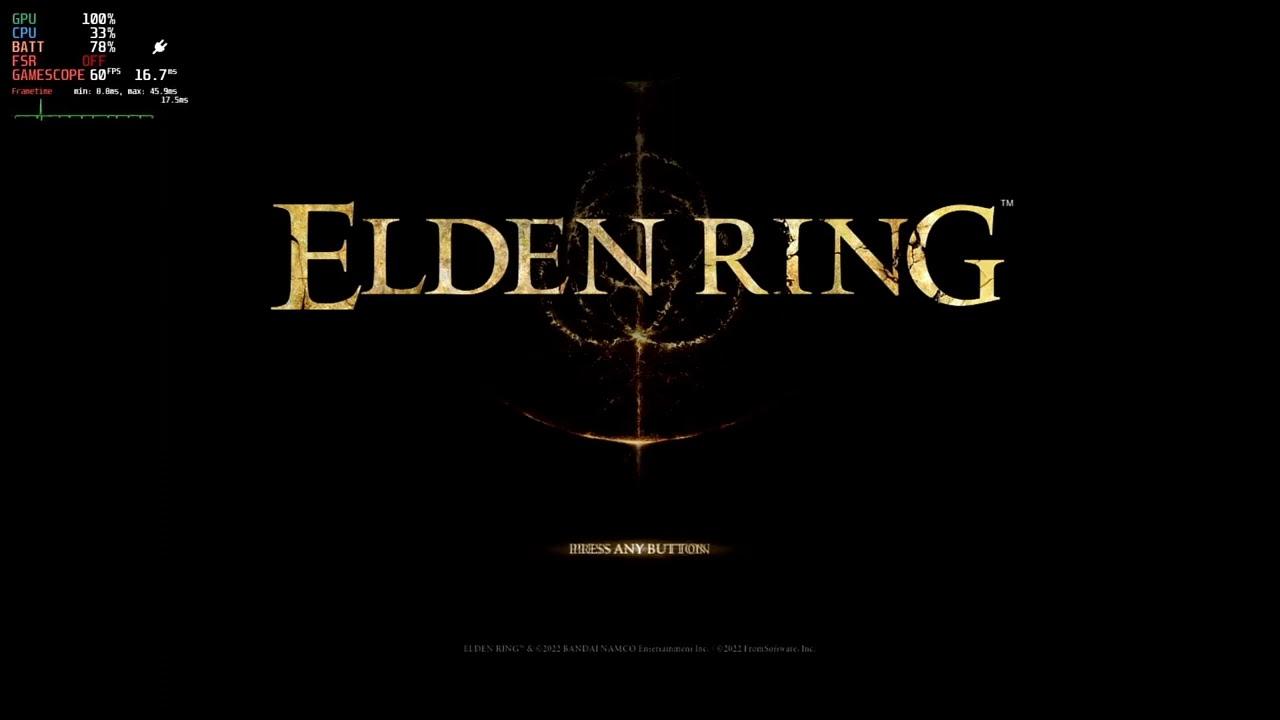 Loading times
In-built storage versus an SD Card is another interesting one to benchmark. For my own main testing and installing games I picked a SanDisk Extreme 1 TB, and timed from pressing play to getting in-game where you can do anything (past any main menu). The results are surprising. This majority was done without skipping anything, so usually intro videos are left to play and then loaded into the same savepoint each time (or closest possible point).
Borderlands 3 built-in storage: 2:49
Borderlands 3 SD card: 3:24
Dead Cells built-in storage: 24s
Dead Cells SD card: 19s
Deathloop built-in storage: 3:14
Deathloop SD Card: 3:38
Death Stranding built-in storage: 30s
Death Stranding SD Card: 1:37
DOOM (2016) built-in storage: 1:10
DOOM (2016) SD Card: 1:27
God of War built-in storage: 1:03
God of War SD Card: 1:14
Horizon Zero Dawn built-in storage: 1:00
Horizon Zero Dawn SD Card: 1:32
No Man's Sky built-in storage: 1:26
No Man's Sky SD Card: 1:43
Shadow Warrior built-in storage: 50s
Shadow Warrior SD Card: 48s
Naturally all tests were re-run and verified. Hopefully that assortment of games gives you an idea on waiting times for the Steam Deck.
Realistically then, it's pretty clear that loading times from a good SD Card are reasonable. No real complaints from me there. This makes the low-end model of the Steam Deck a pretty good option overall if you have a nice sized SD Card to stick inside.
Audio quality
I won't spend long on this point because there's really not a whole lot to say. The speakers are excellent. At no point have I wanted to hook up a headset, because the quality they produce is supremely clear even when running intense games and the fan is blowing a bit; everything remains crystal clear.
Connecting up a pair of JLab Bluetooth earbuds was also without issue. Turn them on, turn Bluetooth on the Deck and watch as it enters the list. Tap it on Deck and you're connected. Absolutely zero problems there. Nothing to write home about the audio jack either, plugging in a few different pairs of older wired sets laying around and they all work great. Steam Chat worked nicely with all headsets tested.
Here's a quick completely unfiltered audio sample captured from Steam Chat, using the built-in microphone from the Steam Deck at full and then half volume:
Voice quality is really not amazing but it's good enough. If you set it to just less than two-thirds full, you get reasonable clarity and volume without distorting like it does a bit at max input. This is pretty much expected given how tiny it is.
Battery life and tweaking
The Steam Deck is portable and one of the most important aspects there is battery life. How long will the juice hold up while playing some of your favourites? Well, it's a very tough question to answer because for the Steam Deck, there's no real standard here — and others testing will have their own special way. Also unlike other portables, on the Steam Deck you get the full-fat version of each game (be it a native Linux game or a Windows build run through Steam Play Proton).
What Valve claims with the official specs is anywhere between 2–8 hours, and that depends on a huge variety of factors like volume and brightness levels, FPS, per-game power-draw and more. Valve's own testing sticks to 30FPS with 50% for both volume and brightness.
Valve does have a few newer bits available in the Steam API for developers to be able to do some Deck tweaks. They can see if you're running the game on Deck, and have some parts pre-configured like the default graphical settings. We expect many more developers to use this but until they do, messing around with settings just like on a PC is quite often a must to prevent runaway battery drain. Ensuring no matter what that you've forced an upper limit of 60FPS is practically essential. There's absolutely no need to have it higher on this handheld. Really though, if you want even semi-reasonable battery life, for modern games it will be 30FPS you're looking at.
With brightness at 50%, audio at 50% and no other special tweaks done here's some of what I saw across various different types of tests.
Borderlands 3 (Low Preset):
60 FPS limit: lasted 1.40 hours
30 FPS limit: lasted 3.10 hours
The HUD showed wattage go from 11–14w (30FPS) to about 23–24w (60FPS)
Horizon Zero Dawn (default "Original" settings)
60FPS limit: lasted 1.30 hours
30FPS limit: lasted 1.50 hours
HUD showed it using from 21–25w in each mode. Both wattage and battery life wasn't much different here between the two but with 60FPS sticking more towards the 25w mark, as on default settings it struggled to stay above 40FPS.
Noita (default settings - 60FPS): lasted 4.40 hours
30FPS made it too sluggish to play. HUD showed wattage about 12–14w (60FPS).
Vampire Survivors (defaults, 60FPS): lasted 5.10 hours.
30FPS made it too sluggish to play. This game in particular can have huge performance issues at the end of each level on the Steam Deck due to the amount going on. HUD showed wattage around 7–8w (60FPS).
World War Z Aftermath (Low settings)
60 FPS limit: lasted 2.15 hours
30 FPS limit: lasted 4.10 hours
Curiously, locking to 30FPS in World War Z shows up an annoying bug, holding Y to switch to a heavy weapon will sometimes crash the game, which never happens in 60FPS mode. The HUD shows wattage go from 8–9w (30FPS) to around 13w (60FPS).
Video playback is a hot topic and a pretty fun measure of how the battery charge holds up. Playing a 720p YouTube Video full-screen starting from full charge, with 50% volume and 50% brightness in desktop mode managed a pretty decent 6 hours.
In a rather unprecedented move for such a device, you've got a few power options to adjust if you really want to try hitting some kind of performance to battery life sweet spot. This is thanks to it being Linux-powered, so Valve can hook into whatever they want. This isn't BIOS-level stuff either, the Quick Access menu just gives it to you. This includes AMD FidelityFX Super Resolution (FSR) built right into it!
You get access to flick the FPS down to 30, which by itself isn't overly fancy. Plenty of games nowadays have some form of VSync and a lot also now let you limit the framerate too. What you get here is the ability to limit the processor power from 3–15w, and change the GPU clock frequency from 200–1600. Each is available via a toggle that then opens up a slider to adjust to whatever level you want to set.
The aim is all about maximising battery life. You might be able to bring both down a bit, while still hitting 30FPS in some games to give some extra gaming time. It's part of what honestly makes this one of the geekiest devices I've ever had the pleasure of testing. Once a community builds up around the device, I've no doubt that all sorts of suggested presets will appear to extend battery life.
How about the Suspend Mode? How good is that at keeping the Steam Deck alive for another run? Running from 100% charge with it being set into suspend untouched for 24 hours put it down to 91% charge. Going further on suspend to 36 hours saw the battery hit 86% charge.
It's pretty safe to say if you leave it on suspend, forget to put it on charge and go to work and come back hoping to pick up and play — you're in pretty good hands.
Turning back on from suspend is lightning fast too, less than 3 seconds to be on my Steam Library and fully usable. To see the difference when it's suspended while playing a game, bringing back Dead Cells after suspend took about the same time, just less than 3 seconds. Not an intensive game though by any measure, so how about God of War? From suspended to playable it was a mere 3 seconds. Suspend mode on the Steam Deck is simply insane for its speed.
What I've seen is that the Deck can charge up quite quickly, and it will do so up to around the 80% mark in little over an hour. After that, it slows down to protect the life of the battery. Through testing multiple times over multiple days, the total time to charge while on but the system idling each time, I saw it usually take between 2–3 hours (most of the time closer to 3). Additionally, sometimes the Deck may report less than a 100% charge as full, Valve explained over email:
If your device has been left on the charger for long periods of time, it may report less than 100% when taking it off the charger. This is normal – we allow the battery to slowly discharge after long periods of time under charge to optimize long-term battery health.
Personally, I find that decision a bit peculiar and will lead to confusion for users unless it's very carefully and clearly noted.
Tip: interested in a charger that works well with the Steam Deck? Having more than one is probably a good idea! I've also thoroughly tested the Spigen ArcStation Pro USB C 45W Charger (Amazon). It gives plenty of juice for the Deck to get good charging times.
While keeping in mind their testing volume and brightness level, I think it will be very rare for you to see the 8 hours Valve mentioned. Personally, I think they've been a bit too ambitious with their marketing on that, as you will rarely see it outside of pretty basic games (or quite a bit of tweaking).
Remote Play
Just like the main Steam client, the Steam Deck also supports Remote Play. This means you can use it as a streaming device. Enabling you to play games relaxing on your sofa with your Deck in-hand but with perhaps a rather heavy game being streamed from your PC.
In my own testing, over WiFi the experience was not great. This will heavily depend on what kind of WiFi setup you have but I would definitely recommend some sort of Ethernet adapter here for the best experience. I have some equipment on the way to aid testing of this that sadly got repeatedly delayed, so a more thorough write-up on Remote Play will come.
SD Card Preparation
Want to prepare some SD Cards ready for the Steam Deck? It's actually quite easy.
They're formatted to ext4, and they use the exact same layout as Steam Library folders as the Linux desktop client. So, as a test, I simply copied over a Steam Library from my laptop. Specifically, it needs to be the whole "steamapps" folder which by default would be somewhere like:
~/.steam/steam/steamapps/
After placing that directly onto a freshly formatted SD Card, I popped it into the Steam Deck and — pop, there's the games. This was tested a few times, with Windows games that used Proton and native Linux builds.
On initial insert, Steam creates a "libraryfolder.vdf" file to identify it. If it doesn't detect the games right away, I found that pulling out the SD Card and popping it back in does the job.
The fun factor
This article has been over lots of "stuff and things" so far but here's another vital measure: is the Steam Deck actually fun to use and play games on? You bet it is.
In a few ways the Steam Deck came to me a bit too fresh out of the oven. There were quite a number of frustrations during testing, but Valve has been honestly toiling away to fix any I mentioned to them. That said — I can't even begin to properly explain the amount of happiness I've had being able to play the likes of Borderlands 3, Death Stranding, HITMAN 3, Into the Breach, No Man's Sky, World War Z and more while sitting in bed after a long day. Honestly, it's pure joy. It feels liberating not having to stay at my desk to play some favourites. The Steam Deck will absolutely get me to play more games, that's something I now just consider a fact.
Often I thought that the Steam Deck would allow me to get through my backlog of titles on Steam. I had these grand plans of camping out on the sofa, diving into my vast list of unplayed or unfinished titles. You know what though? It's only going to make it worse and grow bigger because of how good it is.
I now have previously PlayStation exclusives like God of War running on Linux handheld! How absolutely amazing is that? Being honest though, it came horribly close to becoming a dedicated Vampire Survivors machine — gosh that game is just far too absorbing. I need another run, right now.

I actually beat a Vampire Survivors map playing on Steam Deck, I feel accomplished.
Personally, I've not enjoyed testing out the Gyro. I always end up feeling like I'm fighting it for where I want to aim. That's just me though. I know there's plenty of people who adore Gyro — but I think it needs quite some setup to get to a place where it's enjoyable to use and I just couldn't get there. Same for Trackpad aiming in anything first-person — it's just not for me and that's okay. 
The point is, the Steam Deck comes with vast input options that should be suitable for most types of gamers. I really love the thumbsticks, some of the best I've ever used and I am very happy with using just them — but the option of having Gyro and Trackpad is great for others.
What about titles that aren't in any way designed for a gamepad, like classic RTS games?
For this I initially tried out the Command & Conquer Remastered Collection. It works out of the box on the Steam Deck and looks pretty great too. Performance isn't an issue and even text sizing and clarity seems pretty great. It's somewhat playable but, realistically, this one is a bit too on the classic side to feel good on the Steam Deck. There's lots of hotkeys and Steam Input does not work well with it on Deck — plenty of buttons just don't register. Mouse input is good with the right trackpad for movement and triggers for mouse buttons but anything keyboard related is an issue there: it just doesn't register various bindings set as keyboard buttons.
Age of Darkness: Final Stand, worked better and I could at least rebind some controls as Steam Input worked fully here. It even has UI scaling, so actually this was a bit of a surprise and was quite playable. However, the big issue of so many keybinds does remain and I felt a bit too slow moving around the map and building things. If it added in easy map scrolling with a thumbstick, that would be a dramatic improvement on Deck.
Iron Harvest on the other hand advertises full controller support and it works great! This title only needs their in-built UI scaling to be set to the highest by default on the Steam Deck, plus perhaps an extra patch to up the text size just a bit more and the experience here would actually be really good. Valve also remind you on their magnifier with titles that have small text, which is a pretty great feature.
Iron Harvest clearly shows how an RTS with a gamepad can be done.
Really, to play RTS games on Deck, the vast majority of them are going to need major updates to their UI and input systems. Aside from that specific genre, most other titles I tried didn't really have those issues.
One part of this I haven't yet touched on, but will in future articles and videos, is cloud gaming. There's a reason for that and another caveat. Currently, Google Chrome cannot pick up the Deck as a gamepad. Valve told me they "worked with Microsoft to diagnose the controller issue, and since then we've worked with Google to ensure Steam Deck controls work with Google Chrome". The update is in progress, available in the Dev channel of Chrome where it works but not yet in the stable browser. I'm keeping an eye on it and will cover it fully when it's sorted and show off Stadia, Xbox Game Cloud and more.
Ah, but can it run Cyberpunk 2077?
Made you wait for this one didn't I?
Yes it can, allow me to demonstrate with the benchmark mode: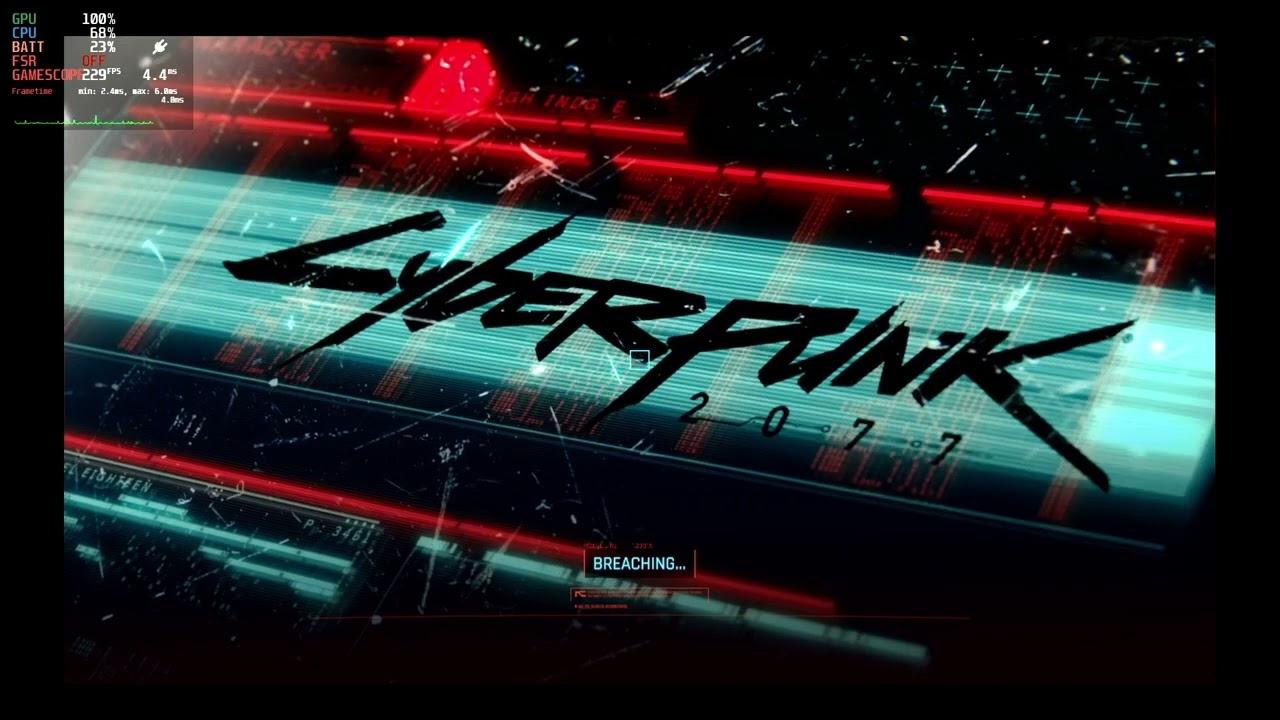 Tip: footage made using the ClonerAlliance Flint 4KP Plus (Amazon), works great for capturing the Deck.
Something I will note is that the experience is not quite perfect yet with Cyberpunk 2077 and the Steam Deck. On first run, you might see an old looking Windows-styled error box come up about a file error for the launcher, tapping retry seemed to make it just go away. Really, skipping the launcher is the best bet by adding "--launcher-skip" as a Steam launch option. Additionally, sometimes it won't start with Cyberpunk giving you an error message. Simply retrying works again. A few annoyances but otherwise it works well enough. Additionally, the gameplay feels more intensive than what the benchmark shows after testing for many hours on Deck.
Benchmark results:
How is battery life on Cyberpunk though? That was tested too and it's not great, because it's another very heavy AAA game. Low preset, 50% on brightness and volume again:
60 FPS: 1.25 hours
30 FPS: 1.46 hours
For wattage it's just constantly high in both modes, well above 20w the majority of the time. Even in 30FPS mode I saw a lot of 25/26w. 60FPS didn't actually pull much more, perhaps only 2–3w more as in either case, it's a power hog.
Value for money
Depending on what model you go for you're looking at either £349 / £459 / £569 with the difference being included drive space / drive speed and the top end model having the anti-glare screen. Is it actually good value for money based on what it can do?
When you compare with other PC-styled handhelds on the market, the choice (to me) is perfectly clear. The others like AYA NEO and ONEXPLAYER just can't touch it. They're vastly more expensive and they don't give all that much more. Valve has managed to hit an almost magical price to performance ratio here and it will be incredibly difficult for other vendors to compete with.
The Nintendo Switch is another one that you could compare against. Different markets here though quite considerably but it's still a portable unit. All models of the Switch are cheaper, sure, but there's a lot more than just the hardware to think on. Nintendo software is expensive and usually stays expensive, as are a lot of non-Nintendo games for the Switch. Valve has tens of thousands of games on Steam of all genres and, unless you're a die-hard Nintendo fan, to me the choice is incredibly obvious — once again the Deck just comes out on top. I own a Switch, and I play on it often, so this is not a stance from some sort of Valve "fanboy" (I consider myself quite far from one actually). The regular massive sales that Valve holds on Steam opens up so many thousands of great gaming choices.
Steam also gives you the possibility to use services like EA Access too, which works great for the Steam Deck. Subscribe and then get a whole bunch of their games easily. This was also tested working just fine on Deck.
Oh, and modding? Yeah the Steam Deck has that too. The Steam Workshop is all there and hooked up, so you can add that into it when thinking about the value that the Steam Deck provides. Gaming and modding on the go — you cannot beat it.
Trying to find Noita mods to help me live a little longer…
You have to think about other things too if you're going to compare it to, say, another console. Free cloud saves, free online play, Valve don't have any silly rules on cross-platform play and wide compatibility with accessories is another one. The Steam Deck will work with Xbox, PlayStation, Nintendo and other random controllers. As long as Linux supports it, the Steam Deck will — and that goes for a lot of other things you might plug into it with no mess of installing drivers.
The value of the Steam Deck is simply unmatched.
Long-term support and the future?
Will this be the future of handhelds? Any current solvable teething issues and quirks aside, I think it very well could be. It just gives you so many more options compared to the traditionally locked down few that I really want it to be. Some people will never get over the size of it, and that I feel is totally fair. It is a big unit but over time perhaps a Steam Deck 2 can solve that a little.
Truth is though, we're not really going to get a good idea of what that future may look like until at least the end of 2022. Once many more units are in the hands of more normal users, and then we've had time to see how Valve continues to support it and improve it. I'm especially keen to see how Deck Verified continues to improve and grow.
We've seen a number of comments (some from quite prominent names in gaming and some Valve followers) about how Valve can flip-flop between things, often not following through. The Steam Deck is vastly different and people saying such things have missed some big points.
The Steam Deck is very much "just" a PC, squished into a small form factor with a screen strapped to it. Okay, it's a fair bit more intricate than that but you get what I'm saying here. You can do whatever the heck you want with it. It's built on top of the years they've already spent doing things like the Steam Controller, Steam Link, Proton and funding so many Linux advancements I've lost count. Keep in mind that the Steam Controller continues to benefit from Steam Input upgrades (and the Deck will too), plus Steam Link is now an app you can install anywhere and continues to be updated. The Steam Deck is just a big evolution of many things.
Steam itself is continuously updated which will keep benefiting it, and a huge portion of what makes the Steam Deck is open source. I think long-term, the Steam Deck will just keep getting more incredible. Although not perfect, Valve has set the next ultimate standard here for portables. It's a revolutionary device.
ICYMI: check our our history on Valve and Linux Gaming
You know what this reminds me of? The start of Google Android. Seriously. I was there for the first Android device, I adored it and the whole experience feels somewhat similar. Early days, but absolutely crammed full of potential and it's exciting as hell.
Hey, it comes at a good time too! It's damn hard to get even a semi-decent GPU to game with. The Steam Deck can clearly handle quite a lot and it's a great introduction to PC gaming for newer players too thanks to that. Might even be good value as an upgrade for some people.
There's a lot more I'm going to be saying about this over the coming weeks and months (and hopefully years), with plenty more planned and in progress like: Remote Play and Cloud Gaming, using a 4K TV, getting a Switch-like experience, various quirks and downsides, Deck as a desktop replacement, various guides, emulation options, retro gaming, Luxtorpeda for newer game engines and so on. These are just my initial thoughts so stay tuned. Some bits I simply wasn't able to do yet, due to either time or waiting on updates from Valve or other developers. Feel free to let me know in the comments what other types of Steam Deck content you want to see!
I suppose there's no bigger endorsement really than simply mentioning this — my own personal reservation is absolutely sticking. I'm definitely getting that 512GB model and I can't wait to get it sometime in Q2. Sorry Valve, until then you're not getting this review unit back, I need my fix.
You can follow along for more using our Steam Deck Tag (has a dedicated RSS feed), our Steam Deck Forum Category and the Steam Deck Channel in Discord. Be sure to also follow us on Twitch as we will do some dedicated on-Deck livestreams.
I'll leave you with some Valve-provided footage of a few developers chatting about the Steam Deck: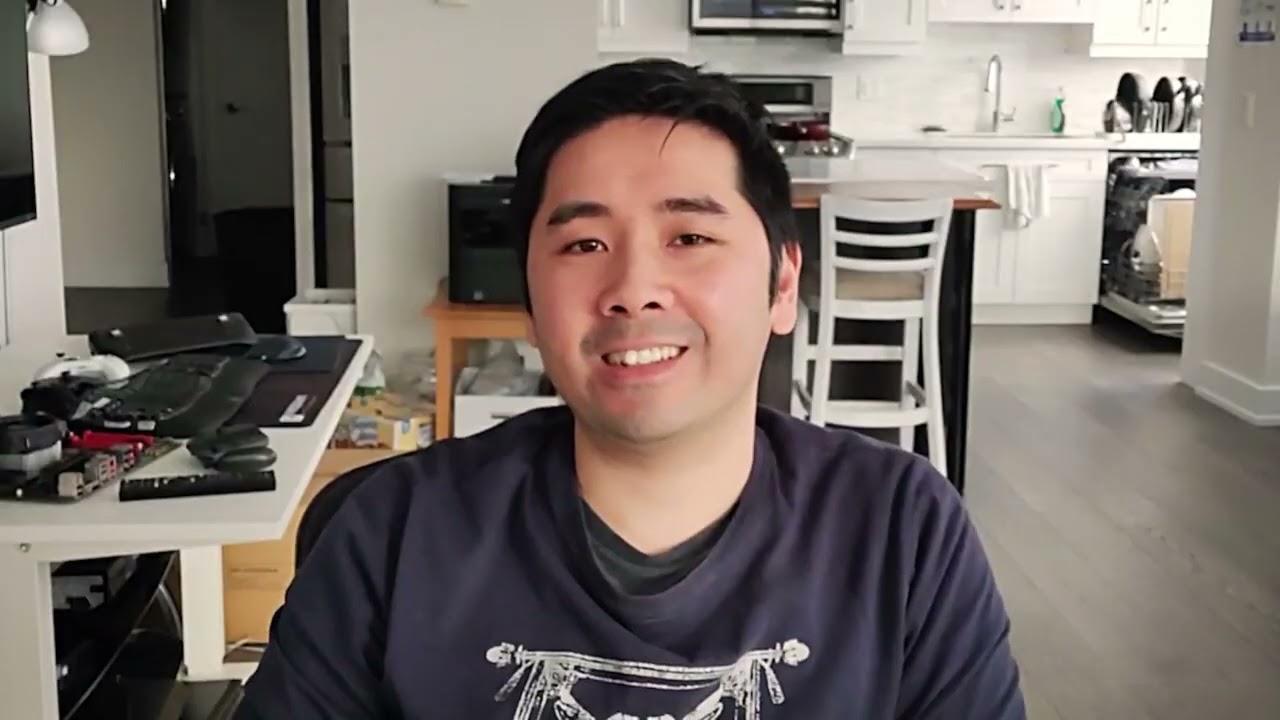 Some you may have missed, popular articles from the last month: