Dwerve is a bit of an odd one, blending together elements of a dungeon-crawling action adventure with tower defense and it's out now. Created by Half Human Games, they previously made the space shooter Blacksea Odyssey. Note: key provided by the developer.
"Dwerve is a tower defense dungeon crawler RPG where you play as a young dwarf tinkerer who adventures into a ruined kingdom and unearths the lost technologies of the ancient warsmiths: turrets and traps. These are the only weapons that can protect the dwarves from Witch-Queen Vandra and her army of bloodthirsty trolls and monstrous creatures hellbent on conquering the surface."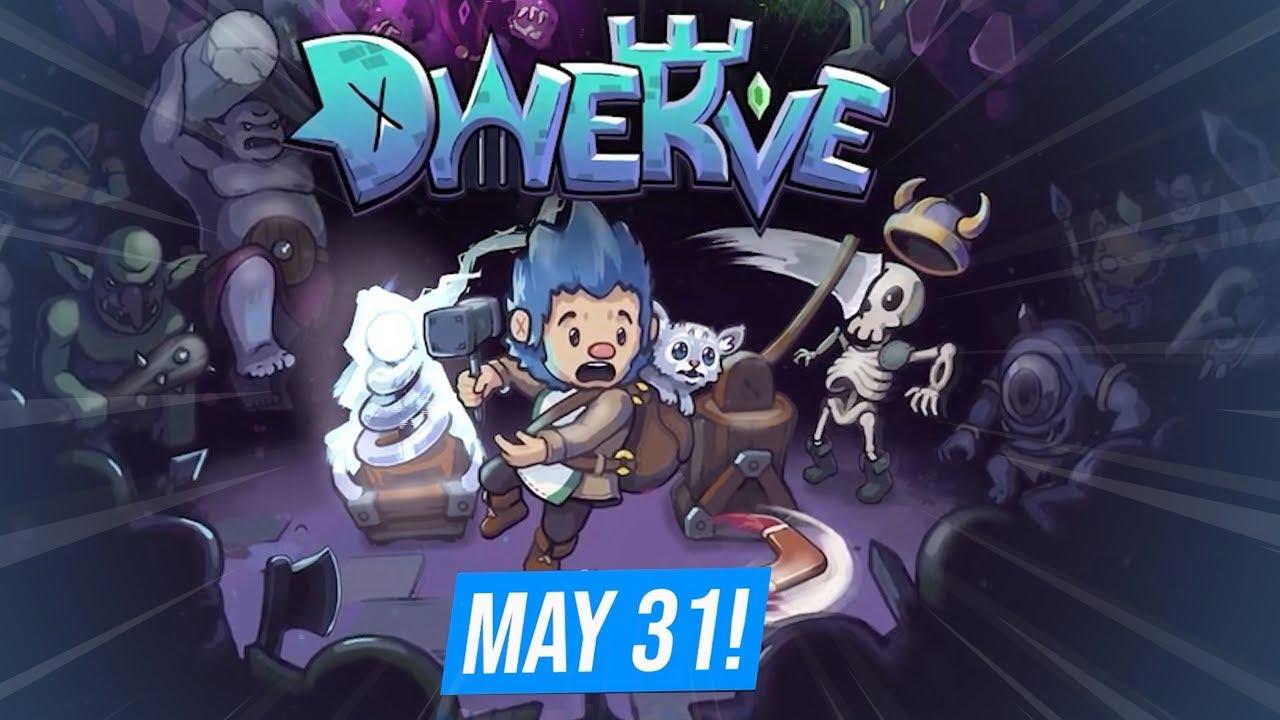 A concept that isn't original (what is now?), with other games doing this mix too like Sanctum. However this is not a 3D shooter mix, instead giving you some pretty wonderful pixel-art. It blends together story-based adventuring, with real-time battles where you place down various towers wherever you want and watch as the action happens. Since you're a living character in this, you will be constantly running around.
Unlike more traditional tower defense games, towers and traps have a limit amount of health, so you will be repeatedly running back and forth between towers to pull them down when they're about done (or destroyed) to put them back up and continue your defence.
Annoyingly, plenty of it was a bit too slow when I initially played it and the developer has received a lot of feedback on this, to the point that they've released some patches to make it feel a little faster. Simple things like movement speed being too slow, which has been buffed up and the result is a slightly smoother feeling game now that I feel is easily worth a go if you want a slightly different take on tower defense.
Once it really gets going, it can be surprisingly challenging too. Not only are you watching your tower health closely, but you also need to take into account the different enemy types too (some towers can't hit certain enemies) and once your towers are down — they will come for you. So it can be a little frantic to reposition your towers and get to safety. In a way, the battles feel a little like a 2D version of Orcs Must Die! somewhat.
I love the way it uses the area you're adventuring through in the story for the battling too. No special stages, no changing levels, you just keep exploring and place down towers whenever needed. Overall it's a pretty fun take on a mix of genres.
Features:
Tower defense combat! Build turrets and traps to fend off swarms of monsters!
Dungeon crawling! Explore a ruined kingdom brimming with hidden secrets and puzzles!
Upgrade your turrets and traps! Each has its own upgrade tree with 100+ upgrades in all!
Fight epic boss battles! Use strategy, wit, and fast reflexes to out maneuver massive monsters!
Discover powerful artifacts! Dragonfire Boots, Lionheart Shield, Gurrakk's Hammer, and more!
Embark on an adventure! Meet friends, travel throughout the mountain, stop the Witch-Queen!
In my playthrough, the Native Linux version worked great, no obvious issues and controller support worked fine too with my current-gen Xbox pad.
Available to buy on Humble Store and Steam.
Some you may have missed, popular articles from the last month: