In case you missed the news from last week, Tony Hawk's Pro Skater 1+2 launched on Steam this week after three years in Epic Games Store limbo. While it is currently listed as unverified on Steam Deck, testing on my behalf has shown the game to run smoothly out of the box with no need to change proton version or modify launch options. Honestly I wouldn't be shocked if Valve slaps it with a Steam Deck Playable badge in the future. I would actually highly recommend THPS 1+2 for any PC Gamer or Deck owner, if it weren't for two massive glaring issues.
Before we get to that, we should talk about the performance on Steam Deck. Which initially worried me as the main menu hovered around 50fps. There also aren't a lot of graphical settings to change in order to optimize performance. Though the game does give you an auto-detect tool to allow the game to auto-tailor the settings to your hardware, in this case the Steam Deck. Using this gave the Deck settings almost identical to the medium preset with the exception of anti-aliasing being set to TAA as opposed to FXAA.
Pictured: THPS 1+2's Autodetect Settings For Steam Deck
Luckily the menu is either glitched or intentionally frame-limited, as starting a skate park run caused an immediate jump to 60fps and it didn't drop with few exceptions. Those exceptions would be Unreal Engine 4's dreaded shader compilation, though I was unable to replicate those dips on subsequent runs. THPS 1+2 ran smooth as butter afterwards and it was  basically a non-issue by the time I was ready to stress test the game on Deck.
For the stress test I wanted to run the Skater Heaven level that's exclusive to the remake as it is full of various effects that would surely tax performance. But that requires finishing the entirety of a Skate Tour in THPS 2, which would take too long for our purposes. So I settled for using THPS 1's Downhill Jam and hitting every valve on my way down, which causes water to come gushing out in various locations.
And to my surprise, the game barely dropped below 60fps. The Deck managing to maintain a lock even as I was speeding downhill with water gushing out of the walls. The only time it did drop was, you guessed it, shader compilation. The good news there being that attempts to replicate the dips proved unsuccessful so it really is just a one time thing. But it is worth being aware of.
Once you overcome the shader compilation, the Deck version of THPS 1+2 body slams the Switch version, which was the only portable way to play out of the box until now. The Switch couldn't maintain a 30fps lock while the Deck shreds through a 60fps lock.
Pictured: THPS 1's Downhill Jam On Steam Deck
Sadly, the shader compilation is neither of the major caveats I mentioned earlier. I would be more than happy to recommend THPS 1+2 to every Steam Deck owner and PC Gamer if minor shader compilation was the only issue. No, the real issues are a constant always online requirement combined with, bizarrely enough, the fact that the actual online features for this game haven't worked for almost a year. And this isn't a PC issue either, every platforms online is broken despite the official site claiming the servers are up. That's right, Activision created Schrodinger's online server; where it is both alive and dead. Although, in this case, the Steam release from Steam forum reports seems better (other platforms still broken) but it doesn't work on Linux / Steam Deck still.
The worst part is that we have a good idea as to what's causing the problem; NAT Type 2 is blocked from accessing everything but the online check in. You can get around this by doing a complicated maneuver on your phone, which you shouldn't have to do. Honestly, this issue should have been fixed months ago and the fact that the online doesn't work for most people holds me back from a glowing recommendation. I was hoping they would fix it for the Steam release but no, it's still not fixed. Frankly, it is a massive bummer on an otherwise stellar release. Just to rub salt in the wound there's also an achievement for playing a multiplayer match.
If the bugged online doesn't worry you, or if it's fixed in the future, then I would highly recommend Tony Hawk's Pro Skater 1+2. It's an excellent remake of two excellent games and on Steam Deck it is easier than ever to pick up and do a quick skate park run. THPS 1+2 has the Persona 5 Royal effect where you can quickly hop in for 5 minutes and feel like you accomplished something.
If you can look past its online issues, Tony Hawk's Pro Skater 1+2 is a Steam Deck killer app. Pick it up on Steam.
A video from Liam is below on the subject: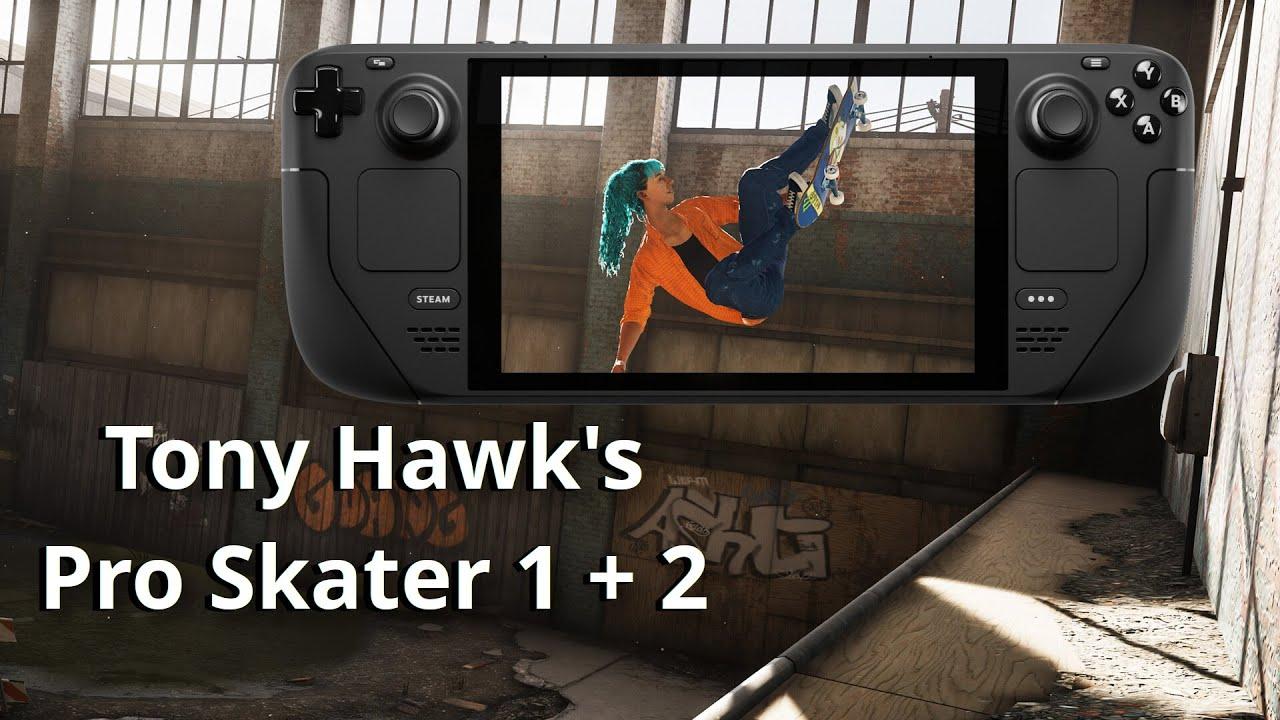 Some you may have missed, popular articles from the last month: